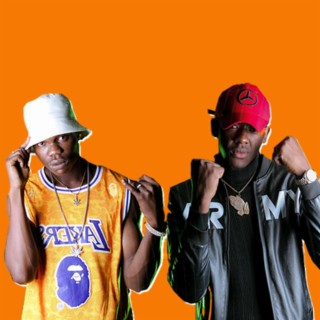 Chanda na Kay
Current #7,734

All Time #4,182

Chanda Na Kay, mostly called "Aba Nyoli Nyoli" are dual musicians from Zambia. Many of Chanda Na Kay songs become very popular and trendy online with a great number of streaming and downloads on Boomplay.

The statement "Aba Nyoli Nyoli", comes from Bemba, it means greatest Rappers of all time. Chanda and Kay, actually become friends early in the year of 2020 after coming from different music backgrounds. Both born and raised on the suburb of copper-belt in Kitwe, coming from Chimwemwe township.

Career
Today whether based on copper belt, or just visiting immaculate music from Chanda Na Kay has become very popular. Even kids underage have learnt lyrics, mastered the routine on how these singers flaunt in style. So far Zambia has seen and experienced continuous flow, for imaging dual Artist, namely the list, which includes Dope Boys, 408 Empire and now Chanda Na Kay. These musicians having similar dialect, using local language to flow and dominating with controversial Rap slants.

Chanda was once part of the 408 Empire, but recorded music with them on periodic basis. According to Chanda, He actually helped draft some of the songs for the group. "I wrote the song you might have danced to titled "Fi Onga", Chanda said." But unfortunately, Wau China another Rapper stole that song and took the credit, instead of Chanda. After years later, Chanda continued working alone, until they met with Kay.

No one thought they would go anywhere, but surprisingly after working on there first track. People encouraged them to continue working as dual, as opposed to been independent Rappers. Kay, before taking the front role on the group, recorded songs solo. Most people from the area addresses Kay by his stage name, "Real Rapper".

Both Artist are in there mid 20,s and were born in the same town at Chimwemwe clinic. Today these musicians have risen to be arguably among the most happening. Rose to victory, then prominently paved way for there music after releasing song titled Ah Nde Twa. These people, attended high school on different institutions, Ishuko, Kampemba and Chimwemwe secondary school. No further education was proceeded after this. Due to the continuous rise of demand for music from copper-belt. Chanda and Kay, embarked on the Journey to prove, you don't need Illuminati to open doors for you. With hard work and focus, you can make it to the top, even without University degree.

Follow Boomplay and keep up to date with the latest Chanda Na Kay songs and information.

Chanda na Kay Songs and Albums
• Bulongo
• MBO
• Bella
• Gigo
• Junior Lwala
• Ninshi
• Bwangu
• Bwino
• Chilowe
• Akaju
• Tele
• Ex
• Tale
• Bwanji
• Macarena
• Itepe
• Bella (Album)

Chanda Na Kay songs are included in Boomplay music playlists. Search to stream and download Chanda Na Kay songs MP3/ single/ albums on the platform....more

Country/Region : Zambia
Listen to Chanda na Kay's new songs including "Bwangu (feat. Chef 187)", "MBO", "Sema" and many more. Enjoy Chanda na Kay's latest songs and explore the Chanda na Kay's new music albums. If you want to download Chanda na Kay songs MP3, use the Boomplay App to download the Chanda na Kay songs for free. Discover Chanda na Kay's latest songs, popular songs, trending songs all on Boomplay.
Chanda Na Kay, mostly called "Aba Nyoli Nyoli" are dual musicians from Zambia. Many of Chanda Na Kay songs become very popular and trendy online with a great number of streaming and downloads on Boomplay.

The statement "Aba Nyoli Nyoli", comes from Bemba, it means greatest Rappers of all time. Chanda and Kay, actually become friends early in the year of 2020 after coming from different music backgrounds. Both born and raised on the suburb of copper-belt in Kitwe, coming from Chimwemwe township.

Career
Today whether based on copper belt, or just visiting immaculate music from Chanda Na Kay has become very popular. Even kids underage have learnt lyrics, mastered the routine on how these singers flaunt in style. So far Zambia has seen and experienced continuous flow, for imaging dual Artist, namely the list, which includes Dope Boys, 408 Empire and now Chanda Na Kay. These musicians having similar dialect, using local language to flow and dominating with controversial Rap slants.

Chanda was once part of the 408 Empire, but recorded music with them on periodic basis. According to Chanda, He actually helped draft some of the songs for the group. "I wrote the song you might have danced to titled "Fi Onga", Chanda said." But unfortunately, Wau China another Rapper stole that song and took the credit, instead of Chanda. After years later, Chanda continued working alone, until they met with Kay.

No one thought they would go anywhere, but surprisingly after working on there first track. People encouraged them to continue working as dual, as opposed to been independent Rappers. Kay, before taking the front role on the group, recorded songs solo. Most people from the area addresses Kay by his stage name, "Real Rapper".

Both Artist are in there mid 20,s and were born in the same town at Chimwemwe clinic. Today these musicians have risen to be arguably among the most happening. Rose to victory, then prominently paved way for there music after releasing song titled Ah Nde Twa. These people, attended high school on different institutions, Ishuko, Kampemba and Chimwemwe secondary school. No further education was proceeded after this. Due to the continuous rise of demand for music from copper-belt. Chanda and Kay, embarked on the Journey to prove, you don't need Illuminati to open doors for you. With hard work and focus, you can make it to the top, even without University degree.

Follow Boomplay and keep up to date with the latest Chanda Na Kay songs and information.

Chanda na Kay Songs and Albums
• Bulongo
• MBO
• Bella
• Gigo
• Junior Lwala
• Ninshi
• Bwangu
• Bwino
• Chilowe
• Akaju
• Tele
• Ex
• Tale
• Bwanji
• Macarena
• Itepe
• Bella (Album)

Chanda Na Kay songs are included in Boomplay music playlists. Search to stream and download Chanda Na Kay songs MP3/ single/ albums on the platform.
New Comments(
67

)