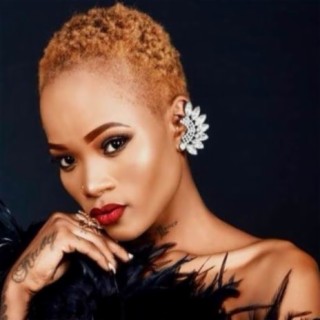 Ruby Tz
Current #1,994

All Time #6,020

Ruby is a Tanzanian Musician and also a beauty queen in the eyes of many. She is popularly known for her hit song "yule". Many Ruby's songs become very popular and trendy online with a great number of streaming and downloads on Boomplay.

Ruby, this new music sensation from Tanzania thinks her star is about to shine. When she released the Na Yule video, very few knew the Tanzania House of Talent-signed singer. In fact, those who knew her only related with her thanks to her win in the 2014 Serengeti Fiesta Supa Nyota Diva, the moment she first got her showbiz breakthrough.

CAREER
She started singing in church when she was very young. Her professional music career started when she joined a competition in Tanzania, Serengeti Fiesta Supa Nyota Diva and won in 2014.

When she first ventured into secular music, she did not get much support which is says was because those that knew her then thought she was doing something sinful whereas she believes that music is business like any other and she is just using her God-given talent to get returns.

She has already done notable collaborations with key artistes in Tanzania such as Yamoto Band, AbduKiba, and Baraka da Prince.

The Na Yule hit maker is the surprise new artiste has been launched in the Coke Studio TV show where she is joining Kenya's Nyashinski and Nigeria's Yemi in a rare fusion.

Ruby has performed at the Kili Music Awards, the launch of the presidential campaign and the Zanzibar International Film Festival (ZIFF) 2015 among many other places.

Follow Boomplay and keep up-to-date with the latest Ruby's songs and information.

RUBY'S SONGS
• Jela
• Alele
• Ntade
• Niwaze
• Dakika moja
• Sesa

Ruby's songs are included in Boomplay music playlists. Search to stream and download Ruby's songs MP3/Single/Albums on the platform....more

Country/Region : Tanzania
Listen to Ruby Tz's new songs including "Uridhike ft. Mbosso", "Jela", "Ntade" and many more. Enjoy Ruby Tz's latest songs and explore the Ruby Tz's new music albums. If you want to download Ruby Tz songs MP3, use the Boomplay App to download the Ruby Tz songs for free. Discover Ruby Tz's latest songs, popular songs, trending songs all on Boomplay.
Ruby is a Tanzanian Musician and also a beauty queen in the eyes of many. She is popularly known for her hit song "yule". Many Ruby's songs become very popular and trendy online with a great number of streaming and downloads on Boomplay.

Ruby, this new music sensation from Tanzania thinks her star is about to shine. When she released the Na Yule video, very few knew the Tanzania House of Talent-signed singer. In fact, those who knew her only related with her thanks to her win in the 2014 Serengeti Fiesta Supa Nyota Diva, the moment she first got her showbiz breakthrough.

CAREER
She started singing in church when she was very young. Her professional music career started when she joined a competition in Tanzania, Serengeti Fiesta Supa Nyota Diva and won in 2014.

When she first ventured into secular music, she did not get much support which is says was because those that knew her then thought she was doing something sinful whereas she believes that music is business like any other and she is just using her God-given talent to get returns.

She has already done notable collaborations with key artistes in Tanzania such as Yamoto Band, AbduKiba, and Baraka da Prince.

The Na Yule hit maker is the surprise new artiste has been launched in the Coke Studio TV show where she is joining Kenya's Nyashinski and Nigeria's Yemi in a rare fusion.

Ruby has performed at the Kili Music Awards, the launch of the presidential campaign and the Zanzibar International Film Festival (ZIFF) 2015 among many other places.

Follow Boomplay and keep up-to-date with the latest Ruby's songs and information.

RUBY'S SONGS
• Jela
• Alele
• Ntade
• Niwaze
• Dakika moja
• Sesa

Ruby's songs are included in Boomplay music playlists. Search to stream and download Ruby's songs MP3/Single/Albums on the platform.
New Comments(
42

)
FAQs about Ruby Tz
Where is Ruby Tz from?
She is from Tanzania.
How to download songs of Ruby Tz?
You can download songs of Ruby Tz from Boomplay App for free.
Firstly, install Boomplay app on your mobile phone.
Secondly, navigate to the song you would like to download.
Thirdly, Tap on More > Download.