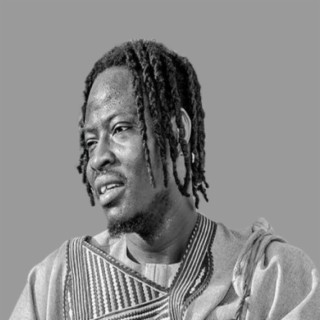 Fancy Gadam
Current #7,653

All Time #5,873

Mujahid Ahmed Bello known by his stage name Fancy Gadam was born on 16 August 1988 in Hausa Zongo, a suburb of Tamale, the capital town of the Northern Region Ghana, he is a Ghanaian afropop, dancehall and reggae musical artist.

In 2017 he won Ghana Music Awards for Best New Artist and in 2020 was named Best Afrobeat Entertainer at the International Reggae and World Music Awards.

Many of Gadam's Songs became very popular and trendy on social media in line with a great number of streaming and downloads on Boomplay.

Career
He completed his basic education at the Police Barracks Basic School in Tamale. Fancy Gadam started his music career at the age of 12 as a performer at schools and public events. On 1 December 2017, Fancy Gadam was one of the headline artists at the S Concert when he performed to the early hours of Saturday 2 December 2017.

His Dream Album launch and concert, on 5 October 2019 pulled over 20,000 fan to the Tamale stadium (Now Aliu Mahama stadium). He also performed at the Bukom boxing arena on 8 March 2020 as part of his Dream album tour.

He was said to have previously toured Yeji, Nyong, Offinso, Koforidua, Wa.[7] Yendi, Kumbungu and Dallung. He participated in the 2017 and 2018 editions of Ghana meets Naija, An Annual musical concert organized in Ghana to promote unity among Ghanaian and Nigerian artists.

The concert also seeks to provide an opportunity for music lovers to interact and take photographs with their favorite artists from both countries. Fancy Gadam on Easter Monday 2020 was invited to perform at the Covid-19 Virtual Concert together with other top Ghanaian artists for the launch of the Ghana Covid-19 Tracker software.

An initiative to help trace and track persons with coronavirus in Ghana. As a philanthropist, Fancy Gadam made a donation of assorted drinks, food and other items to the Yumbass special school, a special school for needy and less privileged in the northern region. On 30 December 2017, Fancy Gadam and his management, 5 minutes records made a donation of rice and several assorted items to the national chief imam of Ghana, Osman Nuhu Sharubutu.

In 2016, Fancy Gadam signed a one-year deal with Twellium Company Limited, manufacturers of rush energy drink as the brand ambassador for the 3 northern regions of Ghana. He now joins other musicians like Rudebwoy Ranking, Shatta Wale and Kwadwo Nkansah as brand ambassadors for the fasting-growing energy drink in Ghana.

On 2 January 2018, He was endorsed by the Ministry of Inner City And Zongo Development And The Commission For National Culture as the new Face of Zongo community at the Zongofest 2017, an event that is hosted to honor individuals who have contributed to the development of the Zongo communities in Ghana.

Achievements
Fancy Gadam has won himself a number of awards during his musical career like the 2016 Northern Entertainment Awards for Overall Artiste of The Year and Artiste Of The Year northern region.

He also won the 2016 Northern Music Awards (NMA) for Artiste of the Year, Most popular of the Year and Best video of the Year he got nominated for Songwriter of the Year and Best collaboration of the Year.

He also won the 2017 People's Celebrity Awards for Favourite music video category and Favourite Song category. He bagged the 2019 International Reggae & World Music Awards (IRAWMA) for Best Afrobeat Entertainer and Most Promising Entertainer among many others.

Follow Boomplay and keep up-to-date with the latest songs of Fancy Gadam and information.

Fancy Gadam's Songs
• Kom
• Ego Over You
• Total Cheat
• Another Man
• Nobody
• Yendi
• Best Friend
• One People-One Nation
• Zahali
• Yakachana
• Biyari Gbani
• Billing
• Hook Up Girl

Fancy Gadam's new songs are included in Boomplay music playlists. Search, stream, and download Fancy Gadam's Songs, her latest singles and albums in MP3 only on the Boomplay platform for free....more

Country/Region : Ghana
Songs

(13)

Albums

(1)

Playlists

(4)
1

2

3

4

5

6

7

8

9

10

11

12

13
Listen to Fancy Gadam's new songs including "Fara ft. Kofi Kinaata", "Best Friend ft. Stonebwoy", "Korkorko" and many more. Enjoy Fancy Gadam's latest songs and explore the Fancy Gadam's new music albums. If you want to download Fancy Gadam songs MP3, use the Boomplay App to download the Fancy Gadam songs for free. Discover Fancy Gadam's latest songs, popular songs, trending songs all on Boomplay.
Mujahid Ahmed Bello known by his stage name Fancy Gadam was born on 16 August 1988 in Hausa Zongo, a suburb of Tamale, the capital town of the Northern Region Ghana, he is a Ghanaian afropop, dancehall and reggae musical artist.

In 2017 he won Ghana Music Awards for Best New Artist and in 2020 was named Best Afrobeat Entertainer at the International Reggae and World Music Awards.

Many of Gadam's Songs became very popular and trendy on social media in line with a great number of streaming and downloads on Boomplay.

Career
He completed his basic education at the Police Barracks Basic School in Tamale. Fancy Gadam started his music career at the age of 12 as a performer at schools and public events. On 1 December 2017, Fancy Gadam was one of the headline artists at the S Concert when he performed to the early hours of Saturday 2 December 2017.

His Dream Album launch and concert, on 5 October 2019 pulled over 20,000 fan to the Tamale stadium (Now Aliu Mahama stadium). He also performed at the Bukom boxing arena on 8 March 2020 as part of his Dream album tour.

He was said to have previously toured Yeji, Nyong, Offinso, Koforidua, Wa.[7] Yendi, Kumbungu and Dallung. He participated in the 2017 and 2018 editions of Ghana meets Naija, An Annual musical concert organized in Ghana to promote unity among Ghanaian and Nigerian artists.

The concert also seeks to provide an opportunity for music lovers to interact and take photographs with their favorite artists from both countries. Fancy Gadam on Easter Monday 2020 was invited to perform at the Covid-19 Virtual Concert together with other top Ghanaian artists for the launch of the Ghana Covid-19 Tracker software.

An initiative to help trace and track persons with coronavirus in Ghana. As a philanthropist, Fancy Gadam made a donation of assorted drinks, food and other items to the Yumbass special school, a special school for needy and less privileged in the northern region. On 30 December 2017, Fancy Gadam and his management, 5 minutes records made a donation of rice and several assorted items to the national chief imam of Ghana, Osman Nuhu Sharubutu.

In 2016, Fancy Gadam signed a one-year deal with Twellium Company Limited, manufacturers of rush energy drink as the brand ambassador for the 3 northern regions of Ghana. He now joins other musicians like Rudebwoy Ranking, Shatta Wale and Kwadwo Nkansah as brand ambassadors for the fasting-growing energy drink in Ghana.

On 2 January 2018, He was endorsed by the Ministry of Inner City And Zongo Development And The Commission For National Culture as the new Face of Zongo community at the Zongofest 2017, an event that is hosted to honor individuals who have contributed to the development of the Zongo communities in Ghana.

Achievements
Fancy Gadam has won himself a number of awards during his musical career like the 2016 Northern Entertainment Awards for Overall Artiste of The Year and Artiste Of The Year northern region.

He also won the 2016 Northern Music Awards (NMA) for Artiste of the Year, Most popular of the Year and Best video of the Year he got nominated for Songwriter of the Year and Best collaboration of the Year.

He also won the 2017 People's Celebrity Awards for Favourite music video category and Favourite Song category. He bagged the 2019 International Reggae & World Music Awards (IRAWMA) for Best Afrobeat Entertainer and Most Promising Entertainer among many others.

Follow Boomplay and keep up-to-date with the latest songs of Fancy Gadam and information.

Fancy Gadam's Songs
• Kom
• Ego Over You
• Total Cheat
• Another Man
• Nobody
• Yendi
• Best Friend
• One People-One Nation
• Zahali
• Yakachana
• Biyari Gbani
• Billing
• Hook Up Girl

Fancy Gadam's new songs are included in Boomplay music playlists. Search, stream, and download Fancy Gadam's Songs, her latest singles and albums in MP3 only on the Boomplay platform for free.
New Comments(
110

)
FAQs about Fancy Gadam
Where is Fancy Gadam from?
He is from Ghana.
What are the latest songs of Fancy Gadam?
The latest songs of Fancy Gadam are Commando, BAYIN'YAA (Mad Dog) and BLOCK & DELETE.
What are the best songs of Fancy Gadam?
The best songs of Fancy Gadam are Nje Vuri, BLOCK & DELETE and Fara ft. Kofi Kinaata.
What are the best albums of Fancy Gadam?
The best albums of Fancy Gadam are Dream, One Don and Nje Vuri.
How to download songs of Fancy Gadam?
You can download songs of Fancy Gadam from Boomplay App for free.
Firstly, install Boomplay app on your mobile phone.
Secondly, navigate to the song you would like to download.
Thirdly, Tap on More > Download.