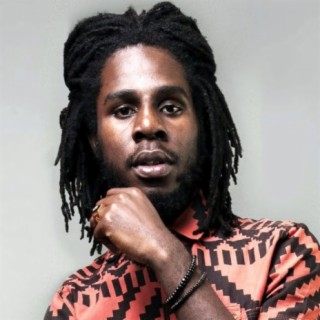 Chronixx
Current #2,188

All Time #1,557

Son of reggae artist Chronicle, Jamaica's Chronixx got his start under the name Little Chronicle. Many of Chronixx songs become very popular and trendy online with a great number of streaming and downloads on Boomplay.

Born Jamar Rolando McNaughton, Chronixx showed musical promise at a young age, prompting his father to bring his son into the studio where he would meet reggae singers like Gregory Isaacs and Burro Banton.

Career.
He launched his own career in 2003 while still singing harmony with artists like Lutan Fyah. A string of singles in 2011 that included "Behind Curtain" and "African Heritage" helped put him on reggae's frontline, and in 2012, the mixtape Light a Fyah appeared, presented by Diplo under his Major Lazer alias.

The singles "Tell Mi Now" and "Here Comes Trouble" both landed in 2013. 2014 saw the release of Chronixx's debut EP, Dread & Terrible.

Follow Boomplay and keep up-to-date with the latest Chronixx songs and information.

Achievement.
Hitting the top spot of the Billboard Reggae Charts on release, the EP went on to spend 42 consecutive weeks in the Top Ten. Chronixx continued to earn plaudits for his music, with nominations for MOBOs and gongs at the International Reggae & World Music Awards and the Linkage Awards. 2015 saw him appearing on Joey Bada$$' debut album and performing at the Glastonbury Festival in the U.K., as well as releasing the singles "Ghetto People" and "Light It Up."

Chronixx's long-awaited debut album finally appeared in 2017, with Chronology receiving praise and Grammy nomination for its mix of socially conscious nu-roots and uplifting contemporary reggae. Two years later in 2019, Chronixx issued a deluxe edition of Dread & Terrible to celebrate its fifth anniversary.

Chronixx Songs
• He has released so many songs which includes;
• I Love King Selassie feat. Black Uhuru
• Judgement
• Champion
• Dread
• Alpha and Omega
• Thanks and Praise
• Here Comes Trouble
• Prayer
• Somewhere

Chronixx songs are included in Boomplay music playlists. Search to stream and download Chronixx songs MP3/ single/ albums on the platform....more

Country/Region : Jamaica
Listen to Chronixx's new songs including "COOL AS THE BREEZE/FRIDAY", "So Brutal", "Safe N Sound" and many more. Enjoy Chronixx's latest songs and explore the Chronixx's new music albums. If you want to download Chronixx songs MP3, use the Boomplay App to download the Chronixx songs for free. Discover Chronixx's latest songs, popular songs, trending songs all on Boomplay.
Son of reggae artist Chronicle, Jamaica's Chronixx got his start under the name Little Chronicle. Many of Chronixx songs become very popular and trendy online with a great number of streaming and downloads on Boomplay.

Born Jamar Rolando McNaughton, Chronixx showed musical promise at a young age, prompting his father to bring his son into the studio where he would meet reggae singers like Gregory Isaacs and Burro Banton.

Career.
He launched his own career in 2003 while still singing harmony with artists like Lutan Fyah. A string of singles in 2011 that included "Behind Curtain" and "African Heritage" helped put him on reggae's frontline, and in 2012, the mixtape Light a Fyah appeared, presented by Diplo under his Major Lazer alias.

The singles "Tell Mi Now" and "Here Comes Trouble" both landed in 2013. 2014 saw the release of Chronixx's debut EP, Dread & Terrible.

Follow Boomplay and keep up-to-date with the latest Chronixx songs and information.

Achievement.
Hitting the top spot of the Billboard Reggae Charts on release, the EP went on to spend 42 consecutive weeks in the Top Ten. Chronixx continued to earn plaudits for his music, with nominations for MOBOs and gongs at the International Reggae & World Music Awards and the Linkage Awards. 2015 saw him appearing on Joey Bada$$' debut album and performing at the Glastonbury Festival in the U.K., as well as releasing the singles "Ghetto People" and "Light It Up."

Chronixx's long-awaited debut album finally appeared in 2017, with Chronology receiving praise and Grammy nomination for its mix of socially conscious nu-roots and uplifting contemporary reggae. Two years later in 2019, Chronixx issued a deluxe edition of Dread & Terrible to celebrate its fifth anniversary.

Chronixx Songs
• He has released so many songs which includes;
• I Love King Selassie feat. Black Uhuru
• Judgement
• Champion
• Dread
• Alpha and Omega
• Thanks and Praise
• Here Comes Trouble
• Prayer
• Somewhere

Chronixx songs are included in Boomplay music playlists. Search to stream and download Chronixx songs MP3/ single/ albums on the platform.
FAQs about Chronixx
Where is Chronixx from?
He is from Jamaica.
How to download songs of Chronixx?
You can download songs of Chronixx from Boomplay App for free.
Firstly, install Boomplay app on your mobile phone.
Secondly, navigate to the song you would like to download.
Thirdly, Tap on More > Download.