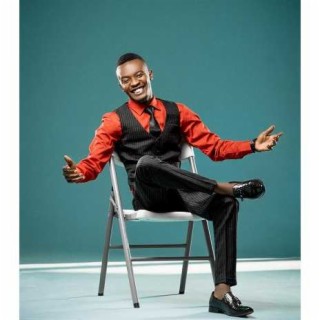 Walter Chilambo
Current #1,549

All Time #1,321

Walter Chilambo is a Tanzanian Gospel singer, songwriter and producer. He became a household name after winning the Bongo Star Search (BSS 2012) competitions. Many of Walter Chilambo songs become very popular and trendy online with a great number of streaming and downloads on Boomplay.

He is best known for the praise song Only You which hit 3.7 Million views after its release in 2018. Only You remained in the top 10 on Boomplay Tanzania Gospel Charts for a year, and top 30 on Gospel charts Africa, Boomplay. Other Music by Walter Chilambo include; Unaniona, Kuna Jambo, Asante, Siri, Namba Moja and Najivunia.

Walter Chilambos musical sound can be best described as Soulful and heartwarming. He is a live performer and an eloquent player of Piano. Some of his influences include tashacobbsleonard, sinach and travisgreene.

Career
Chilambo began his musical career as a contemporary secular artist. He gave his life to Jesus Christ at Victory Christian Centre in 2016, his conversion trickling straight into the music he wrote, sang and produced.

Walter is known for his smooth and soulful sound. His popular songs are Only You, Sijaona and Unaniona. His audience has been increasing rapidly since mid-2020 and he looks forward to touching many more lives in future.

He released his debut album dubbed "Ushuhuda" (Testimony). These are 10 songs with a wide selection of sounds, including RnB, Amapiano, Afrobeats and Zouk.

It is an uplifting celebration of God's love and His faithfulness. A decree that no matter how difficult your life may be now, the storm is coming to an end.

Follow Boomplay and keep up to date with the latest Walter Chilambo songs and information.

Walter Chilambo Songs
• Nitakase
• Busara
• Mapenzi ya milele
• Ushuhuda
• Asante Baba
• Ananipenda
• For Your Love
• Yule Yule
• Messiah
• Love on Fire
• Neema Yako
• Usinipite
• Sijaona
• God of Mercy
• Only You

Achievement
He won the Bongo Star Search (BSS) 2012 an equivalent of American Idol.

Walter Chilambo songs are included in Boomplay music playlists. Search to stream and download Walter Chilambo songs MP3/ single/ albums on the platform....more

Country/Region : Tanzania
Listen to Walter Chilambo's new songs including "Only You Jesus", "Usinipite", "Unafaa" and many more. Enjoy Walter Chilambo's latest songs and explore the Walter Chilambo's new music albums. If you want to download Walter Chilambo songs MP3, use the Boomplay App to download the Walter Chilambo songs for free. Discover Walter Chilambo's latest songs, popular songs, trending songs all on Boomplay.
Walter Chilambo is a Tanzanian Gospel singer, songwriter and producer. He became a household name after winning the Bongo Star Search (BSS 2012) competitions. Many of Walter Chilambo songs become very popular and trendy online with a great number of streaming and downloads on Boomplay.

He is best known for the praise song Only You which hit 3.7 Million views after its release in 2018. Only You remained in the top 10 on Boomplay Tanzania Gospel Charts for a year, and top 30 on Gospel charts Africa, Boomplay. Other Music by Walter Chilambo include; Unaniona, Kuna Jambo, Asante, Siri, Namba Moja and Najivunia.

Walter Chilambos musical sound can be best described as Soulful and heartwarming. He is a live performer and an eloquent player of Piano. Some of his influences include tashacobbsleonard, sinach and travisgreene.

Career
Chilambo began his musical career as a contemporary secular artist. He gave his life to Jesus Christ at Victory Christian Centre in 2016, his conversion trickling straight into the music he wrote, sang and produced.

Walter is known for his smooth and soulful sound. His popular songs are Only You, Sijaona and Unaniona. His audience has been increasing rapidly since mid-2020 and he looks forward to touching many more lives in future.

He released his debut album dubbed "Ushuhuda" (Testimony). These are 10 songs with a wide selection of sounds, including RnB, Amapiano, Afrobeats and Zouk.

It is an uplifting celebration of God's love and His faithfulness. A decree that no matter how difficult your life may be now, the storm is coming to an end.

Follow Boomplay and keep up to date with the latest Walter Chilambo songs and information.

Walter Chilambo Songs
• Nitakase
• Busara
• Mapenzi ya milele
• Ushuhuda
• Asante Baba
• Ananipenda
• For Your Love
• Yule Yule
• Messiah
• Love on Fire
• Neema Yako
• Usinipite
• Sijaona
• God of Mercy
• Only You

Achievement
He won the Bongo Star Search (BSS) 2012 an equivalent of American Idol.

Walter Chilambo songs are included in Boomplay music playlists. Search to stream and download Walter Chilambo songs MP3/ single/ albums on the platform.
New Comments(
59

)