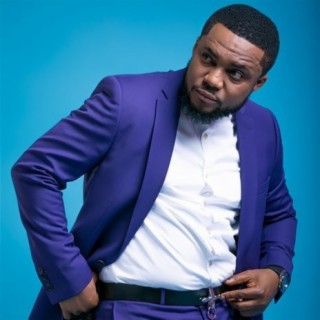 Tim Godfrey
Current #1,426

All Time #651

Tim Godfrey is a Nigerian gospel singer. He is best known for his song Nara in collaboration with Travis Greene. Timothy Chukwudi Godfrey was born on the 26th day of August in the year 1980 to the Family of Mr. and Mrs. Victor Godfrey in Kaduna, Nigeria. He is the second born of his parents that has six (6) children. He had his primary education in Kaduna Nigeria, although he hails from Abia State. He got an honorary Doctorate degree in Fine Art and Musicology at the Trinity International University of Ambassadors, Georgia, USA in 2018.

Many Tim Godfrey songs become very popular and trendy online with a great number of streaming and downloads on Boomplay.

Career
Tim Godfrey is the convener of the annual Fearless Gospel Concert, which has hosted several international gospel artists, including Marvin Sapp, Kirk Franklin, Travis Greene, Israel Houghton, JJ Hairston, Sammie Okposo and others.
Since 2016, Tim Godfrey has been a regular feature at the Experience concert.
In 2018, Tim Godfrey featured Travis Greene in the breakout hit song, Nara, which has earned over 60 million views on Youtube. In 2019, he featured Israel Houghton on the single, Toya and collaborated with JJ Hairston on the single Onaga off the latter's album.
He is the founder and owner of the record label Rox Nation and also the Founder of Xtreme Crew.

Tim Godfrey got married on Saturday, April 23 2022 to his fiancé Erica, who he had proposed to on Valentine's day.

Achievements
• BEFFTA Awards - 2011
• Best Artiste of the year nominee at the Future Awards - 2012[16]
• NEA Award U.S.A. for the Best Gospel Artist/Group of the year - 2012[17]
• Nine nominations at the Crystal Award - 2015
• Eight nominations at the Africa Gospel Awards (AGAFEST) - 2018
• Male Artists of Excellence at Africa Gospel and Media Awards (AGAMA) - 2019
• Tim Godfrey and The Xtreme Crew bagged the Musical Group of Excellence award at the Africa Gospel and Media Awards (AGAMA) - 2019
• Male African Artiste of the Year at the GTMA Awards - 2019
• Songs of Excellence award at the Africa Gospel and Media Awards (AGAMA) - 2019
• Male artiste of the year at Africa Gospel Awards (AGAFEST) - 2019
• Best International Artist nominee at the Premier Gospel Awards - 2019

Follow Boomplay and keep up-to-date with the latest Tim Godfrey songs and information.

Tim Godfrey Songs
• Na You be God
• Amen
• Alright
• Oriki
• I Worship
• The Audience of One
• Mighty God
• Omemma
• Kosi
• Nara
• Ahaa
• So Good
• Ekelebe
• Idinma
• Chizobam
• Lai Lai
• Onyedikagi
• Worship Medley
• Good Day
• Hero
• Agidigba
• Bless The Lord

Tim Godfrey songs are included in Boomplay music playlists. Search to stream and download Tim Godfrey songs MP3/ single/ albums on the platform....more

Country/Region : Nigeria
Listen to Tim Godfrey's new songs including "Nara ft. Travis Greene", "Igbo Medley", "Mmamma Ya" and many more. Enjoy Tim Godfrey's latest songs and explore the Tim Godfrey's new music albums. If you want to download Tim Godfrey songs MP3, use the Boomplay App to download the Tim Godfrey songs for free. Discover Tim Godfrey's latest songs, popular songs, trending songs all on Boomplay.
Tim Godfrey is a Nigerian gospel singer. He is best known for his song Nara in collaboration with Travis Greene. Timothy Chukwudi Godfrey was born on the 26th day of August in the year 1980 to the Family of Mr. and Mrs. Victor Godfrey in Kaduna, Nigeria. He is the second born of his parents that has six (6) children. He had his primary education in Kaduna Nigeria, although he hails from Abia State. He got an honorary Doctorate degree in Fine Art and Musicology at the Trinity International University of Ambassadors, Georgia, USA in 2018.

Many Tim Godfrey songs become very popular and trendy online with a great number of streaming and downloads on Boomplay.

Career
Tim Godfrey is the convener of the annual Fearless Gospel Concert, which has hosted several international gospel artists, including Marvin Sapp, Kirk Franklin, Travis Greene, Israel Houghton, JJ Hairston, Sammie Okposo and others.
Since 2016, Tim Godfrey has been a regular feature at the Experience concert.
In 2018, Tim Godfrey featured Travis Greene in the breakout hit song, Nara, which has earned over 60 million views on Youtube. In 2019, he featured Israel Houghton on the single, Toya and collaborated with JJ Hairston on the single Onaga off the latter's album.
He is the founder and owner of the record label Rox Nation and also the Founder of Xtreme Crew.

Tim Godfrey got married on Saturday, April 23 2022 to his fiancé Erica, who he had proposed to on Valentine's day.

Achievements
• BEFFTA Awards - 2011
• Best Artiste of the year nominee at the Future Awards - 2012[16]
• NEA Award U.S.A. for the Best Gospel Artist/Group of the year - 2012[17]
• Nine nominations at the Crystal Award - 2015
• Eight nominations at the Africa Gospel Awards (AGAFEST) - 2018
• Male Artists of Excellence at Africa Gospel and Media Awards (AGAMA) - 2019
• Tim Godfrey and The Xtreme Crew bagged the Musical Group of Excellence award at the Africa Gospel and Media Awards (AGAMA) - 2019
• Male African Artiste of the Year at the GTMA Awards - 2019
• Songs of Excellence award at the Africa Gospel and Media Awards (AGAMA) - 2019
• Male artiste of the year at Africa Gospel Awards (AGAFEST) - 2019
• Best International Artist nominee at the Premier Gospel Awards - 2019

Follow Boomplay and keep up-to-date with the latest Tim Godfrey songs and information.

Tim Godfrey Songs
• Na You be God
• Amen
• Alright
• Oriki
• I Worship
• The Audience of One
• Mighty God
• Omemma
• Kosi
• Nara
• Ahaa
• So Good
• Ekelebe
• Idinma
• Chizobam
• Lai Lai
• Onyedikagi
• Worship Medley
• Good Day
• Hero
• Agidigba
• Bless The Lord

Tim Godfrey songs are included in Boomplay music playlists. Search to stream and download Tim Godfrey songs MP3/ single/ albums on the platform.
FAQs about Tim Godfrey
Where is Tim Godfrey from?
He is from Nigeria.
How to download songs of Tim Godfrey?
You can download songs of Tim Godfrey from Boomplay App for free.
Firstly, install Boomplay app on your mobile phone.
Secondly, navigate to the song you would like to download.
Thirdly, Tap on More > Download.