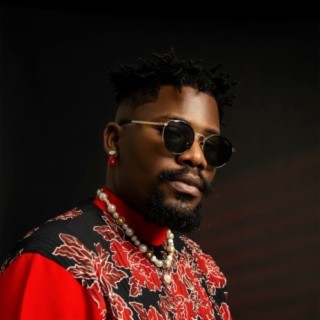 YCee
Current #0

All Time #1,109

Oludemilade Martin Alejo popularly known as Ycee, is a Nigerian rapper and song writer born on January 29, 1993. Ycee songs become very popular and trendy online with a great number of streaming and downloads on Boomplay.

Ycee who was born in Festac town in Lagos state part of Nigeria attended Dr Soyemi Memorial Nursery and primary school for his basic education. He completed his secondary education at the Nigerian Navy school, Ojo and also went on to study Marine Biology at the University of Lagos.

Career
The Nigeria hip hop force started his music career as far back as 2012 where he began as an underground rapper before he got signed by Tinny entertainment.

Although he took some time off music after gaining admission into the University but made a comeback with the release of the single 'Condo".

He also released another single "Jagaban" which brought him to limelight having enjoyed a massive airplays, including Olamide who requested to feature in the remix.

In January 2019, Ycee announced the launch of his record label, ANBT (Ain't Nobody Badder Than)

Achievement
• 2015, Nominated for Best collaboration of the year at 2015 Nigeria Entertainment awards
• Nominated for Revelation of the year at 2015 MTV Africa Music awards
• Nominated for Best Artist in African pop at 2015 All Africa Music Awards
• Won Rookie of the year at the Headies 2015
• Nominated for Next Rated at the Headies 2016
• Won Best African hip hop act at AFRIMA 2017

Albums
• Love Drunk 2021
• Ycee Vs Zaheer 2019
• Late Night Vibrations 2018, EP
• The First Wave EP 2017

Follow Boomplay and keep up-to-date with the latest Ycee songs and information....more

Country/Region : Nigeria
Listen to YCee's new songs including "Juice ft. Maleek Berry", "Jagaban (Remix) ft. Olamide", "Omo Alhaji" and many more. Enjoy YCee's latest songs and explore the YCee's new music albums. If you want to download YCee songs MP3, use the Boomplay App to download the YCee songs for free. Discover YCee's latest songs, popular songs, trending songs all on Boomplay.
Oludemilade Martin Alejo popularly known as Ycee, is a Nigerian rapper and song writer born on January 29, 1993. Ycee songs become very popular and trendy online with a great number of streaming and downloads on Boomplay.

Ycee who was born in Festac town in Lagos state part of Nigeria attended Dr Soyemi Memorial Nursery and primary school for his basic education. He completed his secondary education at the Nigerian Navy school, Ojo and also went on to study Marine Biology at the University of Lagos.

Career
The Nigeria hip hop force started his music career as far back as 2012 where he began as an underground rapper before he got signed by Tinny entertainment.

Although he took some time off music after gaining admission into the University but made a comeback with the release of the single 'Condo".

He also released another single "Jagaban" which brought him to limelight having enjoyed a massive airplays, including Olamide who requested to feature in the remix.

In January 2019, Ycee announced the launch of his record label, ANBT (Ain't Nobody Badder Than)

Achievement
• 2015, Nominated for Best collaboration of the year at 2015 Nigeria Entertainment awards
• Nominated for Revelation of the year at 2015 MTV Africa Music awards
• Nominated for Best Artist in African pop at 2015 All Africa Music Awards
• Won Rookie of the year at the Headies 2015
• Nominated for Next Rated at the Headies 2016
• Won Best African hip hop act at AFRIMA 2017

Albums
• Love Drunk 2021
• Ycee Vs Zaheer 2019
• Late Night Vibrations 2018, EP
• The First Wave EP 2017

Follow Boomplay and keep up-to-date with the latest Ycee songs and information.
New Comments(
72

)
FAQs about YCee
Where is YCee from?
He is from Nigeria.
What are the latest songs of YCee?
The latest songs of YCee are Be There ft. Bella Alubo, Empathy ft. Bella Alubo and Tonight ft. Bella Alubo.
What are the best songs of YCee?
The best songs of YCee are Juice ft. Maleek Berry and Aunty Lovina ft. Patoranking.
What are the best albums of YCee?
The best albums of YCee are The Firstwave, Love Drunk and Aunty Lovina.
How to download songs of YCee?
You can download songs of YCee from Boomplay App for free.
Firstly, install Boomplay app on your mobile phone.
Secondly, navigate to the song you would like to download.
Thirdly, Tap on More > Download.