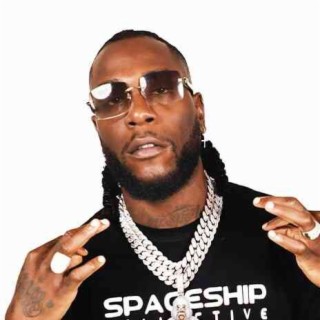 Burna Boy
Current #8

All Time #2

Damini Ebunoluwa Ogulu, professionally known as Burna Boy is a top Nigerian afro-fusion singer and songwriter,rapper, and dancer.

Burna Boy was born on the 2nd of July 1991 in Port Harcourt, Nigeria. He attended Corona Secondary School in Agbara (Ogun State) and relocated to London to further his studies.He later studied Media Technology at the University of Sussex. but he dropped out after two years and moved back to Nigeria In 2010, he met LeriQ around this same time and they began working together.

Burna Boy spent most of his youth listening to American musicians like DMX. He delved into the dancehall and reggae music his father listened to and explored the Afro-beat through the eyes of Fela Kuti. He created his own unique sound from listening to these genres.

Burna Boy rose to prominence in 2012 after releasing "Like to Party", The LeriQ-produced single became an instant hit and paved the way for his full-length debut, L.I.F.E, a year later under Aristokrat Records. His international exposure widened with 2018's Outside which also marked his major-label debut for Bad Habit/Atlantic Records in the United States and Warner Music Group internationally. This Burna Boy's album hit number three on the Billboard Reggae and won the Nigeria Entertainment Award, he also won Best International Act at the 2019 BET Awards, and was announced as an Apple Music Up Next artist, Burna made his first appearance at California's Coachella festival in 2019.

Burna Boy's fourth album won Album of the Year at the 2019 All Africa Music Awards and was nominated for Best World Music Album at the 62nd Annual Grammy Awards.

In 2020, Burna boy was Nominated under the World Music Album category in the 63rd Annual Grammy Awards. He also went on to win the Best International Act at the BET. With this win, Burna Boy becomes the first African artiste to bag three nominations and wins consecutively, having won the BET Award in 2019, 2020 and now in 2021....more

Boom ID : 105882102 Country : Nigeria Gender : Male
Listen to Burna Boy's new songs including "Kilometre", "Want It All ft. Polo G", "Anybody" and many more. Enjoy Burna Boy's latest songs and explore the Burna Boy's new music albums. If you want to download Burna Boy songs MP3, use the Boomplay App to download the Burna Boy songs for free. Discover Burna Boy's latest songs, popular songs, trending songs all on Boomplay.
Damini Ebunoluwa Ogulu, professionally known as Burna Boy is a top Nigerian afro-fusion singer and songwriter,rapper, and dancer.

Burna Boy was born on the 2nd of July 1991 in Port Harcourt, Nigeria. He attended Corona Secondary School in Agbara (Ogun State) and relocated to London to further his studies.He later studied Media Technology at the University of Sussex. but he dropped out after two years and moved back to Nigeria In 2010, he met LeriQ around this same time and they began working together.

Burna Boy spent most of his youth listening to American musicians like DMX. He delved into the dancehall and reggae music his father listened to and explored the Afro-beat through the eyes of Fela Kuti. He created his own unique sound from listening to these genres.

Burna Boy rose to prominence in 2012 after releasing "Like to Party", The LeriQ-produced single became an instant hit and paved the way for his full-length debut, L.I.F.E, a year later under Aristokrat Records. His international exposure widened with 2018's Outside which also marked his major-label debut for Bad Habit/Atlantic Records in the United States and Warner Music Group internationally. This Burna Boy's album hit number three on the Billboard Reggae and won the Nigeria Entertainment Award, he also won Best International Act at the 2019 BET Awards, and was announced as an Apple Music Up Next artist, Burna made his first appearance at California's Coachella festival in 2019.

Burna Boy's fourth album won Album of the Year at the 2019 All Africa Music Awards and was nominated for Best World Music Album at the 62nd Annual Grammy Awards.

In 2020, Burna boy was Nominated under the World Music Album category in the 63rd Annual Grammy Awards. He also went on to win the Best International Act at the BET. With this win, Burna Boy becomes the first African artiste to bag three nominations and wins consecutively, having won the BET Award in 2019, 2020 and now in 2021.