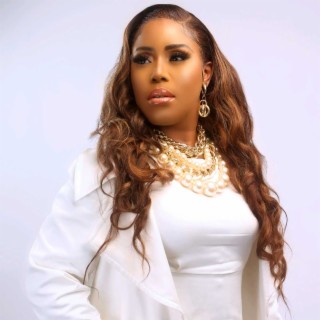 Monique
Current #3,399

All Time #1,413

Temitope Monique is one of Nigeria's gifted and talented female gospel artiste. She is a singer and a songwriter. Many of Monique songs become very popular and trendy online with great number of streaming and downloads on Boomplay.

Monique is from ishaga Lagos State. She is born to Mr and Mrs Simeon Adebisi Fabiyi. Her father is an Engineer and also the Osi Oba of Ishaga land and her mother is a business woman. Monique is the last of nine children

Career:
Monique started her music career at the age of six as a lead choir at Christ Miracle Church and left for Abundant Life Church to continue her music ministry between the years 1997-2000.

She took part in "Circle of Stars competition" organised by Gold-myne international in the year 1999 where she emerged the overall winner. She has recorded various singles for many organisation like Kennis music, Primetime Africa e.t.c. she is currently the music director of the Redeemed Christian church of God (RCCG) his Presence Assembly.

Follow Boomplay and keep up-to-date with latest Monique songs and information.

Monique Songs:
• Amazing Grace ft. Walesax
• Power flow
• Yahweh
• Onyeoma
• You are God
• Not for sale

Monique songs are included in Boomplay music playlists. Search to stream and download Monique songs MP3/ single/ albums on the platform....more

Country/Region : Nigeria
Listen to Monique's new songs including "Power Flow", "Amazing Grace ft. Walesax", "Na You Dey Reign" and many more. Enjoy Monique's latest songs and explore the Monique's new music albums. If you want to download Monique songs MP3, use the Boomplay App to download the Monique songs for free. Discover Monique's latest songs, popular songs, trending songs all on Boomplay.
Temitope Monique is one of Nigeria's gifted and talented female gospel artiste. She is a singer and a songwriter. Many of Monique songs become very popular and trendy online with great number of streaming and downloads on Boomplay.

Monique is from ishaga Lagos State. She is born to Mr and Mrs Simeon Adebisi Fabiyi. Her father is an Engineer and also the Osi Oba of Ishaga land and her mother is a business woman. Monique is the last of nine children

Career:
Monique started her music career at the age of six as a lead choir at Christ Miracle Church and left for Abundant Life Church to continue her music ministry between the years 1997-2000.

She took part in "Circle of Stars competition" organised by Gold-myne international in the year 1999 where she emerged the overall winner. She has recorded various singles for many organisation like Kennis music, Primetime Africa e.t.c. she is currently the music director of the Redeemed Christian church of God (RCCG) his Presence Assembly.

Follow Boomplay and keep up-to-date with latest Monique songs and information.

Monique Songs:
• Amazing Grace ft. Walesax
• Power flow
• Yahweh
• Onyeoma
• You are God
• Not for sale

Monique songs are included in Boomplay music playlists. Search to stream and download Monique songs MP3/ single/ albums on the platform.
FAQs about Monique
Where is Monique from?
She is from Nigeria.
How to download songs of Monique?
You can download songs of Monique from Boomplay App for free.
Firstly, install Boomplay app on your mobile phone.
Secondly, navigate to the song you would like to download.
Thirdly, Tap on More > Download.