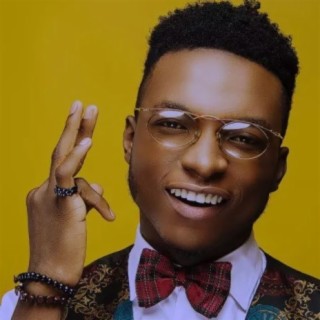 DJ Kaywise
Current #3,314

All Time #1,491

Ayorinde Kehinde Okiki (conceived 4 August 1992), referred to expertly as DJ Kaywise is a Nigerian DJ and record maker. Kaywise broke into the mixtape market in Alaba in the year 2010. He has since acquired noticeable quality as a DJ in Nigeria and has delivered outline finishing off tunes with numerous Nigerian music stars. DJ Kaywise songs are popular now.

DJ Kaywise was brought into the world in Lagos, Nigeria on August 4, 1992. He is initially from Ile Ife in Osun state. He was raised in Lagos State where he finished his rudimentary and seconday school. He acquired noticeable quality in the wake of delivering the mixtape named "Crisis" which was a blend of melodies in the country at that point.

Follow Boomplay and keep up-to-date with latest DJ Kaywise songs and information.

CAREER:
DJ Kaywise began his profession as a record maker yet later picked interest in being a Disk Jockey. He began his excursion as a DJ in 2010, he came into spotlight after his "Crisis" mixtape broke into the mixtape market in Alaba market in Lagos. He has up to this point delivered more than 10,000 CD Mixtape, north of 50 online delivered mixtape and delivered different music and visuals with Nigerian and African artistes.

Kaywise delivered his introduction single in 2012 named "Hangover" featuring Dammy Krane and Yung 6ix. In 2013, he included Iyanya on a solitary named "Loyalty". He has delivered singles with Nigerian artists including Mayorkun, Naira Marley, Tiwa Savage, Olamide, Vector and Ice Prince.

He launched his DJ foundation in 2019 called Kaywise Academy. Then, at that point, delivered a mixtape named "Revolution Mix Vol1" in fortitude with the EndSars development that began in Nigeria in 2020.

In August 2020, his single "What Type of Dance" including Mayorkun, Naira Marley and Zlatan Ibile topped at number 5 on the Billboard Top Triller Global diagram. His as of late delivered tune "High Way" including Phyno dropped in December 2020. The single crested at number 7 subsequent to burning through about fourteen days on the Billboard Top Triller Global Chart.

SOME OF DJ KAYWISE SONGS
• Yes or No ft T classic
• What type of Dance ft Mayorkun, Naira marley & Zlatan
• Informate ft Tiwa Savage
• High Way ft. Phyno

DJ Kaywise songs are included in Boomplay music playlists. Search to stream and download DJ Kaywise songs MP3/ single/ albums on the platform....more

Country/Region : Nigeria
Songs

(15)

Albums

(12)

Playlists

(11)
1

2

3

4

5

6

7

8

9

10

11

12

13

14

15
Listen to DJ Kaywise's new songs including "Informate ft. Tiwa Savage", "Caro ft. Tekno & Falz", "Baddest Dj ft. B Mysterio & Sabi" and many more. Enjoy DJ Kaywise's latest songs and explore the DJ Kaywise's new music albums. If you want to download DJ Kaywise songs MP3, use the Boomplay App to download the DJ Kaywise songs for free. Discover DJ Kaywise's latest songs, popular songs, trending songs all on Boomplay.
Ayorinde Kehinde Okiki (conceived 4 August 1992), referred to expertly as DJ Kaywise is a Nigerian DJ and record maker. Kaywise broke into the mixtape market in Alaba in the year 2010. He has since acquired noticeable quality as a DJ in Nigeria and has delivered outline finishing off tunes with numerous Nigerian music stars. DJ Kaywise songs are popular now.

DJ Kaywise was brought into the world in Lagos, Nigeria on August 4, 1992. He is initially from Ile Ife in Osun state. He was raised in Lagos State where he finished his rudimentary and seconday school. He acquired noticeable quality in the wake of delivering the mixtape named "Crisis" which was a blend of melodies in the country at that point.

Follow Boomplay and keep up-to-date with latest DJ Kaywise songs and information.

CAREER:
DJ Kaywise began his profession as a record maker yet later picked interest in being a Disk Jockey. He began his excursion as a DJ in 2010, he came into spotlight after his "Crisis" mixtape broke into the mixtape market in Alaba market in Lagos. He has up to this point delivered more than 10,000 CD Mixtape, north of 50 online delivered mixtape and delivered different music and visuals with Nigerian and African artistes.

Kaywise delivered his introduction single in 2012 named "Hangover" featuring Dammy Krane and Yung 6ix. In 2013, he included Iyanya on a solitary named "Loyalty". He has delivered singles with Nigerian artists including Mayorkun, Naira Marley, Tiwa Savage, Olamide, Vector and Ice Prince.

He launched his DJ foundation in 2019 called Kaywise Academy. Then, at that point, delivered a mixtape named "Revolution Mix Vol1" in fortitude with the EndSars development that began in Nigeria in 2020.

In August 2020, his single "What Type of Dance" including Mayorkun, Naira Marley and Zlatan Ibile topped at number 5 on the Billboard Top Triller Global diagram. His as of late delivered tune "High Way" including Phyno dropped in December 2020. The single crested at number 7 subsequent to burning through about fourteen days on the Billboard Top Triller Global Chart.

SOME OF DJ KAYWISE SONGS
• Yes or No ft T classic
• What type of Dance ft Mayorkun, Naira marley & Zlatan
• Informate ft Tiwa Savage
• High Way ft. Phyno

DJ Kaywise songs are included in Boomplay music playlists. Search to stream and download DJ Kaywise songs MP3/ single/ albums on the platform.