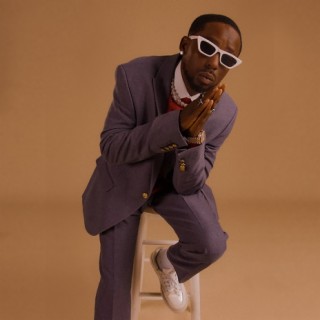 Erigga
Current #637

All Time #500

Erhiga Agarivbie (born 30 March 1987), better known by his stage name Erigga, is a Nigerian singer-songwriter and rapper. Many Erigga songs become very popular and trendy online with a great number of streaming and downloads on Boomplay.

Erhiga Agarivbie was born in Warri, Warri, Delta State, where he grew up with his family. He is the first of five children. He attended Standard International School both primary and secondary. Erhiga and he was brought up with pure pidgin English in Warri, which may explain why his musical prowess all revolve around the tongue. He is a unique cat in the music industry, and his music is widely accepted by the Nigerian 'street' as the case may be.

Before becoming an artist, Erigga had wanted to become a professional basketballer. He was very prolific in sports from onset, and people thought he would do perfectly in that. He was doing very well in the sports field from his youthful age and even featured in one of the Milo Basketball Championship schools.

Career
Erigga began his music career in early 2010. He has worked with several producers, including Mr Nolimit,C Major,Beatsbymellow_, and Even Prinx Emmanuel. Erigga's first musical release was "Mo Street Gan". The music video for the song was shot in Nigeria, directed by AKIN Alabi.The song became Radio Continental's theme song.

In 2013, Erigga released "Coupé Décalé ft Shuun Bebe". The music video for the song was endorsed by TV stations in Nigeria. In early 2014, he released another single titled "Love No Be Garri", featuring Jimoh Waxiu. On 17 July 2017 Erigga released his album A Trip To The South which includes Orezi, Skales, Duncan Mighty and many others. In 2018, Erigga released another hit single titled "Motivation" featuring Victor AD. This song has gained over a million views on YouTube. Erigga released his highly anticipated project "The Erigma 2" Album.

The body of work, "The Enigma 2" has 18 tracks with guest appearances from Victor AD, Zlatan, Magnito, MI Abaga, Ice Prince, Vector and others. The Erigma 2 album has production credits to Mr. Nolimit, C Major, KO Beat, Kulboy Beats, Doka Shot, Lex Amazing, Prinx Emmanuel and co-productions from Beatsbymellow_. The Album was mixed and mastered by Mr. Nolimit.

Erigga's style of rap is unique, and his songs are mostly raw which make them unsuitable for underage fans, audience and other listeners. As I have said earlier, he raps in pidgin English, which is a West African patois. His words are very professional and he is an expert in painting his lyrical images to his audience.

He became a hotspot in the music industry after releasing his video for the song, 'Dem No Get Two Heads'. The video was shot and handled by Igho Tosin of the Igho films. However, the video was deemed unsuitable and really went a long way to affecting Erigga's musical career. It wasn't streamed so well on the TV and radio channels and cost Erigga a lot of awards, endorsements and nominations.

His other music are mostly censored and the artist really seems not to give a f**k about that, and keeps soaring higher with much love from his fans.

Erigga is presently signed to the New Money Records, which is run by Snow man, a veteran artiste manager. His success can be better defined as self-made.

Follow Boomplay and keep up-to-date with the latest Erigga songs and information.

Songs
Erigga has released a ton of songs, and some of them include:
• Coupe DeCale
• Keep Talking
• Nobody
• Okorowanta
• Where U Dey Since
• Paper Boi
• Cartoon
• Deejays Anthem
• Head Wan Blow
• Another One
• Can't Stop Me
• Liar
• Pog
• Nothing Do U
• Coffin
• Laptop Bag
• Ring a Bell
• Motivation

Erigga songs are included in Boomplay music playlists. Search to stream and download Erigga songs MP3/ single/ albums on the platform....more

Country/Region : Nigeria
Songs

(67)

Albums

(14)

Playlists

(3)
1

2

3

4

5

6

7

8

9

10

11

12

13

14

15

16

17

18

19

20

21

22

23

24

25

26

27

28

29

30

31

32

33

34

35

36

37

38

39

40

41

42

43

44

45

46

47

48

49

50

51

52

53

54

55

56

57

58

59

60

61

62

63

64

65

66

67
Listen to Erigga's new songs including "Broke or rich ft. Jay Teazer", "L with V's (Louis Vuitton)", "Vawulence" and many more. Enjoy Erigga's latest songs and explore the Erigga's new music albums. If you want to download Erigga songs MP3, use the Boomplay App to download the Erigga songs for free. Discover Erigga's latest songs, popular songs, trending songs all on Boomplay.
Erhiga Agarivbie (born 30 March 1987), better known by his stage name Erigga, is a Nigerian singer-songwriter and rapper. Many Erigga songs become very popular and trendy online with a great number of streaming and downloads on Boomplay.

Erhiga Agarivbie was born in Warri, Warri, Delta State, where he grew up with his family. He is the first of five children. He attended Standard International School both primary and secondary. Erhiga and he was brought up with pure pidgin English in Warri, which may explain why his musical prowess all revolve around the tongue. He is a unique cat in the music industry, and his music is widely accepted by the Nigerian 'street' as the case may be.

Before becoming an artist, Erigga had wanted to become a professional basketballer. He was very prolific in sports from onset, and people thought he would do perfectly in that. He was doing very well in the sports field from his youthful age and even featured in one of the Milo Basketball Championship schools.

Career
Erigga began his music career in early 2010. He has worked with several producers, including Mr Nolimit,C Major,Beatsbymellow_, and Even Prinx Emmanuel. Erigga's first musical release was "Mo Street Gan". The music video for the song was shot in Nigeria, directed by AKIN Alabi.The song became Radio Continental's theme song.

In 2013, Erigga released "Coupé Décalé ft Shuun Bebe". The music video for the song was endorsed by TV stations in Nigeria. In early 2014, he released another single titled "Love No Be Garri", featuring Jimoh Waxiu. On 17 July 2017 Erigga released his album A Trip To The South which includes Orezi, Skales, Duncan Mighty and many others. In 2018, Erigga released another hit single titled "Motivation" featuring Victor AD. This song has gained over a million views on YouTube. Erigga released his highly anticipated project "The Erigma 2" Album.

The body of work, "The Enigma 2" has 18 tracks with guest appearances from Victor AD, Zlatan, Magnito, MI Abaga, Ice Prince, Vector and others. The Erigma 2 album has production credits to Mr. Nolimit, C Major, KO Beat, Kulboy Beats, Doka Shot, Lex Amazing, Prinx Emmanuel and co-productions from Beatsbymellow_. The Album was mixed and mastered by Mr. Nolimit.

Erigga's style of rap is unique, and his songs are mostly raw which make them unsuitable for underage fans, audience and other listeners. As I have said earlier, he raps in pidgin English, which is a West African patois. His words are very professional and he is an expert in painting his lyrical images to his audience.

He became a hotspot in the music industry after releasing his video for the song, 'Dem No Get Two Heads'. The video was shot and handled by Igho Tosin of the Igho films. However, the video was deemed unsuitable and really went a long way to affecting Erigga's musical career. It wasn't streamed so well on the TV and radio channels and cost Erigga a lot of awards, endorsements and nominations.

His other music are mostly censored and the artist really seems not to give a f**k about that, and keeps soaring higher with much love from his fans.

Erigga is presently signed to the New Money Records, which is run by Snow man, a veteran artiste manager. His success can be better defined as self-made.

Follow Boomplay and keep up-to-date with the latest Erigga songs and information.

Songs
Erigga has released a ton of songs, and some of them include:
• Coupe DeCale
• Keep Talking
• Nobody
• Okorowanta
• Where U Dey Since
• Paper Boi
• Cartoon
• Deejays Anthem
• Head Wan Blow
• Another One
• Can't Stop Me
• Liar
• Pog
• Nothing Do U
• Coffin
• Laptop Bag
• Ring a Bell
• Motivation

Erigga songs are included in Boomplay music playlists. Search to stream and download Erigga songs MP3/ single/ albums on the platform.
New Comments(
468

)
FAQs about Erigga
Where is Erigga from?
He is from Nigeria.
How to download songs of Erigga?
You can download songs of Erigga from Boomplay App for free.
Firstly, install Boomplay app on your mobile phone.
Secondly, navigate to the song you would like to download.
Thirdly, Tap on More > Download.