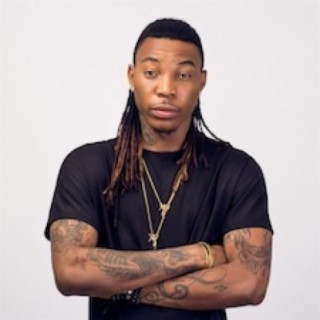 Solidstar
Current #3,232

All Time #1,191

Solidstar, a.k.a. Joshua Iniyezo, is one of his generation's most highly anticipated rapidly emerging musicians. Many of Solidstar songs become very popular and trendy online with a great number of streaming and downloads on Boomplay. He is also a Nigerian recording musician, composer, producer, actor, and model who specializes in highlife and Afro Pop music.

Solidstar, born on November 8, 1988, is acknowledged as being one of the main personalities with a distinct and unique voice that can keep listeners fixed to a certain location when they listen to it, which has benefited him in his climb to worldwide popularity.

Career
He began his musical career as a drummer for a small church in his birthplace in Delta State, where he was born.

Discovered a few years later at a music talent show in Ajegunle area of Lagos State where he was introduced to Paul Cole a record label boss, and gained notoriety in 2010 with the release of "One In A Million," the first single from his debut album "One In A Million," featuring his idol and role model 2face Idibia.

He debuted in his early career under the Achievas Record label and has since stayed in the entertainment industry, earning him the reputation of being one of Nigeria's most consistent artists due to the number of singles he releases each year.

SolidStar, who is recognized for his ability to sing flawlessly in English, Isoko, and Igbo, took home the Nigeria music video award for best new artist with his first single "One in a Million." His unique combination of reggae, R&B, and traditional African musical inspirations produces a feeling that is both current and universal while still retaining a distinct African character.

Follow Boomplay and keep up-to-date with the latest Solidstar songs and information.

SolidStar Album
• The Light - 2021
• Solidstar - 2017
• W.E.E.D - 2016
• Grace$Glory - 2013

Solidstar songs are included in Boomplay music playlists. Search to stream and download Solidstar songs MP3/ single/ albums on the platform....more

Country/Region : Nigeria
Listen to Solidstar's new songs including "Umbrella", "Nwa Baby ft. 2face Idibia", "Lock Down ft. Davido" and many more. Enjoy Solidstar's latest songs and explore the Solidstar's new music albums. If you want to download Solidstar songs MP3, use the Boomplay App to download the Solidstar songs for free. Discover Solidstar's latest songs, popular songs, trending songs all on Boomplay.
Solidstar, a.k.a. Joshua Iniyezo, is one of his generation's most highly anticipated rapidly emerging musicians. Many of Solidstar songs become very popular and trendy online with a great number of streaming and downloads on Boomplay. He is also a Nigerian recording musician, composer, producer, actor, and model who specializes in highlife and Afro Pop music.

Solidstar, born on November 8, 1988, is acknowledged as being one of the main personalities with a distinct and unique voice that can keep listeners fixed to a certain location when they listen to it, which has benefited him in his climb to worldwide popularity.

Career
He began his musical career as a drummer for a small church in his birthplace in Delta State, where he was born.

Discovered a few years later at a music talent show in Ajegunle area of Lagos State where he was introduced to Paul Cole a record label boss, and gained notoriety in 2010 with the release of "One In A Million," the first single from his debut album "One In A Million," featuring his idol and role model 2face Idibia.

He debuted in his early career under the Achievas Record label and has since stayed in the entertainment industry, earning him the reputation of being one of Nigeria's most consistent artists due to the number of singles he releases each year.

SolidStar, who is recognized for his ability to sing flawlessly in English, Isoko, and Igbo, took home the Nigeria music video award for best new artist with his first single "One in a Million." His unique combination of reggae, R&B, and traditional African musical inspirations produces a feeling that is both current and universal while still retaining a distinct African character.

Follow Boomplay and keep up-to-date with the latest Solidstar songs and information.

SolidStar Album
• The Light - 2021
• Solidstar - 2017
• W.E.E.D - 2016
• Grace$Glory - 2013

Solidstar songs are included in Boomplay music playlists. Search to stream and download Solidstar songs MP3/ single/ albums on the platform.
New Comments(
91

)
FAQs about Solidstar
Where is Solidstar from?
He is from Nigeria.
What are the latest songs of Solidstar?
The latest songs of Solidstar are Charged Up, Good Woman (Mixed) and Oluchi ft. Flavour.
What are the best songs of Solidstar?
The best songs of Solidstar are Umbrella, Lock Down ft. Davido and Oluchi ft. Flavour.
What are the best albums of Solidstar?
The best albums of Solidstar are W.E.E.D (Witness Everything Exceptionally Different), The Light and Grace & Glory.
How to download songs of Solidstar?
You can download songs of Solidstar from Boomplay App for free.
Firstly, install Boomplay app on your mobile phone.
Secondly, navigate to the song you would like to download.
Thirdly, Tap on More > Download.