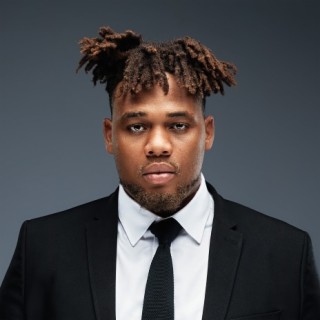 BNXN
Current #203

All Time #239

Buju was born in Lagos, Nigeria. Bnxn is an Afro-fusion singer and songwriter. He grew up in Gbagada with his family, relocating to Ogun State. Many of Buju songs, like Outside, become very popular and trendy online with a great number of streaming and downloads on Boomplay.

Career
His love for music started when he was still in school. According to him, he would usually sing songs from artists like D'bang, P-Square, 9ice and Olu Maintain. Buju started writing music in junior secondary school in 2011. Then, he went with the stage name Drizzle. Many of his classmates and friends love hearing him sing and rap. Later in school, he joined the choir and also started performing during social activities. So he stopped rapping and took a break in music. However, he started listening to songs by artists like Burna Boy, Buju Banton, Damian Marley etc.

However, Buju later picked interest in music again in 2017 while still in university. At that time, he was doing his IT but didn't like the work.This made him form the habit of writing lyrics, free styling and listening to music to cope with work pressure. He also started going to shrines during his free time. There, he sings, writes songs and forms his own sound which he later developed. Due to his nonchalant attitude to work. Buju was sacked from his work.

In February 2018, Buju released his first song "Catch a Vibe". Later, he dropped his second song "A Day in Lagos " which gave him some level of recognition on Soundcloud and Twitter.

The song "Spiritual " is Buju's major breakthrough into the Nigerian music industry. The song was recorded with a 2018 beat made by his producer Steph. After recording the song, his friends convinced him that artist Zlatan Ibile will fit in to the song as a feature. He was previously signed to Burna Boy's Spaceship Records. However, being an upcoming artist, Buju did not have the money to pay an artist like Zlatan Ibile for a feature song.

So he recorded a video and added Zlatan's adlibs to the song and posted it on Twitter. This got lots of reactions from Twitter users who started tagging Zlatan to the video. After a month of consistent tagging, Zlatan reposted the video and decided to jump on it. Also, singer Zlatan did not collect any money from Buju for the song.

In 2020, Buju met his idol Burna Boy. This happened after Burna heard Buju's song "L'Enu" in a club. The artist then recorded the remix of "L'Enu" together. The music video was also funded by Burna Boy.

Fact
He came up with the name "Buju" because he was listening to Buju Banton when he received his termination letter. And also because he can relate to its meaning. Buju is a name for Jamaican bread and also a name mothers call their chubby kids. Due to his chubby stature, Buju To Your Ears decided to go by the stage name.

Achievements
• He won the Revelation of the Year category at the 2020 City People Entertainment Awards.
• His song "outside" was nominated for African Fan Favourite at the 2021 AFRIMA Awards.
• His song "outside" was nominated again for Best Promising Artiste at the 2021 AFRIMA Awards.

Follow Boomplay and keep up-to-date with the latest Buju songs and information.

Buju Songs and Albums
• Sorry I'm Late (Album)
• Kilometre
• Daniel Benson
• Outside
• Testimony
• For Days
• Lenu
• Spiritual
• Italy

Buju songs are included in Boomplay music playlists. Search to stream and download Buju songs MP3/ single/ albums on the platform....more

Country : Nigeria
Listen to BNXN's new songs including "Confident ft. Buju", "Lenu (Remix) ft. Burna Boy", "Commander" and many more. Enjoy BNXN's latest songs and explore the BNXN's new music albums. If you want to download BNXN songs MP3, use the Boomplay App to download the BNXN songs for free. Discover BNXN's latest songs, popular songs, trending songs all on Boomplay.
Buju was born in Lagos, Nigeria. Bnxn is an Afro-fusion singer and songwriter. He grew up in Gbagada with his family, relocating to Ogun State. Many of Buju songs, like Outside, become very popular and trendy online with a great number of streaming and downloads on Boomplay.

Career
His love for music started when he was still in school. According to him, he would usually sing songs from artists like D'bang, P-Square, 9ice and Olu Maintain. Buju started writing music in junior secondary school in 2011. Then, he went with the stage name Drizzle. Many of his classmates and friends love hearing him sing and rap. Later in school, he joined the choir and also started performing during social activities. So he stopped rapping and took a break in music. However, he started listening to songs by artists like Burna Boy, Buju Banton, Damian Marley etc.

However, Buju later picked interest in music again in 2017 while still in university. At that time, he was doing his IT but didn't like the work.This made him form the habit of writing lyrics, free styling and listening to music to cope with work pressure. He also started going to shrines during his free time. There, he sings, writes songs and forms his own sound which he later developed. Due to his nonchalant attitude to work. Buju was sacked from his work.

In February 2018, Buju released his first song "Catch a Vibe". Later, he dropped his second song "A Day in Lagos " which gave him some level of recognition on Soundcloud and Twitter.

The song "Spiritual " is Buju's major breakthrough into the Nigerian music industry. The song was recorded with a 2018 beat made by his producer Steph. After recording the song, his friends convinced him that artist Zlatan Ibile will fit in to the song as a feature. He was previously signed to Burna Boy's Spaceship Records. However, being an upcoming artist, Buju did not have the money to pay an artist like Zlatan Ibile for a feature song.

So he recorded a video and added Zlatan's adlibs to the song and posted it on Twitter. This got lots of reactions from Twitter users who started tagging Zlatan to the video. After a month of consistent tagging, Zlatan reposted the video and decided to jump on it. Also, singer Zlatan did not collect any money from Buju for the song.

In 2020, Buju met his idol Burna Boy. This happened after Burna heard Buju's song "L'Enu" in a club. The artist then recorded the remix of "L'Enu" together. The music video was also funded by Burna Boy.

Fact
He came up with the name "Buju" because he was listening to Buju Banton when he received his termination letter. And also because he can relate to its meaning. Buju is a name for Jamaican bread and also a name mothers call their chubby kids. Due to his chubby stature, Buju To Your Ears decided to go by the stage name.

Achievements
• He won the Revelation of the Year category at the 2020 City People Entertainment Awards.
• His song "outside" was nominated for African Fan Favourite at the 2021 AFRIMA Awards.
• His song "outside" was nominated again for Best Promising Artiste at the 2021 AFRIMA Awards.

Follow Boomplay and keep up-to-date with the latest Buju songs and information.

Buju Songs and Albums
• Sorry I'm Late (Album)
• Kilometre
• Daniel Benson
• Outside
• Testimony
• For Days
• Lenu
• Spiritual
• Italy

Buju songs are included in Boomplay music playlists. Search to stream and download Buju songs MP3/ single/ albums on the platform.
New Comments(
119

)