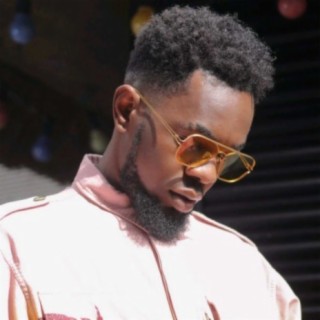 Patoranking
Current #116

All Time #91

Nigerian reggae/dancehall singer/songwriter Patoranking was born Patrick Nnaemeka Okorie in Ijegun-Egba in 1990. Growing up deeply immersed in the music of Buju Banton, Lucky Dube, Tuface, Fela Kuti, and other greats of reggae, dancehall, and Afro-beat, Okorie channeled these influences into his own unique style and began releasing original music in 2012, also drawing on the influences of Nigerian fuji music for his earliest singles. In 2014, after a series of lower-profile singles, Patoranking signed to Foston Musik and released the "Girlie O" single and video. The song was a minor success but went on to spawn a hit remix a few months later with vocals by Tiwa Savage. The remix helped draw attention to Patoranking's music, and his catalog grew over the next few years, with various singles and a slew of guest appearances on songs by other artists, including vocal spots on Seyi Shay's hit "Murda," Khuli Chana's "No Lie," and many others.

In early 2016, Patoranking joined on as one of the judges for the freshly launched televised singing competition The Voice Nigeria. Featuring collaborations with Elephant Man, Sarkodie, and others, his debut full-length, God Over Everything, arrived later that year and debuted at number four on Billboard's Reggae Albums chart. He continued to release singles throughout the next two years, including "Love You Die" (with Diamond Platnumz), and was featured on Major Lazer's "Particula." In May 2019, Patoranking issued his sophomore album on his own label, Amari Musiq. Named after his newborn daughter and featuring her on its cover, Wilmer included the singles "Confirm" (featuring Davido) and "Lenge Lenge" and reached number five on the Billboard Reggae Albums chart. His latest songs in 2021 is Celebrate me. Download and listen your favorite songs From Patorankig on Boomplay....more

Country/Region : Nigeria
Listen to Patoranking's new songs including "Suh Different", "Love You Die ft. Diamond Platnumz", "This Kind Luv ft. Wizkid" and many more. Enjoy Patoranking's latest songs and explore the Patoranking's new music albums. If you want to download Patoranking songs MP3, use the Boomplay App to download the Patoranking songs for free. Discover Patoranking's latest songs, popular songs, trending songs all on Boomplay.
Nigerian reggae/dancehall singer/songwriter Patoranking was born Patrick Nnaemeka Okorie in Ijegun-Egba in 1990. Growing up deeply immersed in the music of Buju Banton, Lucky Dube, Tuface, Fela Kuti, and other greats of reggae, dancehall, and Afro-beat, Okorie channeled these influences into his own unique style and began releasing original music in 2012, also drawing on the influences of Nigerian fuji music for his earliest singles. In 2014, after a series of lower-profile singles, Patoranking signed to Foston Musik and released the "Girlie O" single and video. The song was a minor success but went on to spawn a hit remix a few months later with vocals by Tiwa Savage. The remix helped draw attention to Patoranking's music, and his catalog grew over the next few years, with various singles and a slew of guest appearances on songs by other artists, including vocal spots on Seyi Shay's hit "Murda," Khuli Chana's "No Lie," and many others.

In early 2016, Patoranking joined on as one of the judges for the freshly launched televised singing competition The Voice Nigeria. Featuring collaborations with Elephant Man, Sarkodie, and others, his debut full-length, God Over Everything, arrived later that year and debuted at number four on Billboard's Reggae Albums chart. He continued to release singles throughout the next two years, including "Love You Die" (with Diamond Platnumz), and was featured on Major Lazer's "Particula." In May 2019, Patoranking issued his sophomore album on his own label, Amari Musiq. Named after his newborn daughter and featuring her on its cover, Wilmer included the singles "Confirm" (featuring Davido) and "Lenge Lenge" and reached number five on the Billboard Reggae Albums chart. His latest songs in 2021 is Celebrate me. Download and listen your favorite songs From Patorankig on Boomplay.
FAQs about Patoranking
Where is Patoranking from?
He is from Nigeria.
How to download songs of Patoranking?
You can download songs of Patoranking from Boomplay App for free.
Firstly, install Boomplay app on your mobile phone.
Secondly, navigate to the song you would like to download.
Thirdly, Tap on More > Download.