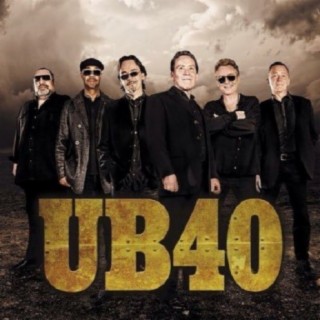 UB40
Current #1,191

All Time #1,115

UB40 are an English reggae and pop band, formed in December 1978 in Birmingham, England. Many UB40 songs, like Can't Help Falling In Love (Remastered), become very popular and trendy online with a great number of streaming and downloads on Boomplay. The band has had more than 50 singles in the UK Singles Chart, and has also achieved considerable international success.

They have been nominated for the Grammy Award for Best Reggae Album four times, and in 1984 were nominated for the Brit Award for Best British Group.

UB40 have sold over 70 million records worldwide. The ethnic make-up of the band's original line-up was diverse, with musicians of English, Welsh, Irish, Jamaican, Scottish, and Yemeni parentage

Their hit singles include their debut "Food for Thought" and two Billboard Hot 100 number ones with "Red Red Wine" and "Can't Help Falling in Love". Both of these also topped the UK Singles Chart, as did the band's version of "I Got You Babe".

Their two most successful albums, Labour of Love (1983) and Promises and Lies (1993), reached number one on the UK Albums Chart. UB40 and the English ska band Madness hold the record for most weeks spent by a group in the UK singles chart during the 1980s, with 214 weeks each.

Career.
The band's line-up was stable for nearly 29 years, from March 1979 until January 2008, when frontman Ali Campbell left the band, followed shortly thereafter by keyboardist Mickey Virtue.

Another member, Astro, remained with the band until November 2013, when he departed the original band to team up with Campbell and Virtue in a new version of UB40. In 2014, legal advice was sought by the original band (now consisting of remaining co-founding members drummer Jimmy Brown, guitarist Robin Campbell, bassist Earl Falconer, percussionist Norman Hassan, and saxophonist Brian Travers, along with new vocalist Duncan Campbell)

who took action against the group containing Campbell, Virtue, and Astro over usage of the band name, due to it being used by both parties.[5] On 5 July 2021, it was announced that Matt Doyle (formerly of the reggae band Kioko) would become the band's new vocalist, following Duncan Campbell's retirement due to ill health. Travers died from cancer on 22 August 2021, and Astro died on 6 November 2021 following a short illness.

Follow Boomplay and keep up-to-date with the latest UB40 songs and information.

Achievements
UB40 are one of the most commercially successful reggae acts of all time in terms of record sales (over 70 million), chart positions and touring schedule.

During their three-decade long career, they have been performing sell-out shows worldwide and headlining the Reggae Sunsplash music festival in Jamaica, as well as spreading reggae to Russia, South America, etc. They have performed twice at the Night of the Proms, in 2000 and in 2006. They have been nominated for the Grammy Award for Best Reggae Album four times, and in 1984 were nominated for the Brit Award for Best British Group.

In October 2011, UB40 were commemorated with a Heritage Award, a ceremonial plaque from the UK's PRS for Music. A plaque was placed at the Hare & Hounds Pub in Birmingham, England, the location where they played their first gig.

All three of their UK number one hits and four of their five US top ten hits were cover versions. UB40 collaborators include: Pato Banton, Madness, Bitty McLean, Chrissie Hynde, Maxi Priest, Robert Palmer, Hunterz, Japanese artist Mikidozan, French artist Nuttea, Lady Saw, Afrika Bambaataa, 808 State. With 214 weeks spent on the UK singles charts over the course of the 1980s, UB40 and Madness hold the record for most weeks spent by a group in the 1980s UK singles charts.

Referencing the group's longevity, Ali Campbell has said that the group was fortunate in choosing a relatively young genre, as reggae "... hasn't outlived its own cool like jazz has".

UB40 Albums
• Signing Off (1980)
• Present Arms (1981)
• UB44 (1982)
• Labour of Love (1983)
• Geffery Morgan (1984)
• Baggariddim (1985)
• Rat in the Kitchen (1986)
• UB40 (1988)
• Labour of Love II (1989)
• Promises and Lies (1993)
• Guns in the Ghetto (1997)
• Labour of Love III (1998)
• Cover Up (2001)
• Homegrown (2003)
• Who You Fighting For? (2005)
• TwentyFourSeven (2008)
• Labour of Love IV (2010)
• Getting Over the Storm (2013)
• For the Many (2019)
• Bigga Baggariddim (2021)

UB40 songs are included in Boomplay music playlists. Search to stream and download UB40 songs MP3/ single/ albums on the platform....more

Country/Region : United Kingdom
Songs

(0)

Albums

(0)

Playlists

(22)
Listen to UB40's new songs including and many more. Enjoy UB40's latest songs and explore the UB40's new music albums. If you want to download UB40 songs MP3, use the Boomplay App to download the UB40 songs for free. Discover UB40's latest songs, popular songs, trending songs all on Boomplay.
UB40 are an English reggae and pop band, formed in December 1978 in Birmingham, England. Many UB40 songs, like Can't Help Falling In Love (Remastered), become very popular and trendy online with a great number of streaming and downloads on Boomplay. The band has had more than 50 singles in the UK Singles Chart, and has also achieved considerable international success.

They have been nominated for the Grammy Award for Best Reggae Album four times, and in 1984 were nominated for the Brit Award for Best British Group.

UB40 have sold over 70 million records worldwide. The ethnic make-up of the band's original line-up was diverse, with musicians of English, Welsh, Irish, Jamaican, Scottish, and Yemeni parentage

Their hit singles include their debut "Food for Thought" and two Billboard Hot 100 number ones with "Red Red Wine" and "Can't Help Falling in Love". Both of these also topped the UK Singles Chart, as did the band's version of "I Got You Babe".

Their two most successful albums, Labour of Love (1983) and Promises and Lies (1993), reached number one on the UK Albums Chart. UB40 and the English ska band Madness hold the record for most weeks spent by a group in the UK singles chart during the 1980s, with 214 weeks each.

Career.
The band's line-up was stable for nearly 29 years, from March 1979 until January 2008, when frontman Ali Campbell left the band, followed shortly thereafter by keyboardist Mickey Virtue.

Another member, Astro, remained with the band until November 2013, when he departed the original band to team up with Campbell and Virtue in a new version of UB40. In 2014, legal advice was sought by the original band (now consisting of remaining co-founding members drummer Jimmy Brown, guitarist Robin Campbell, bassist Earl Falconer, percussionist Norman Hassan, and saxophonist Brian Travers, along with new vocalist Duncan Campbell)

who took action against the group containing Campbell, Virtue, and Astro over usage of the band name, due to it being used by both parties.[5] On 5 July 2021, it was announced that Matt Doyle (formerly of the reggae band Kioko) would become the band's new vocalist, following Duncan Campbell's retirement due to ill health. Travers died from cancer on 22 August 2021, and Astro died on 6 November 2021 following a short illness.

Follow Boomplay and keep up-to-date with the latest UB40 songs and information.

Achievements
UB40 are one of the most commercially successful reggae acts of all time in terms of record sales (over 70 million), chart positions and touring schedule.

During their three-decade long career, they have been performing sell-out shows worldwide and headlining the Reggae Sunsplash music festival in Jamaica, as well as spreading reggae to Russia, South America, etc. They have performed twice at the Night of the Proms, in 2000 and in 2006. They have been nominated for the Grammy Award for Best Reggae Album four times, and in 1984 were nominated for the Brit Award for Best British Group.

In October 2011, UB40 were commemorated with a Heritage Award, a ceremonial plaque from the UK's PRS for Music. A plaque was placed at the Hare & Hounds Pub in Birmingham, England, the location where they played their first gig.

All three of their UK number one hits and four of their five US top ten hits were cover versions. UB40 collaborators include: Pato Banton, Madness, Bitty McLean, Chrissie Hynde, Maxi Priest, Robert Palmer, Hunterz, Japanese artist Mikidozan, French artist Nuttea, Lady Saw, Afrika Bambaataa, 808 State. With 214 weeks spent on the UK singles charts over the course of the 1980s, UB40 and Madness hold the record for most weeks spent by a group in the 1980s UK singles charts.

Referencing the group's longevity, Ali Campbell has said that the group was fortunate in choosing a relatively young genre, as reggae "... hasn't outlived its own cool like jazz has".

UB40 Albums
• Signing Off (1980)
• Present Arms (1981)
• UB44 (1982)
• Labour of Love (1983)
• Geffery Morgan (1984)
• Baggariddim (1985)
• Rat in the Kitchen (1986)
• UB40 (1988)
• Labour of Love II (1989)
• Promises and Lies (1993)
• Guns in the Ghetto (1997)
• Labour of Love III (1998)
• Cover Up (2001)
• Homegrown (2003)
• Who You Fighting For? (2005)
• TwentyFourSeven (2008)
• Labour of Love IV (2010)
• Getting Over the Storm (2013)
• For the Many (2019)
• Bigga Baggariddim (2021)

UB40 songs are included in Boomplay music playlists. Search to stream and download UB40 songs MP3/ single/ albums on the platform.
New Comments(
22

)