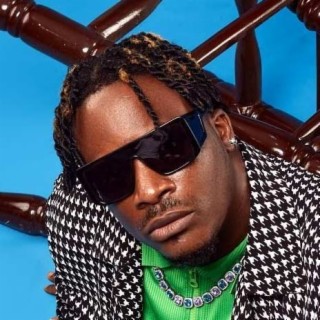 Jaywon
Current #3,959

All Time #3,084

Oluwajuwonlo Iledare (born 6 June 1986), better known by his stage name Jaywon, is a Nigerian singer, songwriter, performer, producer and actor (army of the thieves). Many of Jaywon songs become very popular and trendy online with a great number of streaming and downloads on Boomplay.

He launched his record label named Next World Music in 2013 after his exit from Kennis Music. Jaywon was honoured with the Best New Artist award at the Nigerian Music Video Awards in 2009. He also received Best Recording award at The Headies 2013 and the Tush Awards for 'This Year' song.

CAREER AND ACHIEVEMENTS
Jaywon completed his primary education at ECWA Primary School then went on to fulfil his high school at Government Secondary School in Kogi State before graduating with HND honours in Account from Federal Polytechnic, Bida. The singer then moved to Lagos in 2005 and under a year after, secured collaborations with Ray G, Sound Sultan, W4, Slizzy E and 2face.

In 2009, Jaywon bagged a chance to perform at the packed Kennis Music Easter Fiesta, he made a huge impact and Organisers of the event immediately stroke an interest in him. Later that same year, Jaywon signed a record deal with Kennis Music Record Label. He went one to be described as 'Jaywon has one of the most recognisable voices in the industry.' In December 2012, he released the 'Odun Yi (This Year)' single to critical and commercial acclaim in 2013. He later signed an endorsement deal with PZ Cusson which enabled the company use his hit song, 'This Year' for promotional purposes.

After going indie, he released his anticipated and third album titled 'Oba Orin' after four singles featuring Vector, Reminisce and Reekado Banks. This is the follow up to the two albums he released on Kennis Music.

Jaywon premiered the remix for "Madantin" in 2014 featuring Phyno, Olamide and May D under the Next World Music imprint then following up with 'Tanawole' featuring Reminisce weeks after. He also worked with rapper Vector tha Viper on 'Back to Sender.'

Follow Boomplay and keep up-to-date with the latest Jaywon songs and information.

AWARDS AND NOMINATIONS
- NEA Awards / Best New Artist (2009) - Won
- Headies Awards / Recording of the Year (2013) - Won
- ACIA / Best Indigenous (2016) - Won
- Tush Awards /Special Recognition (2016) - Won

Jaywon Songs
• Inside Life
• Aje
• This Year
• Family
• Filebe
• Las Last
• Sugar
• Ability
• Saro
• One Call
• Banuso
• Irin Ajo Ife
• Gbadun
• Malamu
• My Way
• Aje WaZoBia Remix
• Gbon Gbon
• Zelle
• Away
• Back to Sender
• Another Level
• Jolly Muke
• Tinko Angel

Jaywon songs are included in Boomplay music playlists. Search to stream and download Jaywon songs MP3/ single/ albums on the platform....more

Country/Region : Nigeria
Listen to Jaywon's new songs including "This Year (Odun Yi)", "This Year", "Ayinde Wasiu ft. Olamide" and many more. Enjoy Jaywon's latest songs and explore the Jaywon's new music albums. If you want to download Jaywon songs MP3, use the Boomplay App to download the Jaywon songs for free. Discover Jaywon's latest songs, popular songs, trending songs all on Boomplay.
Oluwajuwonlo Iledare (born 6 June 1986), better known by his stage name Jaywon, is a Nigerian singer, songwriter, performer, producer and actor (army of the thieves). Many of Jaywon songs become very popular and trendy online with a great number of streaming and downloads on Boomplay.

He launched his record label named Next World Music in 2013 after his exit from Kennis Music. Jaywon was honoured with the Best New Artist award at the Nigerian Music Video Awards in 2009. He also received Best Recording award at The Headies 2013 and the Tush Awards for 'This Year' song.

CAREER AND ACHIEVEMENTS
Jaywon completed his primary education at ECWA Primary School then went on to fulfil his high school at Government Secondary School in Kogi State before graduating with HND honours in Account from Federal Polytechnic, Bida. The singer then moved to Lagos in 2005 and under a year after, secured collaborations with Ray G, Sound Sultan, W4, Slizzy E and 2face.

In 2009, Jaywon bagged a chance to perform at the packed Kennis Music Easter Fiesta, he made a huge impact and Organisers of the event immediately stroke an interest in him. Later that same year, Jaywon signed a record deal with Kennis Music Record Label. He went one to be described as 'Jaywon has one of the most recognisable voices in the industry.' In December 2012, he released the 'Odun Yi (This Year)' single to critical and commercial acclaim in 2013. He later signed an endorsement deal with PZ Cusson which enabled the company use his hit song, 'This Year' for promotional purposes.

After going indie, he released his anticipated and third album titled 'Oba Orin' after four singles featuring Vector, Reminisce and Reekado Banks. This is the follow up to the two albums he released on Kennis Music.

Jaywon premiered the remix for "Madantin" in 2014 featuring Phyno, Olamide and May D under the Next World Music imprint then following up with 'Tanawole' featuring Reminisce weeks after. He also worked with rapper Vector tha Viper on 'Back to Sender.'

Follow Boomplay and keep up-to-date with the latest Jaywon songs and information.

AWARDS AND NOMINATIONS
- NEA Awards / Best New Artist (2009) - Won
- Headies Awards / Recording of the Year (2013) - Won
- ACIA / Best Indigenous (2016) - Won
- Tush Awards /Special Recognition (2016) - Won

Jaywon Songs
• Inside Life
• Aje
• This Year
• Family
• Filebe
• Las Last
• Sugar
• Ability
• Saro
• One Call
• Banuso
• Irin Ajo Ife
• Gbadun
• Malamu
• My Way
• Aje WaZoBia Remix
• Gbon Gbon
• Zelle
• Away
• Back to Sender
• Another Level
• Jolly Muke
• Tinko Angel

Jaywon songs are included in Boomplay music playlists. Search to stream and download Jaywon songs MP3/ single/ albums on the platform.
New Comments(
24

)
FAQs about Jaywon
Where is Jaywon from?
He is from Nigeria.
What are the latest songs of Jaywon?
The latest songs of Jaywon are See Finish, See Finish Ballads and This Year.
What are the best songs of Jaywon?
The best songs of Jaywon are Don't Leave ft. Raybekah, Zelle (Remix) ft. Portable and This Year (Odun Yi).
What are the best albums of Jaywon?
The best albums of Jaywon are Jahbahlee, Aje The Mixtape and Zelle (Remix).
How to download songs of Jaywon?
You can download songs of Jaywon from Boomplay App for free.
Firstly, install Boomplay app on your mobile phone.
Secondly, navigate to the song you would like to download.
Thirdly, Tap on More > Download.