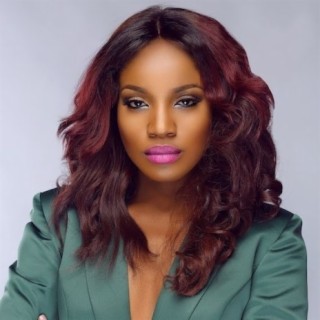 Seyi Shay
Current #2,763

All Time #760

Seyi Shay (born December 21, 1985) is the popular stage name of Deborah Oluwaseyi Joshua. She is a Nigerian-based England-born singer, professional songwriter, and actress. Seyi Shay songs become very popular and trendy online with a great number of streaming and downloads on Boomplay.

She wrote and produced three (3) songs for the soundtrack to popular Konami's video game, Crime Life: Gang Wars (2005).

Seyi Shay holds a degree in music (from a local UK College) and business management (University of East London). However, at that time, her net worth wasn't a topic of interest as it is at the moment.

She was a member of her college school choir and voyaged the world with the London Community Gospel Choir.

Career
Seyi Shay started her music career quite early at age 6. She received her motivation and support from her late mother, also from her siblings who were also involved in music, each belonging to diverse musical groups.

At age 6, she had her first performance in her school with the back-up of the school choral group. Later, at age 14, she performed for the London Community Gospel Choir (LCGC) in their worldwide voyage which embodied 13 cities in Japan.

In 2006, Seyi Shay signed her record deal with a record label, No Apology, and formed a UK-based girl band called Boadicea.

The band manager was Ron Tom, founder, and manager of All Saints and Sugar Babes. However, the group went their separate ways two years later.

She wrote and produce the soundtrack for the popular Konami Game, Crime Life. She wrote, You Will See for Mel C and White Lies for Rapper, ChipMunk. Amazingly, at this point, her net worth began to appreciate.

Seyi Shay emerged as the lead vocalist of the British Pop/RnB Girl Band after performing From Above with the band.

Putatively, Seyi Shay has worked with numerous moguls in the music industry both locally and internationally.

In 2011, Sound Sultan motivated Seyi's return to Nigeria during one of his visits to London. A few months later, she heeded his advice and came to Nigeria to promote her career in the music industry.

On her arrival in Nigeria, she was introduced to popular Cecil Hammond, who signed her under the Flytime Music Label.

The following year, 2012, she released a single, Irawo which became a hit and amassed massive airplay in Nigeria. By this time, her net worth was the topic of discussion.

Later on, she left Flytime Music and signed an international record deal with Universal Island Records UK in July 2015 which distributes her music worldwide.

As a superstar vocalist, Seyi Shay has collaborated with several artists. She was featured by Wizkid; In Love, Mr. Walz in Paradise, Praiz in For You, Yarinya in Amir, and many more to mention.

Follow Boomplay and keep up-to-date with the latest Seyi Shay songs and information.

Seyi Shay Songs
• Right Now
• Gimme Love
• Surrender
• Crazy
• Yolo Yolo
• Pack And Go
• Pempe
• Your Matter
• Jangilova
• Love Wan Tin Tin
• Tuale
• Murda
• Big Girl
• Koma Roll
• Irawo
• Alele
• Ragga Ragga
• Bia
• Loving Your Way
• Right Now Remix
• No Le Le
• Killin' Me Softly
• Shima
• I Like It
• Ride for You
• Airbrush
• Weekend Vibes
• Chairman
• Murder

Seyi Shay songs are included in Boomplay music playlists. Search to stream and download Seyi Shay songs MP3/ single/ albums on the platform....more

Country/Region : Nigeria
Songs

(84)

Albums

(30)

Playlists

(27)
1

2

3

4

5

6

7

8

9

10

11

12

13

14

15

16

17

18

19

20

21

22

23

24

25

26

27

28

29

30

31

32

33

34

35

36

37

38

39

40

41

42

43

44

45

46

47

48

49

50

51

52

53

54

55

56

57

58

59

60

61

62

63

64

65

66

67

68

69

70

71

72

73

74

75

76

77

78

79

80

81

82

83

84
Listen to Seyi Shay's new songs including "Pempe ft. Yemi Alade", "Right Now", "Tuale ft. Ycee, Zlatan & Small Doctor" and many more. Enjoy Seyi Shay's latest songs and explore the Seyi Shay's new music albums. If you want to download Seyi Shay songs MP3, use the Boomplay App to download the Seyi Shay songs for free. Discover Seyi Shay's latest songs, popular songs, trending songs all on Boomplay.
Seyi Shay (born December 21, 1985) is the popular stage name of Deborah Oluwaseyi Joshua. She is a Nigerian-based England-born singer, professional songwriter, and actress. Seyi Shay songs become very popular and trendy online with a great number of streaming and downloads on Boomplay.

She wrote and produced three (3) songs for the soundtrack to popular Konami's video game, Crime Life: Gang Wars (2005).

Seyi Shay holds a degree in music (from a local UK College) and business management (University of East London). However, at that time, her net worth wasn't a topic of interest as it is at the moment.

She was a member of her college school choir and voyaged the world with the London Community Gospel Choir.

Career
Seyi Shay started her music career quite early at age 6. She received her motivation and support from her late mother, also from her siblings who were also involved in music, each belonging to diverse musical groups.

At age 6, she had her first performance in her school with the back-up of the school choral group. Later, at age 14, she performed for the London Community Gospel Choir (LCGC) in their worldwide voyage which embodied 13 cities in Japan.

In 2006, Seyi Shay signed her record deal with a record label, No Apology, and formed a UK-based girl band called Boadicea.

The band manager was Ron Tom, founder, and manager of All Saints and Sugar Babes. However, the group went their separate ways two years later.

She wrote and produce the soundtrack for the popular Konami Game, Crime Life. She wrote, You Will See for Mel C and White Lies for Rapper, ChipMunk. Amazingly, at this point, her net worth began to appreciate.

Seyi Shay emerged as the lead vocalist of the British Pop/RnB Girl Band after performing From Above with the band.

Putatively, Seyi Shay has worked with numerous moguls in the music industry both locally and internationally.

In 2011, Sound Sultan motivated Seyi's return to Nigeria during one of his visits to London. A few months later, she heeded his advice and came to Nigeria to promote her career in the music industry.

On her arrival in Nigeria, she was introduced to popular Cecil Hammond, who signed her under the Flytime Music Label.

The following year, 2012, she released a single, Irawo which became a hit and amassed massive airplay in Nigeria. By this time, her net worth was the topic of discussion.

Later on, she left Flytime Music and signed an international record deal with Universal Island Records UK in July 2015 which distributes her music worldwide.

As a superstar vocalist, Seyi Shay has collaborated with several artists. She was featured by Wizkid; In Love, Mr. Walz in Paradise, Praiz in For You, Yarinya in Amir, and many more to mention.

Follow Boomplay and keep up-to-date with the latest Seyi Shay songs and information.

Seyi Shay Songs
• Right Now
• Gimme Love
• Surrender
• Crazy
• Yolo Yolo
• Pack And Go
• Pempe
• Your Matter
• Jangilova
• Love Wan Tin Tin
• Tuale
• Murda
• Big Girl
• Koma Roll
• Irawo
• Alele
• Ragga Ragga
• Bia
• Loving Your Way
• Right Now Remix
• No Le Le
• Killin' Me Softly
• Shima
• I Like It
• Ride for You
• Airbrush
• Weekend Vibes
• Chairman
• Murder

Seyi Shay songs are included in Boomplay music playlists. Search to stream and download Seyi Shay songs MP3/ single/ albums on the platform.
New Comments(
292

)