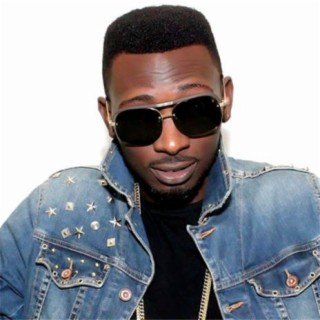 May D
Current #3,229

All Time #2,021

Akinmayokun Awodumila professionally known as May D, is a Nigerian singer, songwriter and dancer. The artist was once signed to the P-Square record label "Square records". He came into limelight after featuring in the "Chop my money" album alongside the now-defunct P-square and Akon.

Now, many May D songs become very popular and trendy online with a great number of streaming and downloads on Boomplay.

May D was born in Lagos State in the Southwestern part of Nigeria on the 28th of December, 1985.. He was born into a family of seven. He attended the University of Lagos where he studied Mass Communication.

May D got married to his longtime Swedish partner, Carolina Wassmuth. The couple got engaged in May 2018. The wedding was conducted by a legal officer.

The marriage was blessed with a boy, Ethan, in October.

Career
May D got signed to Square Records Label in 2011 and rose to fame in that same year. Not too long after signing to the label, it was officially announced on the 21st of August 2012, that the Pop singer is no longer in the label.

After May D split from P-Square team, the older brother to P-Square, Jude Okoye confirmed the statement in an official statement released. According to the Jude Okoye, May D left the record label due to irreconcilable differences. Jude also wished him well in his endeavours. But years later, a bittered May D went online to accuse the Okoye brothers of maltreatment and not paying him well when he was with them.

He released his first single "SoundTrack" under Square records in May 2011. The video which was directed by Clarence Peters was released on the 12th of January 2012. The video had over 10 million views. However, the label deleted the video from their YouTube channel.

On the 25th of September 2012, he launched an independent record label known as Confam Entertainment.

Follow Boomplay and keep up-to-date with the latest May D songs and information.

May D Songs
• Here are some of May D songs
• Dodo
• Chop My Money Remix
• Gat Me High
• Ile Ijo
• Ibadi
• Bamilo
• So Many Tinz
• Hustle
• By Force
• Jeka Jo
• Row Yea Boat
• All Over You
• Santa Diabla
• Tanx A Lot
• Like You
• Koba
• Cool Temper
• Ur Eyes
• 9 Lives
• You Want To Know Me
• Get Down
• Take Me To Your Mother
• No Time
• Coming For You
• Up In The Club
• Birthday Girl
• Amina
• Love In The Air

Achievement
Here are some of his awards and nomination

In 2015, he won the Best Use of Dance in a Video "Ibadi" at the Nigeria Music Video Awards (NMVA). He was nominated as Best New Musician of the Year (Male) at the City People Entertainment Awards in 2013. At the Nigeria Entertainment Awards in 2012, he was nominated as Best New Act of the Year.

May D songs are included in Boomplay music playlists. Search to stream and download May D songs MP3/ single/ albums on the platform....more

Country/Region : Nigeria
Songs

(91)

Albums

(16)

Playlists

(5)
1

2

3

4

5

6

7

8

9

10

11

12

13

14

15

16

17

18

19

20

21

22

23

24

25

26

27

28

29

30

31

32

33

34

35

36

37

38

39

40

41

42

43

44

45

46

47

48

49

50

51

52

53

54

55

56

57

58

59

60

61

62

63

64

65

66

67

68

69

70

71

72

73

74

75

76

77

78

79

80

81

82

83

84

85

86

87

88

89

90

91
Listen to May D's new songs including "Gat Me High", "Dodo", "Ile Ijo" and many more. Enjoy May D's latest songs and explore the May D's new music albums. If you want to download May D songs MP3, use the Boomplay App to download the May D songs for free. Discover May D's latest songs, popular songs, trending songs all on Boomplay.
Akinmayokun Awodumila professionally known as May D, is a Nigerian singer, songwriter and dancer. The artist was once signed to the P-Square record label "Square records". He came into limelight after featuring in the "Chop my money" album alongside the now-defunct P-square and Akon.

Now, many May D songs become very popular and trendy online with a great number of streaming and downloads on Boomplay.

May D was born in Lagos State in the Southwestern part of Nigeria on the 28th of December, 1985.. He was born into a family of seven. He attended the University of Lagos where he studied Mass Communication.

May D got married to his longtime Swedish partner, Carolina Wassmuth. The couple got engaged in May 2018. The wedding was conducted by a legal officer.

The marriage was blessed with a boy, Ethan, in October.

Career
May D got signed to Square Records Label in 2011 and rose to fame in that same year. Not too long after signing to the label, it was officially announced on the 21st of August 2012, that the Pop singer is no longer in the label.

After May D split from P-Square team, the older brother to P-Square, Jude Okoye confirmed the statement in an official statement released. According to the Jude Okoye, May D left the record label due to irreconcilable differences. Jude also wished him well in his endeavours. But years later, a bittered May D went online to accuse the Okoye brothers of maltreatment and not paying him well when he was with them.

He released his first single "SoundTrack" under Square records in May 2011. The video which was directed by Clarence Peters was released on the 12th of January 2012. The video had over 10 million views. However, the label deleted the video from their YouTube channel.

On the 25th of September 2012, he launched an independent record label known as Confam Entertainment.

Follow Boomplay and keep up-to-date with the latest May D songs and information.

May D Songs
• Here are some of May D songs
• Dodo
• Chop My Money Remix
• Gat Me High
• Ile Ijo
• Ibadi
• Bamilo
• So Many Tinz
• Hustle
• By Force
• Jeka Jo
• Row Yea Boat
• All Over You
• Santa Diabla
• Tanx A Lot
• Like You
• Koba
• Cool Temper
• Ur Eyes
• 9 Lives
• You Want To Know Me
• Get Down
• Take Me To Your Mother
• No Time
• Coming For You
• Up In The Club
• Birthday Girl
• Amina
• Love In The Air

Achievement
Here are some of his awards and nomination

In 2015, he won the Best Use of Dance in a Video "Ibadi" at the Nigeria Music Video Awards (NMVA). He was nominated as Best New Musician of the Year (Male) at the City People Entertainment Awards in 2013. At the Nigeria Entertainment Awards in 2012, he was nominated as Best New Act of the Year.

May D songs are included in Boomplay music playlists. Search to stream and download May D songs MP3/ single/ albums on the platform.
New Comments(
16

)