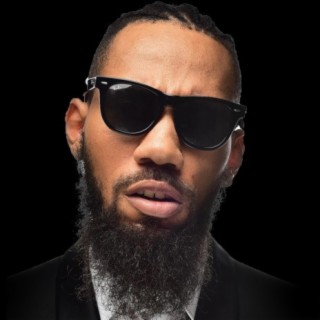 Phyno
Current #167

All Time #158

Nigerian rapper, singer, and producer Phyno made his name in 2014 with his debut album, No Guts, No Glory, whose lead single, the Olamide collaboration "Ghost Mode," earned Best Collaboration honors at both the Nigeria Entertainment Awards and the Headies. Known for rapping in the indigenous Igbo language, he combines elements of hip-hop, R&B, Afro-beat, and Igbo highlife, and continued to enjoy success with subsequent releases like 2016's The Playmaker and 2019's Deal with It.

Born Chibuzor Nelson Azubuike in Enugu, he began playing drums and piano in his teenage years and initially was drawn more toward production. After relocating to Lagos in 2010, he shifted focus to his career as a rapper using his nickname, Phyno. Sessions for his debut album began in 2012, and over the next two years he released a handful of singles, the most prominent of which was the Olamide-assisted "Ghost Mode." With two awards and several more nominations already to his credit, he released No Guts, No Glory in 2014, rapping primarily in Igbo and Nigerian Pidgin languages. The album was loaded with guests like Runtown, Timaya, Flavour N'abania, and Omawumi. A year later, Phyno and Olamide teamed up for a second collaboration, this time recording a full album called 2 Kings. 2015 also saw the inaugural edition of Phynofest, a popular annual festival series that has continued to grow in size each year. His sophomore LP, The Playmaker, arrived in 2016 and featured guests like 2baba and Burna Boy. It was followed in 2019 by Phyno's third solo album, Deal with It. His latest song in 2021 are "For the Money" and "High way". Download and Listen his songs on Boomplay....more

Country/Region : Nigeria
Listen to Phyno's new songs including "Do I", "Ojemba ft. Olamide", "Full Current (That's My Baby) ft. Tekno" and many more. Enjoy Phyno's latest songs and explore the Phyno's new music albums. If you want to download Phyno songs MP3, use the Boomplay App to download the Phyno songs for free. Discover Phyno's latest songs, popular songs, trending songs all on Boomplay.
Nigerian rapper, singer, and producer Phyno made his name in 2014 with his debut album, No Guts, No Glory, whose lead single, the Olamide collaboration "Ghost Mode," earned Best Collaboration honors at both the Nigeria Entertainment Awards and the Headies. Known for rapping in the indigenous Igbo language, he combines elements of hip-hop, R&B, Afro-beat, and Igbo highlife, and continued to enjoy success with subsequent releases like 2016's The Playmaker and 2019's Deal with It.

Born Chibuzor Nelson Azubuike in Enugu, he began playing drums and piano in his teenage years and initially was drawn more toward production. After relocating to Lagos in 2010, he shifted focus to his career as a rapper using his nickname, Phyno. Sessions for his debut album began in 2012, and over the next two years he released a handful of singles, the most prominent of which was the Olamide-assisted "Ghost Mode." With two awards and several more nominations already to his credit, he released No Guts, No Glory in 2014, rapping primarily in Igbo and Nigerian Pidgin languages. The album was loaded with guests like Runtown, Timaya, Flavour N'abania, and Omawumi. A year later, Phyno and Olamide teamed up for a second collaboration, this time recording a full album called 2 Kings. 2015 also saw the inaugural edition of Phynofest, a popular annual festival series that has continued to grow in size each year. His sophomore LP, The Playmaker, arrived in 2016 and featured guests like 2baba and Burna Boy. It was followed in 2019 by Phyno's third solo album, Deal with It. His latest song in 2021 are "For the Money" and "High way". Download and Listen his songs on Boomplay.
New Comments(
648

)
FAQs about Phyno
Where is Phyno from?
He is from Nigeria.
What are the latest songs of Phyno?
The latest songs of Phyno are Do I (Mixed), Do I and Ojemba (Mixed).
What are the best songs of Phyno?
The best songs of Phyno are Ojemba ft. Olamide, Full Current (That's My Baby) ft. Tekno and For the Money ft. Peruzzi.
What are the best albums of Phyno?
The best albums of Phyno are Something To Live For, Deal With It and The Playmaker.
How to download songs of Phyno?
You can download songs of Phyno from Boomplay App for free.
Firstly, install Boomplay app on your mobile phone.
Secondly, navigate to the song you would like to download.
Thirdly, Tap on More > Download.