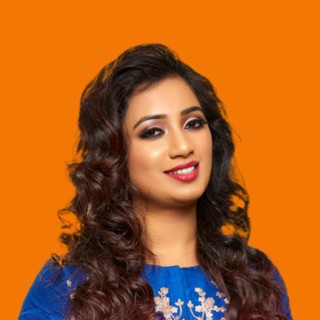 Shreya Ghoshal
Current #2,152

All Time #802

Indian vocal prodigy Shreya Ghoshal began her impressive career at age four. Raised in a high-achieving family, parented by a nuclear engineer father and literary scholar mother, Shreya displayed immense talent early on. Trained initially by her mother, she began her formal study of Hindustani classical music in the nearby town of Kota. Her breakthrough into the mainstream media came when she auditioned and was accepted onto the music talent search show Sa Re Ga Ma on Zee TV. Ghoshal's trajectory through the competition was unstoppable, and she won both the 75th special children's episode and ultimately the children's mega-final in 1996 at the age of 12. Film director Sanjay Leela Bhansali noticed, and offered the young talent the playback role of Paro in the Bollywood feature film Devdas. In 2000 Ghoshal began recording for the film, which was released the following year. Ghoshal's career skyrocketed, and she quickly became one of Bollywood's premier playback singers, singing for the genre's most recognizable actresses. Her performance on the song "Jaadu Hai Nasha Hai" for the 2003 film Jism earned Ghoshal a spot on national airplay charts and significant success outside the film industry. Ghoshal went on to win eight industry awards for her work, including the National Award in 2003. Ghoshal's mastery of several regional languages like Tamil, Malayalam, and Telugu in addition to her native Hindi marks her as a truly special talent in the Indian recording industry. Though her path through higher education has not followed a musical path, Shreya Ghoshal continues to be a staple in studios throughout India. ~ Evan C. Gutierrez, Rovi

...more

Country/Region : India
Listen to Shreya Ghoshal's new songs including "Ishq Tera ft. Sonu Nigam", "Aise Nahi Jiya Lage ft. Javed Ali", "Maahi" and many more. Enjoy Shreya Ghoshal's latest songs and explore the Shreya Ghoshal's new music albums. If you want to download Shreya Ghoshal songs MP3, use the Boomplay App to download the Shreya Ghoshal songs for free. Discover Shreya Ghoshal's latest songs, popular songs, trending songs all on Boomplay.
Indian vocal prodigy Shreya Ghoshal began her impressive career at age four. Raised in a high-achieving family, parented by a nuclear engineer father and literary scholar mother, Shreya displayed immense talent early on. Trained initially by her mother, she began her formal study of Hindustani classical music in the nearby town of Kota. Her breakthrough into the mainstream media came when she auditioned and was accepted onto the music talent search show Sa Re Ga Ma on Zee TV. Ghoshal's trajectory through the competition was unstoppable, and she won both the 75th special children's episode and ultimately the children's mega-final in 1996 at the age of 12. Film director Sanjay Leela Bhansali noticed, and offered the young talent the playback role of Paro in the Bollywood feature film Devdas. In 2000 Ghoshal began recording for the film, which was released the following year. Ghoshal's career skyrocketed, and she quickly became one of Bollywood's premier playback singers, singing for the genre's most recognizable actresses. Her performance on the song "Jaadu Hai Nasha Hai" for the 2003 film Jism earned Ghoshal a spot on national airplay charts and significant success outside the film industry. Ghoshal went on to win eight industry awards for her work, including the National Award in 2003. Ghoshal's mastery of several regional languages like Tamil, Malayalam, and Telugu in addition to her native Hindi marks her as a truly special talent in the Indian recording industry. Though her path through higher education has not followed a musical path, Shreya Ghoshal continues to be a staple in studios throughout India. ~ Evan C. Gutierrez, Rovi
New Comments(
14

)
FAQs about Shreya Ghoshal
Where is Shreya Ghoshal from?
She is from India.
What are the latest songs of Shreya Ghoshal?
The latest songs of Shreya Ghoshal are Ahista Ahista ft. Sonu Nigam, Jayesh Gandhi & Himesh Reshammiya, Ninna Monna BGM and Ninna Monna (From Ninne Chusthu).
What are the best songs of Shreya Ghoshal?
The best songs of Shreya Ghoshal are Ishq Tera ft. Sonu Nigam, Chol Choley Jaai (Duet) ft. Arijit Singh and Nagada Sang Dhol ft. Osman Mir.
What are the best albums of Shreya Ghoshal?
The best albums of Shreya Ghoshal are Sonu Nigam - Romantic Melodies, Bengali Film Hits 2019 and Jugalbandi Special.
How to download songs of Shreya Ghoshal?
You can download songs of Shreya Ghoshal from Boomplay App for free.
Firstly, install Boomplay app on your mobile phone.
Secondly, navigate to the song you would like to download.
Thirdly, Tap on More > Download.