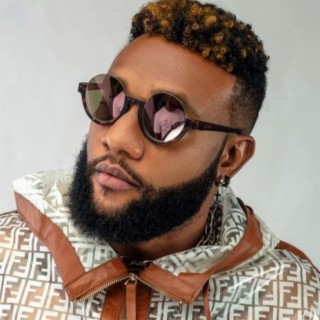 Kcee
Current #361

All Time #741

Kingsley Chinweike Okonkwo,better known as Kcee, is a Nigerian singer and songwriter. He was formerly in the Hip Hop duo group called Kc Presh. He is from Amaputu in Uli in Ihiala local government area in Anambra State Nigeria.

Many of Kcee songs become very popular and trendy online with a great number of streaming and downloads on Boomplay.

Career
He currently has a record deal with Five Star Music. He worked with Del B, a record producer known for producing the song "Limpopo". He is the elder brother to E-money.

In 1999, Kcee started his music career with his long-time partner and friend, Precious John, known as Presh. The duo played for 12 years (from 1999 to 2011).

Their work together as music partners gave them both a few recognition until 2011 when they split and went their separate ways to pursue their own careers.

However, Kcee and Presh met in a local church choir in Lagos in 1999. Together in the church choir both became friends and career partners till they both entered for the Star Quest TV Reality Show together and won the show.

Kcee and Presh signed a lucrative record deal with Nigeria's biggest record label of the time - "Kennis Music", owned by Keke Ogunbe and Dayo Adeneye "D1".

Sometime later, they decided to leave this label and move on to creating their own, which they called "KP Records".

Soon, they changed the name of the label, launching it under the title "Blingz Records". Under this label, the two singing friends released one album called "No Time". The leading single from this album was called "Shokori Bobo" in 2008.

Unfortunately, the union of Kcee and Presh did not last forever - after twelve years of being in the Nigerian music entertainment, they disbanded in 2011, when they had some inconsolable differences and decided it would be for the best to go their separate ways.

In 2013, Kcee teamed up with his brother Emeka Okonkwo who is also known as E-Money to set up a new music label "The Five Star Music Label" under which he released about nine of his singles that included the street anthem "Limpopo".

This particular song catapulted Kcee's career to greater heights as it moved crowds, won several awards and made him more famous all over Nigeria and Africa as he travelled different places to perform the sought after single.

The song "Limpopo" ranked top at the MTV music chart and was banging in several clubs, TV and radio stations all over Nigeria.

The music video of the hit song "Limpopo" was later released in late 2013. The music video of the hit song "Limpopo" made him a public figure and earned him a nomination for Next Rated at the Headies Awards, Most Gifted Dance Video at the Channel O Music Video Awards and Song of the Year at the Headies Awards.

Achievements
• He Signed a multi millionaire endorsement deal with Tele communications company MTN in 2013
• Patience Jonathan appoints Kcee as Peace Ambassador Of The Federal Republic Of Nigeria
• He Signed a multi millionaire endorsement deal with Tele communications company MTN in 2015
• His song Limpopo won him the Song of the Year at the 2013 Headies Award
• His AlbumTakeover won him the Hip Hop Revelation of the Year at the 2014 Headies Awards

Follow Boomplay and keep up-to-date with the latest Kcee songs and information.

Kcee Songs and Albums
• Cultural Praise
• Pull Over
• Limpopo
• Ogadinma
• Hakuna Matata
• Tender
• Stand by You
• Tinana
• Takeover (Album)

Kcee songs are included in Boomplay music playlists. Search to stream and download Kcee songs MP3/ single/ albums on the platform....more

Country/Region : Nigeria
Songs

(2)

Albums

(0)

Playlists

(8)

Videos and More
Listen to Kcee's new songs including "Boo ft. Tekno", "Hakuna Matata", and many more. Enjoy Kcee's latest songs and explore the Kcee's new music albums. If you want to download Kcee songs MP3, use the Boomplay App to download the Kcee songs for free. Discover Kcee's latest songs, popular songs, trending songs all on Boomplay.
Kingsley Chinweike Okonkwo,better known as Kcee, is a Nigerian singer and songwriter. He was formerly in the Hip Hop duo group called Kc Presh. He is from Amaputu in Uli in Ihiala local government area in Anambra State Nigeria.

Many of Kcee songs become very popular and trendy online with a great number of streaming and downloads on Boomplay.

Career
He currently has a record deal with Five Star Music. He worked with Del B, a record producer known for producing the song "Limpopo". He is the elder brother to E-money.

In 1999, Kcee started his music career with his long-time partner and friend, Precious John, known as Presh. The duo played for 12 years (from 1999 to 2011).

Their work together as music partners gave them both a few recognition until 2011 when they split and went their separate ways to pursue their own careers.

However, Kcee and Presh met in a local church choir in Lagos in 1999. Together in the church choir both became friends and career partners till they both entered for the Star Quest TV Reality Show together and won the show.

Kcee and Presh signed a lucrative record deal with Nigeria's biggest record label of the time - "Kennis Music", owned by Keke Ogunbe and Dayo Adeneye "D1".

Sometime later, they decided to leave this label and move on to creating their own, which they called "KP Records".

Soon, they changed the name of the label, launching it under the title "Blingz Records". Under this label, the two singing friends released one album called "No Time". The leading single from this album was called "Shokori Bobo" in 2008.

Unfortunately, the union of Kcee and Presh did not last forever - after twelve years of being in the Nigerian music entertainment, they disbanded in 2011, when they had some inconsolable differences and decided it would be for the best to go their separate ways.

In 2013, Kcee teamed up with his brother Emeka Okonkwo who is also known as E-Money to set up a new music label "The Five Star Music Label" under which he released about nine of his singles that included the street anthem "Limpopo".

This particular song catapulted Kcee's career to greater heights as it moved crowds, won several awards and made him more famous all over Nigeria and Africa as he travelled different places to perform the sought after single.

The song "Limpopo" ranked top at the MTV music chart and was banging in several clubs, TV and radio stations all over Nigeria.

The music video of the hit song "Limpopo" was later released in late 2013. The music video of the hit song "Limpopo" made him a public figure and earned him a nomination for Next Rated at the Headies Awards, Most Gifted Dance Video at the Channel O Music Video Awards and Song of the Year at the Headies Awards.

Achievements
• He Signed a multi millionaire endorsement deal with Tele communications company MTN in 2013
• Patience Jonathan appoints Kcee as Peace Ambassador Of The Federal Republic Of Nigeria
• He Signed a multi millionaire endorsement deal with Tele communications company MTN in 2015
• His song Limpopo won him the Song of the Year at the 2013 Headies Award
• His AlbumTakeover won him the Hip Hop Revelation of the Year at the 2014 Headies Awards

Follow Boomplay and keep up-to-date with the latest Kcee songs and information.

Kcee Songs and Albums
• Cultural Praise
• Pull Over
• Limpopo
• Ogadinma
• Hakuna Matata
• Tender
• Stand by You
• Tinana
• Takeover (Album)

Kcee songs are included in Boomplay music playlists. Search to stream and download Kcee songs MP3/ single/ albums on the platform.
New Comments(
1,180

)
FAQs about Kcee
Where is Kcee from?
He is from Nigeria.
How to download songs of Kcee?
You can download songs of Kcee from Boomplay App for free.
Firstly, install Boomplay app on your mobile phone.
Secondly, navigate to the song you would like to download.
Thirdly, Tap on More > Download.