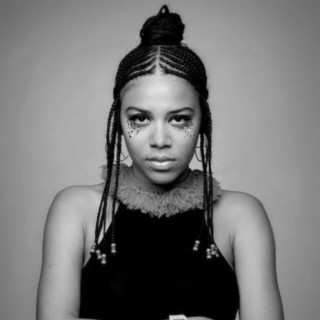 Sho Madjozi
Current #3,789

All Time #3,027

Madjozi was born on 9 May 1992 in Shirley Village, Elim, Limpopo, the daughter of Rosemary Phaweni and Marc Wegerif who ran a non-governmental organisation which was made to assist people with their land claims. Many Sho Madjozi songs become very popular and trendy online with a great number of streaming and downloads on Boomplay.

Her mother is of African descent while her father is of European descent. After her parents divorced at an early age, she was mainly brought up by her mother. Madjozi has half-sisters from both her mother's and father's sides.

As her father, Marc Wegerif, travelled regularly in particular regions of the continent, Madjozi had opportunities to travel with her father - she followed him to Dar es Salaam, Tanzania, where he worked for the charitable organisation Oxfam while she was a teenager. She also spent some time selling clothes at markets in Senegal during 2016 to provide for family.

CAREER AND ACHIEVEMENTS
After graduating high school at the International School of Tanganyika in Tanzania, Madjozi was offered a scholarship to Mount Holyoke College in South Hadley, Massachusetts, US, to study creative writing and African studies. While in the US, she started writing poems under the pen name of MayaThePoet.

The poems were about politics, identity and race. Madjozi returned to South Africa, where she took up a fellowship in studying at the University of South Africa, Johannesburg, and also planned songwriting for other local artists. She began rapping and composing music under her stage name "Sho Madjozi". Madjozi rose to fame after her collaboration with rapper Okmalumkoolkat on the track "Ngiyashisa Bhe" and the hit single "Gqi".

In April 2017, Madjozi made her television appearance as one of the casts of Mzansi Magic drama telenovela Isithembiso. She played Tsakane Mboweni - a character passionately involved in student politics - for the inaugural season....more

Country/Region : South Africa
Songs

(2)

Albums

(0)

Playlists

(19)

Videos and More
Videos
Similar Artists (0)
Listen to Sho Madjozi's new songs including "John Cena (Mixed)", "Chale (Mixed)", and many more. Enjoy Sho Madjozi's latest songs and explore the Sho Madjozi's new music albums. If you want to download Sho Madjozi songs MP3, use the Boomplay App to download the Sho Madjozi songs for free. Discover Sho Madjozi's latest songs, popular songs, trending songs all on Boomplay.
Madjozi was born on 9 May 1992 in Shirley Village, Elim, Limpopo, the daughter of Rosemary Phaweni and Marc Wegerif who ran a non-governmental organisation which was made to assist people with their land claims. Many Sho Madjozi songs become very popular and trendy online with a great number of streaming and downloads on Boomplay.

Her mother is of African descent while her father is of European descent. After her parents divorced at an early age, she was mainly brought up by her mother. Madjozi has half-sisters from both her mother's and father's sides.

As her father, Marc Wegerif, travelled regularly in particular regions of the continent, Madjozi had opportunities to travel with her father - she followed him to Dar es Salaam, Tanzania, where he worked for the charitable organisation Oxfam while she was a teenager. She also spent some time selling clothes at markets in Senegal during 2016 to provide for family.

CAREER AND ACHIEVEMENTS
After graduating high school at the International School of Tanganyika in Tanzania, Madjozi was offered a scholarship to Mount Holyoke College in South Hadley, Massachusetts, US, to study creative writing and African studies. While in the US, she started writing poems under the pen name of MayaThePoet.

The poems were about politics, identity and race. Madjozi returned to South Africa, where she took up a fellowship in studying at the University of South Africa, Johannesburg, and also planned songwriting for other local artists. She began rapping and composing music under her stage name "Sho Madjozi". Madjozi rose to fame after her collaboration with rapper Okmalumkoolkat on the track "Ngiyashisa Bhe" and the hit single "Gqi".

In April 2017, Madjozi made her television appearance as one of the casts of Mzansi Magic drama telenovela Isithembiso. She played Tsakane Mboweni - a character passionately involved in student politics - for the inaugural season.
New Comments(
55

)
FAQs about Sho Madjozi
Where is Sho Madjozi from?
She is from South Africa.
What are the latest songs of Sho Madjozi?
The latest songs of Sho Madjozi are Chale (Mixed), John Cena (Mixed) and Chale.
What are the best songs of Sho Madjozi?
The best songs of Sho Madjozi are John Cena, Wakanda Forever ft. Ycee and Jamani.
What are the best albums of Sho Madjozi?
The best albums of Sho Madjozi are John Cena, What A Life and Limpopo Champions League.
How to download songs of Sho Madjozi?
You can download songs of Sho Madjozi from Boomplay App for free.
Firstly, install Boomplay app on your mobile phone.
Secondly, navigate to the song you would like to download.
Thirdly, Tap on More > Download.