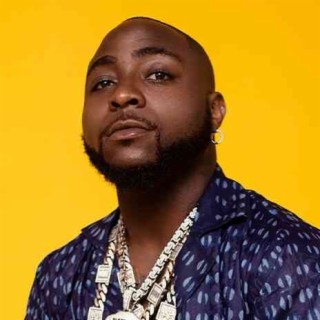 Davido
Current #97

All Time #25

David Adedeji Adeleke, known professionally as Davido, is a American-Nigerian singer and producer. Davido was born on the 21st of November 1992 in Atlanta,Georgia,US. His interest in music began while attending Oakwood University in his late teens, and he started making his own beats and learning music production. He dropped out of school and began pursuing music full-time, relocating to Nigeria, and releasing his debut single, "Back When," in 2011 featuring Naeto-C. The single received some attention, but did not push David into the limelight. Back when was followed shortly by second single "Dami Duro." This was the song that officially rose davido to fame. Davido released his debut album, "Omo Baba Olowo" in 2012, the album featured Sina Rambo, Ice Prince, Kay Switch, B-Red, 2 Face and Naeto and was released under HKN Music Record Label.

He went on to win the Next Rated award at The Headies that same year. Between 2013 and 2015, Davido also released a number of hit singles like Aye and Gobe amongst others. in January 2016 he signed a record deal with Sony Music. He then founded the record label Davido Music Worldwide (DMW), to which acts Dremo, Mayorkun, Peruzzi and Liya have been signed. In October 2016, he released the 5-track EP Son of Mercy under Sony, the EP houses "Gbagbe Oshi", "How Long" and "Coolest Kid in Africa".

In April 2017, Davido re-negotiated his contract with Sony due to creative control issues and later that year Davido released five songs including "If" and "Fall". "If" received a lot of accolades worldwide.while "Fall" became the longest-charting Nigerian pop song in Billboard history....more

Boom ID : 101278086 Country : Nigeria Gender : Male
Listen to Davido's new songs including "Aye", "The Money ft. Olamide", "Gobe" and many more. Enjoy Davido's latest songs and explore the Davido's new music albums. If you want to download Davido songs MP3, use the Boomplay App to download the Davido songs for free. Discover Davido's latest songs, popular songs, trending songs all on Boomplay.
David Adedeji Adeleke, known professionally as Davido, is a American-Nigerian singer and producer. Davido was born on the 21st of November 1992 in Atlanta,Georgia,US. His interest in music began while attending Oakwood University in his late teens, and he started making his own beats and learning music production. He dropped out of school and began pursuing music full-time, relocating to Nigeria, and releasing his debut single, "Back When," in 2011 featuring Naeto-C. The single received some attention, but did not push David into the limelight. Back when was followed shortly by second single "Dami Duro." This was the song that officially rose davido to fame. Davido released his debut album, "Omo Baba Olowo" in 2012, the album featured Sina Rambo, Ice Prince, Kay Switch, B-Red, 2 Face and Naeto and was released under HKN Music Record Label.

He went on to win the Next Rated award at The Headies that same year. Between 2013 and 2015, Davido also released a number of hit singles like Aye and Gobe amongst others. in January 2016 he signed a record deal with Sony Music. He then founded the record label Davido Music Worldwide (DMW), to which acts Dremo, Mayorkun, Peruzzi and Liya have been signed. In October 2016, he released the 5-track EP Son of Mercy under Sony, the EP houses "Gbagbe Oshi", "How Long" and "Coolest Kid in Africa".

In April 2017, Davido re-negotiated his contract with Sony due to creative control issues and later that year Davido released five songs including "If" and "Fall". "If" received a lot of accolades worldwide.while "Fall" became the longest-charting Nigerian pop song in Billboard history.