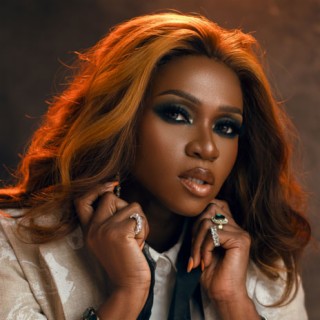 Waje
Current #4,590

All Time #1,133

Aituaje Iruobe, known professionally as Waje, is a Nigerian singer whose vocal range covers three octaves. Many of Waje songs become very popular and trendy online with great number of streaming and downloads on Boomplay. She first gained recognition after being featured on the remake of P-Square's "Omoge Mi". Waje was also featured on the duo's 2008 hit track "Do Me".

Career:
Waje's vocal range includes three octaves. She started singing in the church as a very young lady. She also worked part-time in the area of tourism. Waje formerly launched into music career In the year 2007. As at the time in question, Waje was still a student. Consequently, she did lots of free shows and gigs, using every given opportunity to showcase her talent.

Waje started being noticed in Nigeria in the year 2008, when she was featured in the P-Square hit track titled "Do Me", a track that was acclaimed across Africa and widely played in Europe. The Track boosted her career. She almost at the same period, participated in Advanced Warning (a reality TV show that was organized by MTV Base South Africa and Zain Nigeria. In the show, Waje came out as the first runner up.

Waje made a video of her hit song Coco Baby, titled ?Left for Good? in November 2014. She featured Patoranking and Godwin Strings in the song that was a great success. In August 2015, she released her 1st single of the year 2015.

It was Waje who couched the headline of the song ?Strong girl? which is the theme song for ONE Campaign's ?Poverty is Sexist? in the year 2015. She joined Bono in Lagos at similar campaign that took place in Lagos in the year 2015.

Follow Boomplay and keep up-to-date with latest Waje songs and information.

Achievement:
• BEST RHYTHM AND BLUES SINGER 2011 CITY PEOPLE ENTERTAINMENT AWARDS,
• BEST FEMALE VOCALIST 2011 NIGERIAN ENTERTAINMENT AWARDS,
• BEST FEMALE VOCALIST 2011 HIPHOP WORLD AWARDS (HEADIES),
• BEST AFRICAN ART 2011 DEAFA AFR0-EUROPE AWARDS,
• BEST VOCAL PERFORMANCE 2010 SOUTH SOUTH AWARDS,
• BEST FEMALE PERFORMER 2010 SOUTH SOUTH AWARDS,
• MUSICIAN OF THE YEAR 2013 CITY PEOPLE AWARDS
• BEST REGGA/DANCE HALL HEADIES 2013

Waje Songs:
1 I Wish
2 One Naira (feat. Waje)
3 Do me
4 Coco Baby
5 Best Thing
6 Na The Way
7 I'm Available
8 In the Air
9 OKO MI
10 Kpolongo
11 Grind
12 Omini Knowest
13 No Be You
14 Kponlongo
15 Hold My Hands

Net worth:
Waje is a top Nigerian songtress with an estimated net worth of $1.7 million.

Waje songs are included in Boomplay music playlists. Search to stream and download Waje songs MP3/ single/ albums on the platform....more

Country/Region : Nigeria
Listen to Waje's new songs including "All Day ft. Tiwa Savage", "Vibes", "Coco Baby ft. Diamond Platnumz" and many more. Enjoy Waje's latest songs and explore the Waje's new music albums. If you want to download Waje songs MP3, use the Boomplay App to download the Waje songs for free. Discover Waje's latest songs, popular songs, trending songs all on Boomplay.
Aituaje Iruobe, known professionally as Waje, is a Nigerian singer whose vocal range covers three octaves. Many of Waje songs become very popular and trendy online with great number of streaming and downloads on Boomplay. She first gained recognition after being featured on the remake of P-Square's "Omoge Mi". Waje was also featured on the duo's 2008 hit track "Do Me".

Career:
Waje's vocal range includes three octaves. She started singing in the church as a very young lady. She also worked part-time in the area of tourism. Waje formerly launched into music career In the year 2007. As at the time in question, Waje was still a student. Consequently, she did lots of free shows and gigs, using every given opportunity to showcase her talent.

Waje started being noticed in Nigeria in the year 2008, when she was featured in the P-Square hit track titled "Do Me", a track that was acclaimed across Africa and widely played in Europe. The Track boosted her career. She almost at the same period, participated in Advanced Warning (a reality TV show that was organized by MTV Base South Africa and Zain Nigeria. In the show, Waje came out as the first runner up.

Waje made a video of her hit song Coco Baby, titled ?Left for Good? in November 2014. She featured Patoranking and Godwin Strings in the song that was a great success. In August 2015, she released her 1st single of the year 2015.

It was Waje who couched the headline of the song ?Strong girl? which is the theme song for ONE Campaign's ?Poverty is Sexist? in the year 2015. She joined Bono in Lagos at similar campaign that took place in Lagos in the year 2015.

Follow Boomplay and keep up-to-date with latest Waje songs and information.

Achievement:
• BEST RHYTHM AND BLUES SINGER 2011 CITY PEOPLE ENTERTAINMENT AWARDS,
• BEST FEMALE VOCALIST 2011 NIGERIAN ENTERTAINMENT AWARDS,
• BEST FEMALE VOCALIST 2011 HIPHOP WORLD AWARDS (HEADIES),
• BEST AFRICAN ART 2011 DEAFA AFR0-EUROPE AWARDS,
• BEST VOCAL PERFORMANCE 2010 SOUTH SOUTH AWARDS,
• BEST FEMALE PERFORMER 2010 SOUTH SOUTH AWARDS,
• MUSICIAN OF THE YEAR 2013 CITY PEOPLE AWARDS
• BEST REGGA/DANCE HALL HEADIES 2013

Waje Songs:
1 I Wish
2 One Naira (feat. Waje)
3 Do me
4 Coco Baby
5 Best Thing
6 Na The Way
7 I'm Available
8 In the Air
9 OKO MI
10 Kpolongo
11 Grind
12 Omini Knowest
13 No Be You
14 Kponlongo
15 Hold My Hands

Net worth:
Waje is a top Nigerian songtress with an estimated net worth of $1.7 million.

Waje songs are included in Boomplay music playlists. Search to stream and download Waje songs MP3/ single/ albums on the platform.
New Comments(
92

)
FAQs about Waje
Where is Waje from?
She is from Nigeria.
How to download songs of Waje?
You can download songs of Waje from Boomplay App for free.
Firstly, install Boomplay app on your mobile phone.
Secondly, navigate to the song you would like to download.
Thirdly, Tap on More > Download.