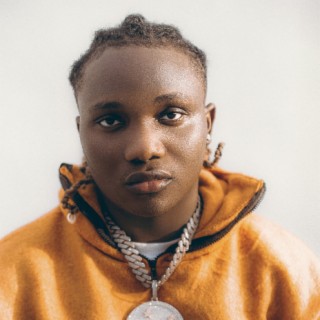 Hotkid
Current #6,191

All Time #3,019

Moshood Adeola popularly known by his stage name as Hotkid is a fast rising Nigerian hip hop rapper, Afro beats singer, songwriter, stage performer and a recording artist. He schooled in Kings College Lagos. He is currently signed to Dr Dolor Entertainment.

He was born in 2003 in Lagos State, Lagos Island to be precise and was brought up in the Ebute-Meta part of Lagos State, Nigeria and has been doing music even right from the age nine. Many of Hotkid songs become very popular and trendy online with great number of streaming and downloads on Boomplay.

Career:
A genius singer, rapper and song writer, Hotkid was first discovered by Dr Dolor, the DDE boss in a viral Instagram video where he got thrilled by his rapping skills. He had check him up on Instagram that day for some freestyles and he was even thrilled the more. DR DOLOR, who is bent on rising by rising others got him signed into his record label on the 19th of July, 2019.

Follow Boomplay and keep up-to-date with latest Hotkid songs and information.

Hotkid Songs:
• Ozana
• Honorable
• Obi
• Nobody
• Makinwah

Net worth:.
Hotkid is currently one of the richest and the most influential artistes in the Nigerian Music industry, with an estimated net worth of $33,000 dollar....more

Country/Region : Nigeria
Listen to Hotkid's new songs including "Ozana", "MANDEM ft. DTG & Kwesi Arthur", "Nobody" and many more. Enjoy Hotkid's latest songs and explore the Hotkid's new music albums. If you want to download Hotkid songs MP3, use the Boomplay App to download the Hotkid songs for free. Discover Hotkid's latest songs, popular songs, trending songs all on Boomplay.
Moshood Adeola popularly known by his stage name as Hotkid is a fast rising Nigerian hip hop rapper, Afro beats singer, songwriter, stage performer and a recording artist. He schooled in Kings College Lagos. He is currently signed to Dr Dolor Entertainment.

He was born in 2003 in Lagos State, Lagos Island to be precise and was brought up in the Ebute-Meta part of Lagos State, Nigeria and has been doing music even right from the age nine. Many of Hotkid songs become very popular and trendy online with great number of streaming and downloads on Boomplay.

Career:
A genius singer, rapper and song writer, Hotkid was first discovered by Dr Dolor, the DDE boss in a viral Instagram video where he got thrilled by his rapping skills. He had check him up on Instagram that day for some freestyles and he was even thrilled the more. DR DOLOR, who is bent on rising by rising others got him signed into his record label on the 19th of July, 2019.

Follow Boomplay and keep up-to-date with latest Hotkid songs and information.

Hotkid Songs:
• Ozana
• Honorable
• Obi
• Nobody
• Makinwah

Net worth:.
Hotkid is currently one of the richest and the most influential artistes in the Nigerian Music industry, with an estimated net worth of $33,000 dollar.
New Comments(
32

)
FAQs about Hotkid
Where is Hotkid from?
He is from Nigeria.
How to download songs of Hotkid?
You can download songs of Hotkid from Boomplay App for free.
Firstly, install Boomplay app on your mobile phone.
Secondly, navigate to the song you would like to download.
Thirdly, Tap on More > Download.