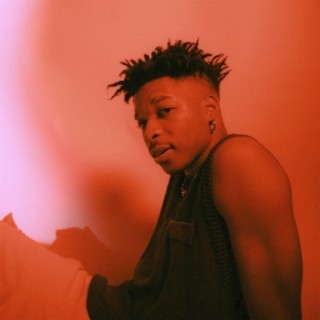 Magixx
Current #498

All Time #190

Adelabu Alexander (born 27 September 1999) is the newest addition to the Mavin Records Family. He goes by the stage name, Magixx. Many of Magixx songs become very popular and trendy online with a great number of streaming and downloads on Boomplay.

The talented artist secured a record deal with Mavin Records after months of training at Mavin Academy. To signal his arrival into the industry, he dropped his debuted project, titled Magix EP. The self-titled project, which has five tracks, is currently receiving massive airplay in radio stations, TV stations and online media across the country.

Influenced by artists such as Fela Kuti, 2baba, D'banj, Shina Peters, Magixx decided to try his hands on music and started composing music lyrics in the comfort of his bedroom. With time, he went from just writing songs to singing them in front of a crowd at school contests and carnivals in his community. Receiving positive reviews from his audience at that time, he became resolute in his decision to pursue music full time.

Career
Whilst Magixx was still a student at UNILAG, he was active in the school's music scene and regularly attended parties, shows, and concerts. At these events, he never failed to display his creativity when it comes to music. This made him a notable face in Unilag's entertainment community and helped him to build a small but strong fanbase.

In April 2019, he recorded a cover of Burna Boy's hit song, Dangote, and uploaded it on his Instagram page. The video went viral on the internet, getting over 35,000 views. In addition, he is known to have released freestyle versions of popular songs in the past.

He dropped the cover of the song, Sinner, on the 3rd of September 2021. Like his other cover songs, the video spread like wildfire on Instagram, gaining over 43,000 views. The original music was sung by Adekunle Gold.

Magixx was unveiled as the latest signee to Mavin Records by music executive Don Jazzy on the 23rd of September 2021. Magixx, who had been training as a student under Mavin Academy for months, released his debut project, Magixx EP, the same day news of his signing was announced.

As a graduate of Mavin Academy, Magixx joins a strong alumni network of successful music stars such as Crayon, Ayra Starr, Ruger, Johnny Drille, and Rema.

Magixx's EP is a five-track project featuring the following songs - Love Don't Cost A Dime, Like A Movie, Pati, Gratitude, and Motivate Yourself. The visuals of Love Don't Cost A Dime was shot by one of the industry's best in the person of Director K.

The video, which was uploaded on YouTube, garnered over 8.1k views with hours of its release. The video featured fashion model, Sonia Kordi, while the contract for fashion stylist was given to Styled By Reus.

During the pre-release phase of the project, Magixx worked closely with Mavin Executives, Tega Oghenejobo (Chief Operating Officer) and Rima Tahini (Director Of A&R).

In his bid to give his audience timeless music, he also had to collaborate with producers: Lomon Christopher, Randay, Kenny, Lex Luther, and Naked Beatz.

Follow Boomplay and keep up to date with the latest Magixx songs and information.

Magixx Discography
• Love Don't Cost A Dime
• Like A Movie
• Pati
• Gratitude
• Motivate Yourself
• Sinner (Cover)
• Dangote (Cover)
• Magixx (EP)

Magixx songs are included in Boomplay music playlists. Search to stream and download Magixx songs MP3/ single/ albums on the platform....more

Country/Region : Nigeria
Listen to Magixx's new songs including "Love Don't Cost A Dime (Re-Up) [Mixed] ft. Ayra Starr", "Jowey Wurld _ Love don't cost a dime", "Color (My Baby) [Mixed]" and many more. Enjoy Magixx's latest songs and explore the Magixx's new music albums. If you want to download Magixx songs MP3, use the Boomplay App to download the Magixx songs for free. Discover Magixx's latest songs, popular songs, trending songs all on Boomplay.
Adelabu Alexander (born 27 September 1999) is the newest addition to the Mavin Records Family. He goes by the stage name, Magixx. Many of Magixx songs become very popular and trendy online with a great number of streaming and downloads on Boomplay.

The talented artist secured a record deal with Mavin Records after months of training at Mavin Academy. To signal his arrival into the industry, he dropped his debuted project, titled Magix EP. The self-titled project, which has five tracks, is currently receiving massive airplay in radio stations, TV stations and online media across the country.

Influenced by artists such as Fela Kuti, 2baba, D'banj, Shina Peters, Magixx decided to try his hands on music and started composing music lyrics in the comfort of his bedroom. With time, he went from just writing songs to singing them in front of a crowd at school contests and carnivals in his community. Receiving positive reviews from his audience at that time, he became resolute in his decision to pursue music full time.

Career
Whilst Magixx was still a student at UNILAG, he was active in the school's music scene and regularly attended parties, shows, and concerts. At these events, he never failed to display his creativity when it comes to music. This made him a notable face in Unilag's entertainment community and helped him to build a small but strong fanbase.

In April 2019, he recorded a cover of Burna Boy's hit song, Dangote, and uploaded it on his Instagram page. The video went viral on the internet, getting over 35,000 views. In addition, he is known to have released freestyle versions of popular songs in the past.

He dropped the cover of the song, Sinner, on the 3rd of September 2021. Like his other cover songs, the video spread like wildfire on Instagram, gaining over 43,000 views. The original music was sung by Adekunle Gold.

Magixx was unveiled as the latest signee to Mavin Records by music executive Don Jazzy on the 23rd of September 2021. Magixx, who had been training as a student under Mavin Academy for months, released his debut project, Magixx EP, the same day news of his signing was announced.

As a graduate of Mavin Academy, Magixx joins a strong alumni network of successful music stars such as Crayon, Ayra Starr, Ruger, Johnny Drille, and Rema.

Magixx's EP is a five-track project featuring the following songs - Love Don't Cost A Dime, Like A Movie, Pati, Gratitude, and Motivate Yourself. The visuals of Love Don't Cost A Dime was shot by one of the industry's best in the person of Director K.

The video, which was uploaded on YouTube, garnered over 8.1k views with hours of its release. The video featured fashion model, Sonia Kordi, while the contract for fashion stylist was given to Styled By Reus.

During the pre-release phase of the project, Magixx worked closely with Mavin Executives, Tega Oghenejobo (Chief Operating Officer) and Rima Tahini (Director Of A&R).

In his bid to give his audience timeless music, he also had to collaborate with producers: Lomon Christopher, Randay, Kenny, Lex Luther, and Naked Beatz.

Follow Boomplay and keep up to date with the latest Magixx songs and information.

Magixx Discography
• Love Don't Cost A Dime
• Like A Movie
• Pati
• Gratitude
• Motivate Yourself
• Sinner (Cover)
• Dangote (Cover)
• Magixx (EP)

Magixx songs are included in Boomplay music playlists. Search to stream and download Magixx songs MP3/ single/ albums on the platform.
New Comments(
42

)
FAQs about Magixx
Where is Magixx from?
He is from Nigeria.
What are the latest songs of Magixx?
The latest songs of Magixx are Shaye (Mixed) and Colors (My Baby) [Mixed].
What are the best songs of Magixx?
The best songs of Magixx are All Over, Love Don't Cost A Dime (Re-Up) ft. Ayra Starr and Love Don't Cost A Dime.
What are the best albums of Magixx?
The best albums of Magixx are ATOM, Love Don't Cost A Dime (Re-Up) and Magixx.
How to download songs of Magixx?
You can download songs of Magixx from Boomplay App for free.
Firstly, install Boomplay app on your mobile phone.
Secondly, navigate to the song you would like to download.
Thirdly, Tap on More > Download.