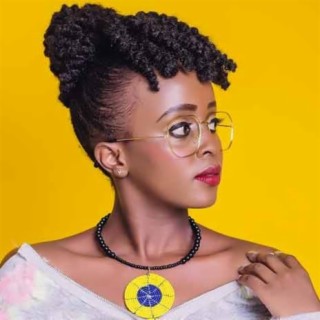 Nadia Mukami
Current #1,773

All Time #931

Nadia Mukami was born Born in Pumwani hospital in Nairobi, Kenya on 9 November 1996. Many of Nadia Mukami songs become very popular and trendy online with great number of streaming and downloads on Boomplay now.

She went to Kari Mwailu Primary where she completed her Primary school studies in 2009. She was later admitted to Mount Laverna School in Kasarani, Nairobi. She later joined Maseno University and pursued a degree in BBA Finance option.

CAREER AND ACHIEVEMENTS
Nadia wrote and recorded her first song Barua Ya Siri in 2015. Her second song Kesi was her turning point, it gained more popularity and became a hit of the moment. It made her win opportunities to perform at various Kenyan Platforms such as Blaze The Nile Festival, The Luo Festival. Nadia released the song "Radio Love" featuring Arrow Bwoy in February 2019. The song was her breakthrough. It garnered massive attention from the Kenyan media and was played in many radio and TV stations in the region.

In 2019, Nadia parted ways with her management "Hailemind Entertainment". In the same year 2019, her song "Radio Love" won two awards at Pulse Music Video Awards (PMVA). In 2019, she was among artistes who represented Kenya at Coke Studio Africa.

In early 2020, Nadia released "Nitekenye" featuring Kenyan Gengetone musical group "Sailors". Nadia's debut EP was later released in October 2020. The lead single "Jipe" featuring Tanzanian singer Mario was released in March 2020. The EP featured Khaligraph Jones, Maua Sama, Fena Gitu, DJ Joe Mfalme, Sanaipei Tande, Nigeria's Orezi, Zimbabwe's Tamy Moyo and Lioness Nam from Namibia. She was also nominated for the HiPipo awards in 2020. In 2021 she was nominated for the first time in MTV Africa Music Awards (MAMA).

Follow Boomplay and keep up to date with latest Nadia Mukami songs and information.

Nadia Mukami Songs
• Kesi
• Si Rahisi
• African Lover
• Yule Yule
• Radio Love ft. Arrow Bwoy
• Lola ft. Masauti
• Ikamate Hiyo
• Maombi
• Jipe ft. Marioo
• Million Dollar
• Tesa ft Khaligraph Jones & Fena Gitu
• Zungushie ft. Maua Sama
• Dozele ft. Orezi & Joe Mfalme
• Criminal Lover
• Wangu ft Sanaipei Tande
• Kolo ft Otile Brown
• Million Dollar (Remix) ft. Lioness Nam & Tamy Moyo

AWARDS
• Winner, Pulse Music Video Awards, Radio Love "Female Video of the Year" (2019)
• Nominee, HiPipo Awards, Radio Love "Best Kenyan Act" (2020)
• Nominee, MTV Africa Music Awards, "Best Fanbase Award" (2021)
• Winner, Zuri Awards, Finance Category (2021)

Nadia Mukami songs are included in Boomplay music playlists. Search to stream and download Nadia Mukami songs MP3/ single/ albums on the Boomplay....more

Country/Region : Kenya
Listen to Nadia Mukami's new songs including "Kai Wangu ft. Arrow Bwoy", "Zawadi ft. Latinoh", "Jipe ft. Marioo" and many more. Enjoy Nadia Mukami's latest songs and explore the Nadia Mukami's new music albums. If you want to download Nadia Mukami songs MP3, use the Boomplay App to download the Nadia Mukami songs for free. Discover Nadia Mukami's latest songs, popular songs, trending songs all on Boomplay.
Nadia Mukami was born Born in Pumwani hospital in Nairobi, Kenya on 9 November 1996. Many of Nadia Mukami songs become very popular and trendy online with great number of streaming and downloads on Boomplay now.

She went to Kari Mwailu Primary where she completed her Primary school studies in 2009. She was later admitted to Mount Laverna School in Kasarani, Nairobi. She later joined Maseno University and pursued a degree in BBA Finance option.

CAREER AND ACHIEVEMENTS
Nadia wrote and recorded her first song Barua Ya Siri in 2015. Her second song Kesi was her turning point, it gained more popularity and became a hit of the moment. It made her win opportunities to perform at various Kenyan Platforms such as Blaze The Nile Festival, The Luo Festival. Nadia released the song "Radio Love" featuring Arrow Bwoy in February 2019. The song was her breakthrough. It garnered massive attention from the Kenyan media and was played in many radio and TV stations in the region.

In 2019, Nadia parted ways with her management "Hailemind Entertainment". In the same year 2019, her song "Radio Love" won two awards at Pulse Music Video Awards (PMVA). In 2019, she was among artistes who represented Kenya at Coke Studio Africa.

In early 2020, Nadia released "Nitekenye" featuring Kenyan Gengetone musical group "Sailors". Nadia's debut EP was later released in October 2020. The lead single "Jipe" featuring Tanzanian singer Mario was released in March 2020. The EP featured Khaligraph Jones, Maua Sama, Fena Gitu, DJ Joe Mfalme, Sanaipei Tande, Nigeria's Orezi, Zimbabwe's Tamy Moyo and Lioness Nam from Namibia. She was also nominated for the HiPipo awards in 2020. In 2021 she was nominated for the first time in MTV Africa Music Awards (MAMA).

Follow Boomplay and keep up to date with latest Nadia Mukami songs and information.

Nadia Mukami Songs
• Kesi
• Si Rahisi
• African Lover
• Yule Yule
• Radio Love ft. Arrow Bwoy
• Lola ft. Masauti
• Ikamate Hiyo
• Maombi
• Jipe ft. Marioo
• Million Dollar
• Tesa ft Khaligraph Jones & Fena Gitu
• Zungushie ft. Maua Sama
• Dozele ft. Orezi & Joe Mfalme
• Criminal Lover
• Wangu ft Sanaipei Tande
• Kolo ft Otile Brown
• Million Dollar (Remix) ft. Lioness Nam & Tamy Moyo

AWARDS
• Winner, Pulse Music Video Awards, Radio Love "Female Video of the Year" (2019)
• Nominee, HiPipo Awards, Radio Love "Best Kenyan Act" (2020)
• Nominee, MTV Africa Music Awards, "Best Fanbase Award" (2021)
• Winner, Zuri Awards, Finance Category (2021)

Nadia Mukami songs are included in Boomplay music playlists. Search to stream and download Nadia Mukami songs MP3/ single/ albums on the Boomplay.
New Comments(
425

)
FAQs about Nadia Mukami
Where is Nadia Mukami from?
She is from Kenya.
How to download songs of Nadia Mukami?
You can download songs of Nadia Mukami from Boomplay App for free.
Firstly, install Boomplay app on your mobile phone.
Secondly, navigate to the song you would like to download.
Thirdly, Tap on More > Download.