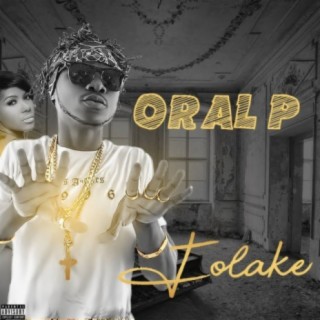 Oral P
Current #12.4k

All Time #3,735

Phillip Ebuka Emmanuel (born 22 Oct 1999), known professionally as Oral P (sometimes stylized as Oral P), is a Nigerian Afro-pop singer and songwriter. Oral P hails from Umuahia Abia State in eastern part of Nigeria.

Many Oral P songs become very popular and trendy online with a great number of streaming and downloads on Boomplay.

Career
He started recording music at the age of 17 and plans to release an album with 10 Tracks. He rose to prominence after releasing " Folake ", the lead single from his debut studio album with over 50k streams on Boomplay.

Oral P is currently signed to House Of Musaak (HOM) a notable record label that has been distributing and marketing him in Nigeria and making sure that the world hears about his great sound and talent.

Oral P is a rising start and has been described as a new sound that will take over the Nigerian Music industry very soon, Oral P has collaborated with other artists in songs such as "Fight for Attention, Copy Dat and Sound it".

Follow Boomplay and keep up-to-date with the latest Oral P songs and information.

Oral P Songs
• Folake
• Diva
• Jokinjo
• One Nigeria
• Ajoro

Oral P songs are included in Boomplay music playlists. Search to stream and download Oral P songs MP3/ single/ albums on the platform....more

Country : Nigeria
Songs

(1)

Albums

(1)

Playlists

(0)
Listen to Oral P's new songs including "Folake", and many more. Enjoy Oral P's latest songs and explore the Oral P's new music albums. If you want to download Oral P songs MP3, use the Boomplay App to download the Oral P songs for free. Discover Oral P's latest songs, popular songs, trending songs all on Boomplay.
Phillip Ebuka Emmanuel (born 22 Oct 1999), known professionally as Oral P (sometimes stylized as Oral P), is a Nigerian Afro-pop singer and songwriter. Oral P hails from Umuahia Abia State in eastern part of Nigeria.

Many Oral P songs become very popular and trendy online with a great number of streaming and downloads on Boomplay.

Career
He started recording music at the age of 17 and plans to release an album with 10 Tracks. He rose to prominence after releasing " Folake ", the lead single from his debut studio album with over 50k streams on Boomplay.

Oral P is currently signed to House Of Musaak (HOM) a notable record label that has been distributing and marketing him in Nigeria and making sure that the world hears about his great sound and talent.

Oral P is a rising start and has been described as a new sound that will take over the Nigerian Music industry very soon, Oral P has collaborated with other artists in songs such as "Fight for Attention, Copy Dat and Sound it".

Follow Boomplay and keep up-to-date with the latest Oral P songs and information.

Oral P Songs
• Folake
• Diva
• Jokinjo
• One Nigeria
• Ajoro

Oral P songs are included in Boomplay music playlists. Search to stream and download Oral P songs MP3/ single/ albums on the platform.
New Comments(
9

)