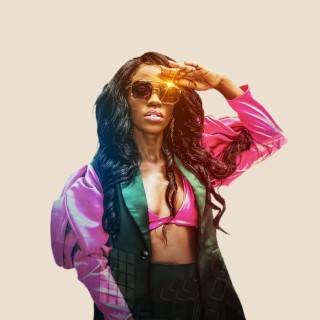 Vinka
Current #6,296

All Time #2,542

Nakiyingi Veronica Luggya popularly known as Vinka was born on 27 June 1994. Vinka is a Ugandan singer & songwriter or dancehall pop artist, since 2016 in the music industry and signed under Swangz Avenue.

Career
Vinka made her music debut with "Stylo", and she is a well-established artist who released a number of hit songs like a Malaika, Love panic, Only love you, and many more.

She worked with many music artists like a late Sera, Zulanda, Irene Ntale, and more. Vinka was graduated from Makerere University with a bachelor's degree in tourism. Vinka started her music career with many difficulties & challenges in her own life. She belongs to a very middle-class family and starts her career from her school life.

From an early age, she was only a dancer. Vinka also worked as an intern at Uganda's premier entertainment company. Earlier, Vinka was the manager of famous Ugandan female artist Irene Ntale before she sings.

They both looking like a sister. After that, because of some reason, Ntale decided to leave the stage. After that Vinka decided to sing and she started to record songs. Veronica started her singing career in the year 2017.

Achievements
Veronica won the female artist during the Zzina awards in 2018. In 2019 she also bagged the Best Female Artist in the East Africa Award. She has also been nominated for and won the African Music Award.

Follow Boomplay and keep up to date with the latest songs of Vinka and information.

Vinka Songs
• Koona
• Tubikole ft Fik Famaica
• Your body
• Sweet love
• Goodie goodie
• Love panic
• Malaika
• Level
• Stylo ft Irene Ntale
• Bigambo
• Oluyyimba lwo mwaka
• Only love you
• Overdose ft voltage music
• Chips and ketchup

Vinka's Songs are included in Boomplay music playlists. Search, stream, and download Vinka's Songs, her latest singles and albums in MP3 only on the Boomplay platform for free....more

Country/Region : Uganda
Songs

(0)

Albums

(0)

Playlists

(3)

Similar Artists

(10)
Listen to Vinka's new songs including and many more. Enjoy Vinka's latest songs and explore the Vinka's new music albums. If you want to download Vinka songs MP3, use the Boomplay App to download the Vinka songs for free. Discover Vinka's latest songs, popular songs, trending songs all on Boomplay.
Nakiyingi Veronica Luggya popularly known as Vinka was born on 27 June 1994. Vinka is a Ugandan singer & songwriter or dancehall pop artist, since 2016 in the music industry and signed under Swangz Avenue.

Career
Vinka made her music debut with "Stylo", and she is a well-established artist who released a number of hit songs like a Malaika, Love panic, Only love you, and many more.

She worked with many music artists like a late Sera, Zulanda, Irene Ntale, and more. Vinka was graduated from Makerere University with a bachelor's degree in tourism. Vinka started her music career with many difficulties & challenges in her own life. She belongs to a very middle-class family and starts her career from her school life.

From an early age, she was only a dancer. Vinka also worked as an intern at Uganda's premier entertainment company. Earlier, Vinka was the manager of famous Ugandan female artist Irene Ntale before she sings.

They both looking like a sister. After that, because of some reason, Ntale decided to leave the stage. After that Vinka decided to sing and she started to record songs. Veronica started her singing career in the year 2017.

Achievements
Veronica won the female artist during the Zzina awards in 2018. In 2019 she also bagged the Best Female Artist in the East Africa Award. She has also been nominated for and won the African Music Award.

Follow Boomplay and keep up to date with the latest songs of Vinka and information.

Vinka Songs
• Koona
• Tubikole ft Fik Famaica
• Your body
• Sweet love
• Goodie goodie
• Love panic
• Malaika
• Level
• Stylo ft Irene Ntale
• Bigambo
• Oluyyimba lwo mwaka
• Only love you
• Overdose ft voltage music
• Chips and ketchup

Vinka's Songs are included in Boomplay music playlists. Search, stream, and download Vinka's Songs, her latest singles and albums in MP3 only on the Boomplay platform for free.
New Comments(
63

)