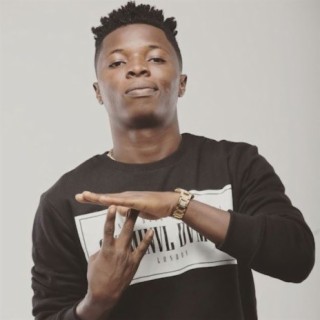 Wale Turner
Current #18.8k

All Time #7,772

Turner Omowaleola is best known as "Wale Turner". He is a talented Nigerian rapper and Songwriter. Many of Wale Turner songs become very popular and trendy online with a great number of streaming and downloads on Boomplay.

He was born and raised in Lagos state, Nigeria.
He finished his secondary education in immaculate heart comprehensive senior high school, Maryland, Lagos State.

CAREER AND ACHIEVEMENTS
Wale turner is an indegenous rapper who effortlessly rolls with English, Yoruba and French language. In 2016, He rose to fame after one of his freestyles on social media went viral.

Wale turner is undoubtedly creative, talented and very skillful when it comes to music. He got signed under the Roysce and Roysce Entertainment Record Label.

He has collaborated with top artistes like Idowest, Jaido P, Olamide, nad many others in the music industry. Wale Turner claims to have a lot to offer while citing his multilingual ability and versatility as what sets him apart from the crowd. He sees himself as one of the best in the industry.

Follow Boomplay and keep up-to-date with the latest Wale Turner songs and information.

Wale Turner Songs
• No
• Aje
• Bosi
• Achopia
• Wana kilo n Sharpenah
• Abi
• Back At It
• Awa Noni
• Oladimeji
• Freeky Friday
• Commando
• Balu
• Shayo vibes
• Fulani cattle

NET WORTH
• Wale turner current net worth is estimated at $650,000.

Wale Turner songs are included in Boomplay music playlists. Search to stream and download Wale Turner songs MP3/ single/ albums on the platform....more

Country/Region : Nigeria
Songs

(15)

Albums

(11)

Playlists

(0)
1

2

3

4

5

6

7

8

9

10

11

12

13

14

15
Listen to Wale Turner's new songs including "Aje", "Asampepe ft. Idowest 🅴", "No" and many more. Enjoy Wale Turner's latest songs and explore the Wale Turner's new music albums. If you want to download Wale Turner songs MP3, use the Boomplay App to download the Wale Turner songs for free. Discover Wale Turner's latest songs, popular songs, trending songs all on Boomplay.
Turner Omowaleola is best known as "Wale Turner". He is a talented Nigerian rapper and Songwriter. Many of Wale Turner songs become very popular and trendy online with a great number of streaming and downloads on Boomplay.

He was born and raised in Lagos state, Nigeria.
He finished his secondary education in immaculate heart comprehensive senior high school, Maryland, Lagos State.

CAREER AND ACHIEVEMENTS
Wale turner is an indegenous rapper who effortlessly rolls with English, Yoruba and French language. In 2016, He rose to fame after one of his freestyles on social media went viral.

Wale turner is undoubtedly creative, talented and very skillful when it comes to music. He got signed under the Roysce and Roysce Entertainment Record Label.

He has collaborated with top artistes like Idowest, Jaido P, Olamide, nad many others in the music industry. Wale Turner claims to have a lot to offer while citing his multilingual ability and versatility as what sets him apart from the crowd. He sees himself as one of the best in the industry.

Follow Boomplay and keep up-to-date with the latest Wale Turner songs and information.

Wale Turner Songs
• No
• Aje
• Bosi
• Achopia
• Wana kilo n Sharpenah
• Abi
• Back At It
• Awa Noni
• Oladimeji
• Freeky Friday
• Commando
• Balu
• Shayo vibes
• Fulani cattle

NET WORTH
• Wale turner current net worth is estimated at $650,000.

Wale Turner songs are included in Boomplay music playlists. Search to stream and download Wale Turner songs MP3/ single/ albums on the platform.
New Comments(
5

)