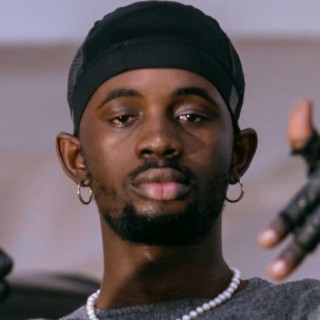 Black Sherif
Current #222

All Time #321

Mohammed Ismail Sharrif, known as Black Sherif in showbiz circles, and casually as Blacko is a promising young singer to breakout out on the Ghanaian music scene.

Currently based in Tema, he was born on 9th January, 2002 as the only child to his parents, Mariam Musah and Ismail Kwabena Frimpong in Ashanti Akyem Konongo, his parents have since relocated to Greece.

He rose to prominence with his viral hit, "Money" which blew up in the first quarter of 2020 with high praise for his unorthodox flow and relevant lyrics, which was fresh and highly accepted by the Ghanaian music community and listeners alike.

After battling with mental health issues and taking a break from his career, Blacko went on to put another single, "Destiny" which was as successful as his earlier release, prompting industry players to pay more attention to the 18 year old sensation.

Black Sherif is a product of Kumasi Academy and is currently in UPSA for his tertiary studies....more

Boom ID : 106904097 Country : Ghana Gender : Male
Listen to Black Sherif's new songs including "Destiny", "Money ", "Money Remix ft AMG Armani & Tulenkey" and many more. Enjoy Black Sherif's latest songs and explore the Black Sherif's new music albums. If you want to download Black Sherif songs MP3, use the Boomplay App to download the Black Sherif songs for free. Discover Black Sherif's latest songs, popular songs, trending songs all on Boomplay.
Mohammed Ismail Sharrif, known as Black Sherif in showbiz circles, and casually as Blacko is a promising young singer to breakout out on the Ghanaian music scene.

Currently based in Tema, he was born on 9th January, 2002 as the only child to his parents, Mariam Musah and Ismail Kwabena Frimpong in Ashanti Akyem Konongo, his parents have since relocated to Greece.

He rose to prominence with his viral hit, "Money" which blew up in the first quarter of 2020 with high praise for his unorthodox flow and relevant lyrics, which was fresh and highly accepted by the Ghanaian music community and listeners alike.

After battling with mental health issues and taking a break from his career, Blacko went on to put another single, "Destiny" which was as successful as his earlier release, prompting industry players to pay more attention to the 18 year old sensation.

Black Sherif is a product of Kumasi Academy and is currently in UPSA for his tertiary studies.