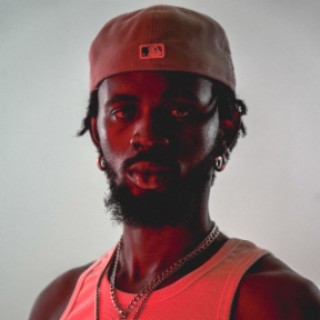 Black Sherif
Current #116

All Time #50

Mohammed Ismail Sherif (born 9 January 2002) known professionally as Black Sherif is a Ghanaian musician and performer from Konongo, Ghana. Many Black sherif songs become very popular and trendy online with a great number of streaming and downloads on Boomplay.

Black Sherif was born and raised in Konongo in the Ashanti Region of Ghana. He completed Kumasi Academy for his second cycle education and currently a student of University of Professional Studies.

Follow Boomplay and keep up-to-date with the latest Black sherif songs and information.

Black Sherif Songs
• Cry For Me
• Money
• Money Remix ft AMG Armani & Tulenkey
• Destiny
• Ade Akye
• Ankonam
• First Sermon
• Second Sermon
• Abotr3(Patience) as a featured artiste
• Second Sermon Remix ft Burna Boy
• Gold Digga ft Samsney

He performed at the final of the 2021 MTN FA Cup final match between Accra Hearts of Oak and Ashanti Gold SCh

Black Sherif songs are included in Boomplay music playlists. Search to stream and download Black sherif songs MP3/ single/ albums on the platform....more

Country/Region : Ghana
Listen to Black Sherif's new songs including "Destiny", "Money", "Money Remix ft AMG Armani & Tulenkey" and many more. Enjoy Black Sherif's latest songs and explore the Black Sherif's new music albums. If you want to download Black Sherif songs MP3, use the Boomplay App to download the Black Sherif songs for free. Discover Black Sherif's latest songs, popular songs, trending songs all on Boomplay.
Mohammed Ismail Sherif (born 9 January 2002) known professionally as Black Sherif is a Ghanaian musician and performer from Konongo, Ghana. Many Black sherif songs become very popular and trendy online with a great number of streaming and downloads on Boomplay.

Black Sherif was born and raised in Konongo in the Ashanti Region of Ghana. He completed Kumasi Academy for his second cycle education and currently a student of University of Professional Studies.

Follow Boomplay and keep up-to-date with the latest Black sherif songs and information.

Black Sherif Songs
• Cry For Me
• Money
• Money Remix ft AMG Armani & Tulenkey
• Destiny
• Ade Akye
• Ankonam
• First Sermon
• Second Sermon
• Abotr3(Patience) as a featured artiste
• Second Sermon Remix ft Burna Boy
• Gold Digga ft Samsney

He performed at the final of the 2021 MTN FA Cup final match between Accra Hearts of Oak and Ashanti Gold SCh

Black Sherif songs are included in Boomplay music playlists. Search to stream and download Black sherif songs MP3/ single/ albums on the platform.
FAQs about Black Sherif
Where is Black Sherif from?
He is from Ghana.
How to download songs of Black Sherif?
You can download songs of Black Sherif from Boomplay App for free.
Firstly, install Boomplay app on your mobile phone.
Secondly, navigate to the song you would like to download.
Thirdly, Tap on More > Download.