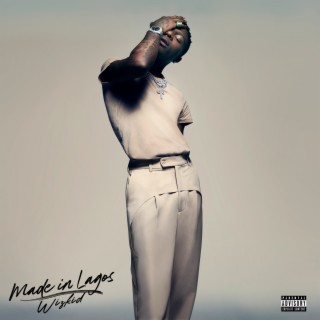 80.1m
Made In Lagos
Made in Lagos will not only engulf listeners in the unique sounds, live instrumentation and vibes of Lagos, but will celebrate Wizkid's love and appreciation for where he comes from and his inspirational journey with standout tracks such as "Blessed" and "Reckless." Originally scheduled for release on October 15, Wizkid dedicates the project to the citizens of Nigeria in light of the police brutality occurring in his beloved country. "It has been beautiful to see Nigerians around the world coming together to protest against police brutality," says Wizkid. "Unity is key. The youth of Nigeria need our collective voices to continue to shine a spotlight to what is happening inside the country. I want to play my part in this and in the movement for a better Nigeria, a better place to live for ourselves, our families - our communities. We will get through this together. Together we move. #endSARS." Listen and download music for free on Boomplay!
...more
WizKid
This album is not currently available in your region.
Try the alternative versions below.
Alternative versions:

More Albums by WizKid
Made In Lagos is a music album released in 2020. Made In Lagos has songs sung by WizKid. Listen to all songs in high quality and download Made In Lagos songs on boomplay.com.
Related Tags: Made In Lagos, Made In Lagos songs, Made In Lagos songs download, download Made In Lagos songs, listen Made In Lagos songs, Made In Lagos MP3 songs
Made in Lagos will not only engulf listeners in the unique sounds, live instrumentation and vibes of Lagos, but will celebrate Wizkid's love and appreciation for where he comes from and his inspirational journey with standout tracks such as "Blessed" and "Reckless." Originally scheduled for release on October 15, Wizkid dedicates the project to the citizens of Nigeria in light of the police brutality occurring in his beloved country. "It has been beautiful to see Nigerians around the world coming together to protest against police brutality," says Wizkid. "Unity is key. The youth of Nigeria need our collective voices to continue to shine a spotlight to what is happening inside the country. I want to play my part in this and in the movement for a better Nigeria, a better place to live for ourselves, our families - our communities. We will get through this together. Together we move. #endSARS."