#EURO2020 on Buzz: Catch Up, Interact and Win
Hello Boombuddies and Football Lovers! It's #EURO2020 and Boombuzz is now presenting you everything around it!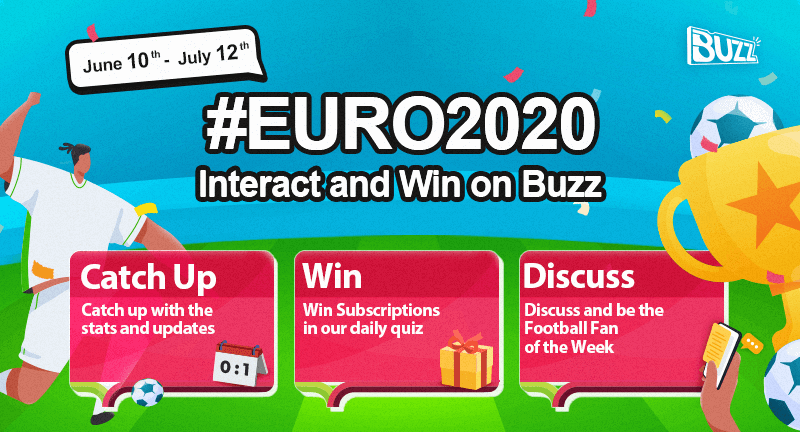 1. Win Subscription in our daily quiz
One quiz related to EURO2020 will be posted everyday and if you answer the quiz correctly, you will get the chance to win the Monthly Subscription.
Where can you see the quiz?
Follow the account @Boombuzz Sports
*One winner everyday. Don't miss it!
2. Catch Up with the stats and updates
Wanna catch up with the LATEST news of EURO2020?
Wanna keep abreast of the jubilations and goals?
Wanna discuss about the injuries, fouls and last minute penalties?
Follow these accounts

France @Dav-Uyi
England @Richamble(1billion$)
Belgium @kennepps
Germany @CC sports
Spanish @Excel7
Italy @D.T.A
Portugal @Dynamic Vibe
Netherlands @NETHERLANDS AT EURO 2020
3. Discuss and be the Football Fan of the Week
Join our discussions about football based on your own experience, and you might became the Boomplay Football Fans of the Week!
Where can you see the discussions?
Follow the account @Boombuzz Sports
4. Watch interviews with local sports experts
Buzz team will be interviewing with local sports experts and bring you their points of view on EURO2020
Where to find the interviews?
Follow the account @Sports Kenya
Sports Naija, Sports Ghana and Sports Tanzania will also keep bringing you the latest and most popular sports information!
Stay active on the Buzz section for more juicy stories!
#EURO2020