Obesere: The Memes, The Man, The Legend
by Senior Lion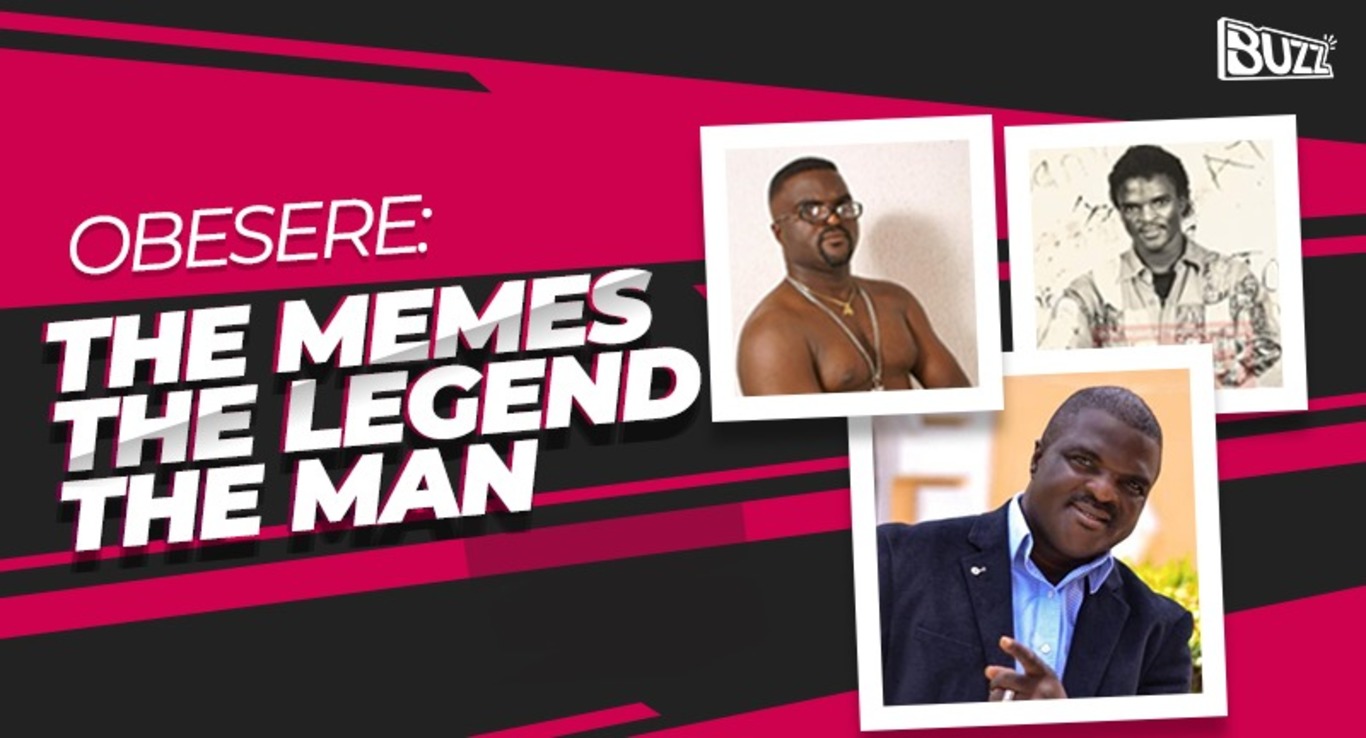 In the last eight weeks or so, you could not have missed the Obesere memes: video clips of several of his songs have opened him up to a new generation of fans who were not yet born when he created the Àṣà kaṣà variant of Fuji music. Yet, these digital natives have found a spirit animal in his irreverence, his refusal to conform to the norm (as evident in his post-2000 music videos when he appeared in camisoles and female blouses) and his innate hilarity. Who would have thought that when Obesere started pushing the limits of artistic music with his often-smutty lyrics, that in the year of our Lord 2020, he would become a pop culture icon? Young Abass would be surprised. But after the cloud of surprise dissolves, he would be shocked at how many Millenials and Gen Zers assume he only got started with the clips that have gone viral. So much that this tweep, bless his heart, called him the "rookie of this year." Even twenty years ago, Abass Akande Obesere was not a rookie.
In the beginning
Born Adeniyi Abass Akande to the Ajalaruru family of Ibadan in 1965, if his parents were not Muslim faithfuls who repudiated the Yoruba traditional religion of their own forebears, they could have checked his akọsẹ̀ jayé, the act of consulting the oracle to find out each child's predestination. They could have found that his destiny was performing, like Atipakọ, one of the masquerades of ancient Ibadan. Or perhaps like Alhaji Tatalo Alamu, his uncle from the same agbo ilé, an accomplished drummer, lyricist and musician who was one of the pioneers of sákárà and wèrè, the genres that would eventually evolve into fuji music. Instead they gave him the name "Abass", after Prophet Muhammed's uncle. His father, Alhaji Lasisi Ajalaruru was a government contractor and politician, as Ibadan was a hotbed of Western Region politics in those years. He was no lord but he had the wherewithal to marry five wives and sire seventeen children. His third wife Alhaja Taibat bore six children for him and three years after her second son was born, she moved to Lagos, away from the maddening crowd of a typical family house and set about creating a new life for herself and her kids in the plank markets on the shores of the lagoon.
It didn't take long before he got his first and most enduring nickname: ọmọ rápálá. In a 2008 interview he granted to NollywoodExclusive.com, he explained how he got the name. "I was enrolled into St. Paul Primary School Ebute-Meta in 1971.. (I) used to sing with fellow classmates. (We) improvised with desks while I sang and other students danced." Their noise would attract nearby teachers who would storm in to mete out appropriate punishment. But as soon as they got in, young Obesere would slither away either by the back door or through the window, effectively escaping punishment while the rest of the class each got a few strokes of the cane. It became his moniker.
After his primary school education, he proceeded to Jubril Martins Secondary School 3, later renamed Iponri Grammar School. There, he wasn't a particularly academically gifted student, but what he lacked in book-smarts, he made up for in native intelligence and the spirit of hustle. Besides, his mother had five other children and he would have to learn how to fend for himself. Two of his younger brothers, Fatai Valentine and Ashimiu Abolanle would also become fuji musicians for a short while.
"As a school young boy, I decided that if academically I could not make it, I could try my hands on a few trades or as a technician," he said in the 2008 interview.
The first trade he apprenticed in was printing at a press in Ebute-Meta. As it was common with blue-collar families, he would attend school in the morning and retire to the press in the afternoon. He never did learn lithography or how to operate a KORD machine: throughout his days as a printer's apprentice, he was never taught the actual work; all he did was serve as an errand boy. "Abass! Come and buy me bread and beans. Abass! Carry this stack of paper. Abass…!" He'd dodge as often as he could, sometimes stopping in the backstreets where makeshift boxing gyms sprung up. He took it up, not well enough to dream of being the next Hogan Bassey but certainly skilful enough to hold his own if a fight broke out.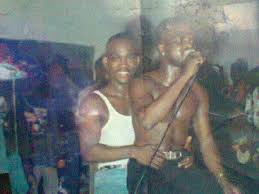 Eventually he left that press and career path. His next attempt was to train how to be an electrician. "After a while I went to learn how to fix electrical appliances since I love electrical appliances", he told NE. "My belief then was maybe if I became independent I could be fixing and selling electrical appliances. It turned out that I would only sing while my other colleagues worked. Again I was sent on errands to buy meals for superior colleagues. It was then I started realising that I had to take music serious and knowing that I am from a family that music runs in the family I decided to take up music professionally."
Abass took his fate into his own callused hands, not only to quit apprenticeship but schooling all together, much to the dismay of his mother. Alhaja Taibat wanted him to become a clerk or a draughtsman at the Ministry of whatever, like some of his cousins had done. Those were good paying jobs that required a "school-cert". Dropping out of school all but ensured that her son was now condemned to a life of want and disadvantage. For shame! Nevertheless the teenager had seen the success of a former sergeant in the Nigerian Army who created fuji music, Sikiru Ayinde Barrister- and was now undaunted in his desire to be a musician as well. He loved Barrister, especially because like him, he was a native of Ibadan who had come to Lagos and made it big. It didn't take long for Abass- to put it in urban lingo speak- blow. He left school and was fortunate to join a local band led by late Ajisafe Aremu, an Ebute-Meta based upcoming fuji musician who played in different clubs on the Lagos Mainland.
In another interview from the early 2000's, he described his days with Aremu: "When I started singing I did not get help from anyone but through divine intervention I met Late Ajisafe Aremu who lived in Ebute –Meta. He had a show so I went to watch him perform. Immediately he sighted me he asked why I was not performing that day. I explained to him that I did not get support from anybody. Fortunately one of his backup singers did not come so he requested that I be his backup singer for that night. After 20 minutes with him on stage Alhaji Ajisafe Aremu left the stage for me to lead other band boys that he wanted to get something from his office. The crowd that were thrilled by my music so they requested that I continue singing. By the time he returned to continue singing his fans told him to allow me entertain them. That was the first time I will ever sing with microphone."
He felt like he was finally fulfilling his destiny. His dream was coming true. He, the son of Lasisi, was now a musician. He worshipped the ground his first benefactor walked on and put his back into the band. He sang like his life depended on it- and in a way, it did. There was nothing to fall back on. Music was his plans A, B, C all the way to Z. He was so impactful that he was a crowd favourite. At the Canary Club in Ojuelegba where they played every Sunday, fans looked forward to seeing him sing and wiggle. Two years down the line, Ajisafe Aremu was disillusioned with the music business, mainly because he never made it to the big leagues as a fuji musician and he disbanded his band. Abass took it in his strides and in the year 1983 at the tender age of 18, he started his own band- the Fuji Posky Band. Rookie who? Where were you in 1983?
What's in a name?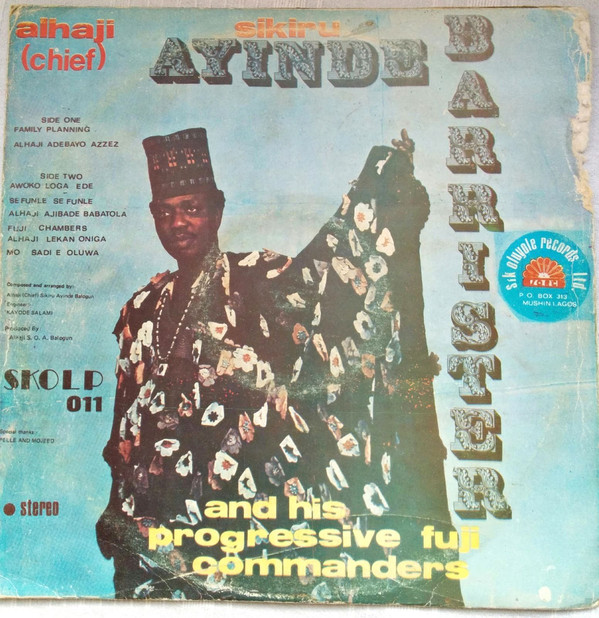 The Fuji Posky Band started moving about clubs and events in Lagos. Almost immediately, he realized that having dreams of being a musician was one thing, funding that dream was something else entirely. He had himself to feed and then he had band boys that depended on him for their livelihood. Again, he came across someone who believed in him and provided financial assistance for him and his band in those early days- Shina Bakare, banker and resident of Ebute-Metta where Abass had become some sort of neighbourhood star. For the few years, he honed his craft, mimicking his idol Sikiru Ayinde Barrister and eking out a living as a professional musician, albeit not in the tone that he would later become popular for. The first thing that had to change was his name. Sure he could go with his given name Abass Akande Ajalaruru- but that was a mouthful. Plus, older musicians had catchy names- Barrister, Kollington, Sunny, Obey. Even Alhaji Dauda Kolawole Akanmu who popularized àwúrèbe in his native Ibadan had an unforgettable nickname- Epo Akara.
The name he needed was right there with him. On an edition of Afropop Worldwide Podcast where he was once asked where he got the name from, he revealed that he adopted it from one of his band boys. "I noticed at our shows that members of the audience used to call him Obesere and anytime he heard it, he will start fighting them, that he didn't want to be called that name. Wherever he was called that name, he would wait there and fight them, fight them seriously. Even during performances, he go and fight. But one day I just thought of it, that this guy doesn't want this name, why don't I take it." That's how he adopted the name Obesere until he was accused by another section of the public, of being abusive to women with the name so he dropped it. A few months later, his band boys learnt of another upcoming musician that had started going by the name and let him know. To take it back, he sung that it was in fact his mother's name (it was not) and that anybody who used it was a thief. Needless to say, he succeeded in taking back the name he took from his associate and made it his. It wasn't until seven years later that he released his official debut album, Introduction.
Enter Àṣà kaṣà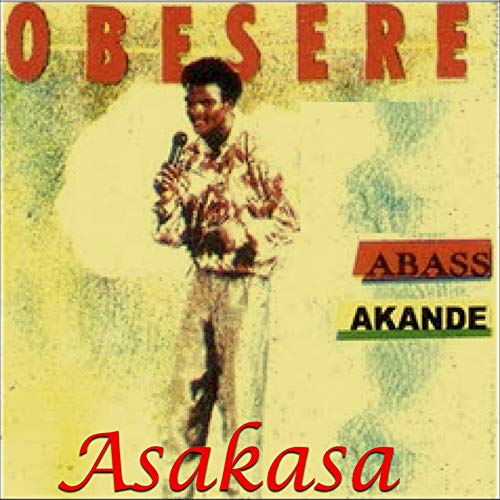 To properly understand his often criticized-but-widely-celebrated sound, it is important to examine what fuji music was and the time Obesere came of age. The early practitioners started it as a call-to-prayer type of music during the Muslim month of Ramadan. On the 2006 Orin Dowo, the musician now known as K1 De Ultimate but previously known as KWAM1 (and before that King Wasiu Ayinde and even before that Wasiu Ayinde Barrister) gave a brief rundown of fuji's history, reeling off names of the earliest recorded artistes of the genre- Ajani Ganiyu, Ayinde Muniru, Ajadi Lawal up until Sikiru Ayinde Barrister who changed everything and gave fuji its present name and sound.
Barrister's spirit still hovers over the genre, these ten years since he's been gone. In his lifetime he was an extraordinarily gifted singer with a voice that could start low, rise to a tenor and stretch it till it feathered over several octaves. He used his music for entertainment by including several percussion instruments and bells such that it was no longer sakara, or were or awurebe or etíyẹrí; his new fuji music was a blend of and an improvement on all of these. He also used his music for social messaging and had a maestro's command of the Yoruba language. However, his greatest gift was of the knowledge of the Holy Quran. Barrister could recite a great number of verses in song, give you its translation in Yoruba and English, and then reach a crescendo that left you in awe of his brilliance. What's more, his career had spanned two full decades before Obesere started his Fuji Posky Band. From that time until he released Introduction, he was inspired by the great Barrister, and Kollington, and Iyanda Sawaba and Dauda Epo Akara. But these were more established musicians, including K1 De Ultimate (who for some reason Obesere has never particularly taken) and there was no chance that he was going to match these men in success or the artistry of fuji music as they did it.
He would pick a leaf from a similarly flummoxed artiste across the musical aisle: as a young juju musician, Sir Shina Peters for all of his prodigious talent, found it hard to compete with the older King Sunny Ade and Chief Commander Ebenezer Obey. It wasn't until he modernized the sound and created the afr0-juju sub-genre, complete with omele, electronic drums, rock guitars and all. He became an instant sensation. Obesere took this format and replicated it as much as it could. He decided he wasn't going to be a social crusader or cleric in his music. Instead he implemented an uptempo beat in his version of fuji with prominent sakara, two or three at a time as well as bells, gongs and yes, electronic drums. The result was a cacophonous blend of melodies which was accompanied by bits and pieces of loose talk as lyrics, each four-line bar ending in a back-up singers assisted chorus. Some of it was plain ridiculous, for example "Germany no dey jam, Russia no dey rush/ to ba ti d'agbo tinrin tinrin (wiggle when you get on the dancefloor.) Others were of a more risque nature, for example when he relayed the story of when he had a foursome sexual encounter leading to him losing his erection after two rounds of sex. His asakasa- slang, gist, mischievous behaviour- was born.
He also changed his look, or rather created a look that was familiar to the young audience that he targeted. Now that he heard their ear, he was going to be sure that his look was unforgettable as well. It was a though he took one look at Michael Jackson's 1984 Grammy Awards outfit and it spoke to him. For his debut music video, he had his hair in a glistening, dripping jehri curl; wore aviator sunshades and using Eko Court Complex as his backdrop, he wiggled and wobbled in a hitherto strange yet captivating sequence. In 1991, the Gulf War started, Nigeria's capital moved to Abuja, Kollington sang about the forthcoming population census, Wasiu Ayinde released two albums that year, American Tips and Fuji Collections. Even the progenitor of fuji music, Sikiru Ayinde Barrister in that same year, two of his finest albums- Fuji Waves and Fantasia Fuji. Yet it was the upstart from Ebute-Meta by the way of Ibadan that held the genre by the jugular. A star was born, and a "monster" was in the making.
Obesere noticed the effect he had on the public. It didn't matter that a bulk of it was not positive, at least they were paying attention to him. In his follow up album Asakasa, he doubled down on the slang and raunchy lyrics that marked his introduction. The establishment hated it- and him. Incidentally at the time, CBS/SONY Music had a roster of indegnious Nigerian music, including Shina Peters, Adewale Ayuba and a few others. The label saw the reach of the music and added him to the list and his sophomore was distributed by SONY. Sadly it was not to last- this was 1993, in the thick of Nigeria's worst political and ethnically charged crisis since the civil and all the foreign labels simply packed up and left. (On Side 2 of that record, Obesere took time to address the national issues. So much for those who thought he couldn't or didn't care.) Nevertheless this had given Obesere more reach than he could have dreamt of and riches he could have only imagined.
Soon he went on a tour of Europe, stopping in Germany, Belgium, Italy, Ireland and England. Everywhere he went, people wanted to see him dance and hear him coin colloquialism on the spot, the raunchier the better. When he made it to the United States and discovered strip clubs, his proclivity to be wild increased ten fold. He made records like Ale Gogo (Gogo Night), OBTK, Mr Teacher and Consoli-japon (a spoof of KWAM1's Consolidation) whose video featured topless dancers. He had concerts of that nature as well. In that decade, he released no less than 15 albums, many of them live recordings of his concerts in different places. He was censored on air and parents banned their kids from listening to him. He didn't mind and he embraced the bad boy persona whole-heartedly, even though by now he had quietly married and settled his family in Dublin. If fuji greats like Sikiru Ayinde Barrister were Eric B. & Rakim, Obesere was proudly Luke Skyywalker of the 2Live Crew. And his worst, or best was yet to come.
On his many travels he met Bode Oyedepo (De Way), Demola Oyefeso (New Genesis Promotions) and Ola Ibironke (Dudu Heritage), American based socialites and businessmen who were also tour promoters. Obesere went on a tour of Europe and America from the start of 1999 till mid 2000, and was inspired to make his most complete album ever, Omorapala Overthrow. It was a subtle shot at K1 who by now was regarded as the king of fuji music. But away from the pot shots, Obesere proved that he was no pushover and was indeed a gifted composer as well as an arranger. He paid homage to Barrister and Kollington and Sawaba and Epo Akara and Obey. He metarphor'd by calling himself the bottle of alcohol that can never be intoxicated. He referenced Allah and acknowledged the divine impact on his career that enabled him to visit America for the third time. And then for an inspired 9 minutes:27 seconds he went on a stretch of pure lyrics sans backup singers, covering rich Yoruba proverbs, allegories as well as ògèdè, actual incantations. His role model Ayinde Barrister would be proud. Not to erroneously suggest to his core fan base that he had changed, he featured three scantily dressed African-American dancers in the music video. On a couple of occasions, one of them got excited and dropped down to grab his crotch. Even he pulled back and then pulled her back up.
American Faaji Series Volumes 1 and 2 followed Overthrow, and as usual, it was Sido (one of his many other nicknames) at his best. In between praising his sponsors and their friends, he inserted his ribald lyrics. That album created the evergreen lines "Yọ̀'dí ẹ, ọjọ́ fẹ́ rọ̀/ yọ̀'dí ará fẹ́ sán", (stick out your buttocks it's about to thunder and rain); Wèrè! Kò ní logo. Wéré, wọn ní number (mad man you don't have a logo etc) as well as another line that admonishes a female love interest to continue smoking weed whilst he sucked on her breasts.
The years that followed those marked his business dealings with Bayowa Films & Records International run by Gbenga Adewusi who did it all. He was an actor, singer, label owner, film maker, film producer, video director, broadcaster; everything.Bayowa recorded the music. Bayowa shot the video. Bayowa distributed both. On Sundays, Bayowa's syndicated television show beamed to millions of households where he told them to "Grab your copy now!" Obesere's stint with him was his most visible period ever, and oxymoronically was his most sonically impoverished. He released a slew of similarly themed albums, including Apple Juice, His Excellency, Old Skool Lapel and Egungun Be Careful. It's no surprise that era has created the most memes for this one.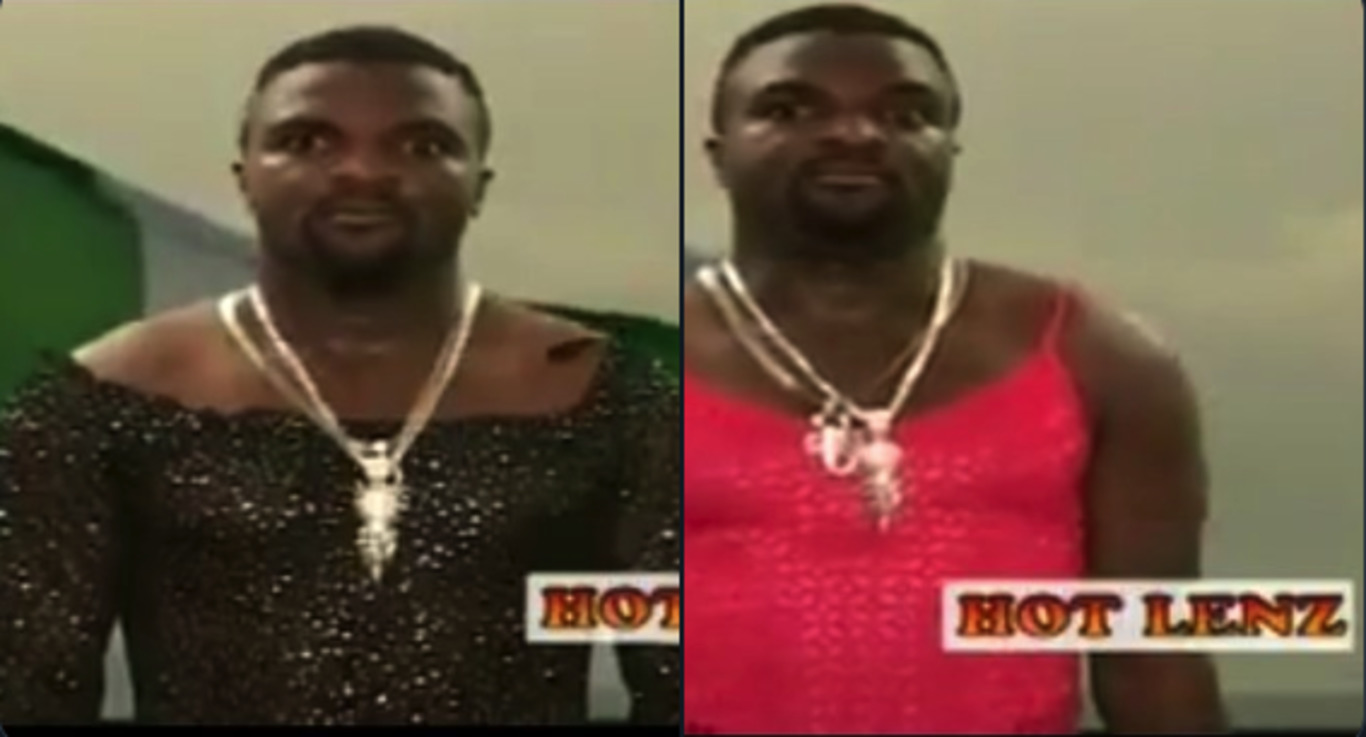 Obesere's constant need to be in the public eye led to him doing the music and his own artform a great disservice. He knew it too, so he compensated with over-the-top sexually charged music videos. On Apple Juice, he launched the career of Cossy Ojiakor. If one could look away from her ample bosom, it would become clear that she added nothing to the video, apart from on-screen self-fondling. No matter how much Bayowa tried, he couldn't get the censors board to give them a pass but he showed the trailer multiple times on his tv shows and people went to buy the CD's and tapes and VCD's. This went on for a few years till the Bayowa deal expired. Whilst it got Obesere the attention of younger fans, he wasn't reckoned with by the crème de la crème, the 1% of the 1% which K1 De Ultimate had cornered. As any self respecting fuji or juju musician- and their fans too- knows, record sales contribute only a small percentage of earnings so while Obesere was wearing camisoles and sequin tops, he didn't necessarily get the bookings of former Lagos governor Bola Tinubu, for example, as K1 did. You cannot be a political leader and have topless dancers in your Bourdillon mansion, can you?
The legacy of Obesere
So is Obesere's legacy being a meme for a distracted generation who would soon move on to the next funny/trendy/meme-worthy piece of content? Is it as a brave crossdresser who seemingly pushed the envelope for a short while? Or will he be remembered as only the king of lewd, ludicrous lyrics? Or for the 18 second "rishulov" clip where he struggled to explain the rape allegation made against him in 2005. He strenuously denied, saying it was a case of blackmail by a "woman friend" of his. (He countersued the claimant afterwards and the case eventually unraveled when she refused to show up at the police station).

It cannot be any of those because he transcends all. His resort to the raunchy lyrics he became known for was a means to an end. On his 1995 record Mr. Teacher, he clearly bemoans what he had to do to become a star. In it, he recalls his early days when he sang of the dignity of labour (Ise logun ise), patience (Suuru) and good behaviour being a virtue (Iwa lewa). He beamoans the fact that nobody paid attention to him, until he sang asakasa. Can he then be blamed for traveling the only route that was made available to him, or is he a visionary for thumbing his nose at convention and choosing the path less traveled?
Even his post-2000 fashion was a means to an end. On Afropop Worldwide, he says "I did it to attract people. To attract more fans, to cross over. When they see you doing something funny, they will be forced to give you attention. You can't say, am I putting on women's dresses now? and not give the person attention. So you ask someone close to you, "Who is this?" And when they tell you, you know the person already."
It is therefore unfair, not to mention incorrect, to sum up his 35 year career in those inadequate terms. He was- is- a consummate performer who has continuously gone out on a limb to entertain his audience. He sang, he danced and acted. In the 90's he leaned on his star quality to feature in Titi Alayo alongside Nike Peller. In the 2000's he featured with Bimbo Oshin in Obadan. He has acted in a dozen other films.
Since his first "hiphop" feature with Rasqie in 2003 titled Idan, he has gone to experiment with sounds outside of his forte. He has featured Olamide and Timaya on different songs. He even released Hip Hop Mafia, a hip hop themed album of his in 2017. That mass appeal, that cross over factor is something he has craved and worked from the first time he referred to himself as African Fuji Michael Jackson. Today, 29 years after his first album, he has over 100 albums (studio and live) under his belt and has that mass appeal. His legend has crossed over many times, across various platforms and eras, now into meme territory.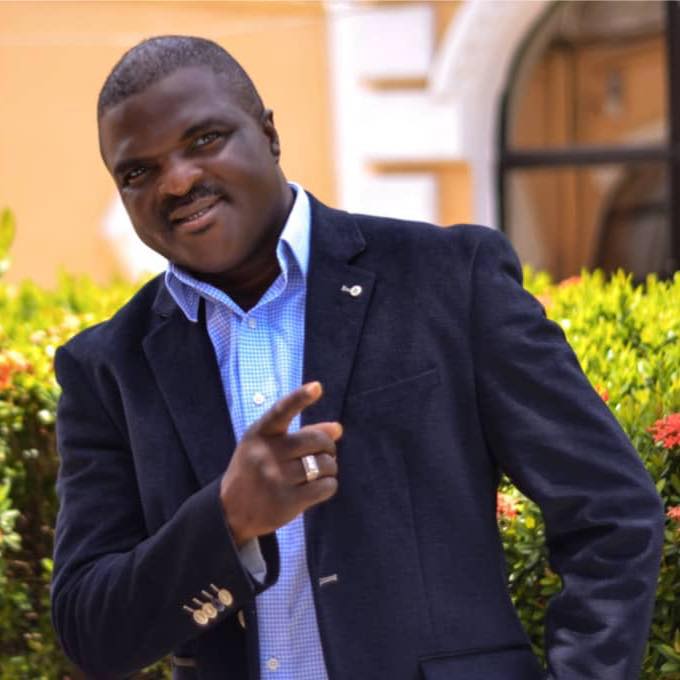 Nevertheless, it is a mark of his greatness that without the erudition of a Sikiru Ayinde Barrister, or the soap opera-esque life of Kollignton and Queen Salawa Abeni which reflected in their music and on the pages of soft sell magazine nor for that matter, the unruffled coolness of K1 that drew him to the ultra wealthy. He also does not have the Yoruba idiom capacity of Saheed Osupa nor the ease with which Pasuma Wonder weaves in and out of the urban crowd. What he will be remembered for was his tenacity and bravery to swim against the tide. His will to be contrarian has brought him this far, as he chose to create and own his own lane at a time when it would have been easier not to. He knew what he could do and never stopped doing it, and has never apologized for being an enfant terrible in an ostensibly moral society like Nigeria.
"Here in Nigeria, even our father, King Sunny Ade, you listen to all of his music, you will hear one out of it that he's singing a lewd song," he told the NPR distributed Afropop. "Even Obey, Commander, that has been singing spiritual [songs]. Even Sikuri Ayinde Barrister. Every one of us, there is no way we are not going to sing that we are not going to do one or two things like that, because if you did not do it, will not enjoy you. It's going to look boring!"
In 2020, "boring" is an adjective that cannot apply to Abass Akande Obesere. Try "great." Or "iconic."
Listen to Obesere's albums on Boomplay
New Comments(
39

)