What Were The Top New Songs of February in Ghana?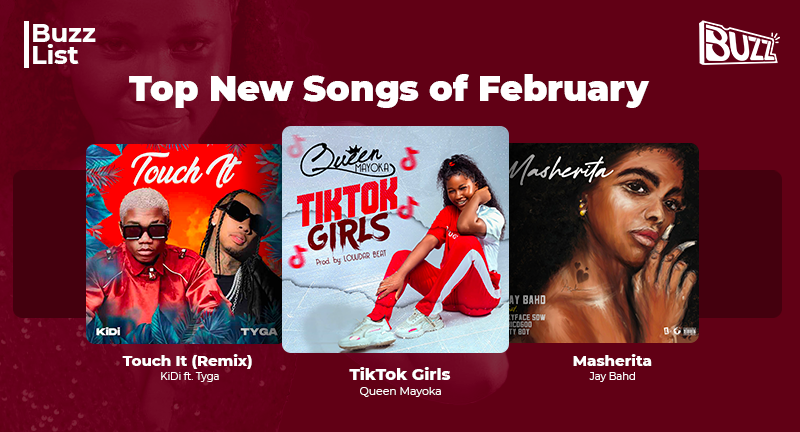 The second month of 2022 came with a splash of new and exciting music.
Brushing through a variety of genres, the top new songs of February showed the versatile taste in music for Ghanaians.
From Hip hop, Rap, R&B, Soul, Afro Pop, Reggae, Afro-fusion and more, these genres came from artists all over the world.
Artists such as KiDi, Queen Mayoka, Jay Bahd, Darkoo, Nicki Minaj and Dope Nation were in the top spots with their new songs from the month of February.
Want to know if any of your favourite new songs made the list?
Then check out the first 15 songs from the Top New Songs of February below:
1. Tiktok Girls Queen Mayoka
2. Touch It (Remix) ft. Tyga KiDi
3. Masherita ft. Skyface SDW, CHICOGOD & City Boy Jay Bahd
4. Always (feat. Black Sherif) Darkoo
5. All my Life Devvon Terrell
6. Bong Bing Cristale
7. Do We Have A Problem? ft. Lil Baby Nicki Minaj
8. CEO DopeNation
9. Peru (Remix) ft. 21 Savage & Blxst Fireboy DML
10. Ski Ski Krakye
11. The Joker And The Queen (feat. Taylor Swift) Ed Sheeran
12. Love Don't Cost A Dime (Re-Up) ft. Ayra Starr Magixx
13. Like Summer (feat. Jupitar) Shatta Wale
14.Do We Have A Problem? ft. Lil Baby Nicki Minaj
15. Stalling Nasty C
20.3k Reads
and 97 others liked this article.>>