Amber Rose Reveals She Used To Sell C***k Before Becoming A Stripper
American socialite Amber Rose in a new interview with Van Lathan on The Red Pillpodcaston Tuesday, has revealed that she once tried to sell drugs before finally becoming a stripper. In her words;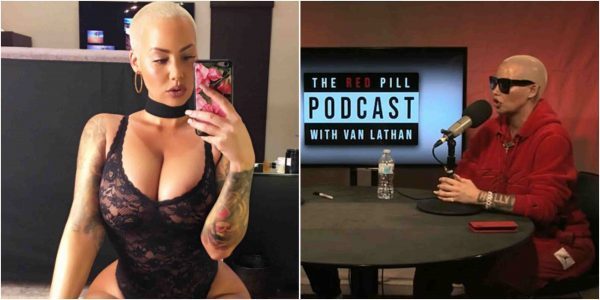 'STRIPPING WASN'T MY FIRST OPTION. YOU KNOW, I TRIED SELLING DRUGS. I TRIED SELLING CRACK IN MY NEIGHBORHOOD. AND THEY (DRUG DEALERS) WERE LIKE, 'NO,'" ROSE REVEALED. "THEY SAID I WAS GONNA GET ROBBED, I WAS A GIRL, AND I WAS TOO PRETTY, AND IT WASN'T GOING TO HAPPEN.
SO WHAT I DID, I WOULD BAG IT UP FOR THEM. I WOULD WEIGH IT AND BAG UP THE CRACK ROCKS FOR THEM, AND THEY WOULD THROW ME SOME MONEY."
She continued saying;
"I FEEL LIKE RAPPERS ALWAYS GET THIS PASS OF, LIKE, 'I HAD TO SELL DRUGS TO FEED MY DAUGHTER. I HAD TO SELL DRUGS TO FEED MY FAMILY.' […] LIKE, 'WE MADE SOMETHING OUT OF NOTHING," SHE EXPLAINED.
"AND WHEN IT COMES TO ME, IT'S LIKE, DO I HAVE TO GIVE YOU THIS STORY TO UNDERSTAND? IT'S BEEN NINE YEARS SINCE I'VE BEEN FAMOUS, AND I NEVER TOLD THAT TO NOBODY […] YEAH, I WAS A STRIPPER, AND I DID WHAT THE F**K I HAD TO DO TO FEED MY FAMILY." #Gossip
New Comments(
0

)

What do you think of this post?