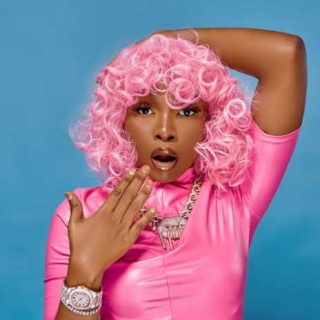 Zuchu
Current #11

All Time #47

Zuhura Othman Soud (born 22 November 1993), better known by her stage name Zuchu, is a Tanzanian singer and songwriter born in Zanzibar and currently based in Dar es Salaam and signed to the WCB Wasafi record label. Many of Zuchu songs become very popular and trendy online with a great number of streaming and downloads on Boomplay.

Zuchu comes from a musical Swahili Zanzibari family and background. She is the daughter of the revered and famous female Zanzibari Taarab musician Khadija Kopa.

Zuchu is undeniably the most promising artist from Tanzania having topping the African chart on different platforms with her debut track "Wana ".

She first rose into the music scene in 2015 from the first edition of TECNO OWN THE STAGE in Lagos, Nigeria.

Career
Zuchu started singing at a tender age and later collaborated with her mother Khadija Kopa on a song titled Mauzauza from her debut EP titled I am Zuchu EP. Among her first appearances as a musician to the public date back to 2015 in the first edition of TECNO OWN THE STAGE in Lagos, Nigeria. Zuchu made her official entrance into the music industry in April 2020 and so far has one EP Album.

Achievements
• She also became the first East African female artist to reach 1 million subscribers on YouTube
• She was awarded the Silver Plaque Button by YouTube for hitting 100,000 subscribers within a week.
• In 2020 Zuchu was named by AFRIMMA as the winner of the Emerging Artist Award.

Follow Boomplay and keep up to date with the latest Zuchu songs and information.

Zuchu Songs and Albums
• Yalah
• Nyumba ndogo
• Sukari
• Litawachoma
• Hakuna Kulala
• Nisamehe
• Kwaru
• Wana
• Raha
• Ashua
• Mauzauza
• Tanzania ya Sasa
• Shangilia
• Hasara
• Nobody
• Number One
• Side2side (Album)
• I Am Zuchu EP

Zuchu songs are included in Boomplay music playlists. Search to stream and download Zuchu songs MP3/ single/ albums on the platform....more

Country/Region : Tanzania
Listen to Zuchu's new songs including "Kwikwi", "Shika", "Naringa" and many more. Enjoy Zuchu's latest songs and explore the Zuchu's new music albums. If you want to download Zuchu songs MP3, use the Boomplay App to download the Zuchu songs for free. Discover Zuchu's latest songs, popular songs, trending songs all on Boomplay.
Zuhura Othman Soud (born 22 November 1993), better known by her stage name Zuchu, is a Tanzanian singer and songwriter born in Zanzibar and currently based in Dar es Salaam and signed to the WCB Wasafi record label. Many of Zuchu songs become very popular and trendy online with a great number of streaming and downloads on Boomplay.

Zuchu comes from a musical Swahili Zanzibari family and background. She is the daughter of the revered and famous female Zanzibari Taarab musician Khadija Kopa.

Zuchu is undeniably the most promising artist from Tanzania having topping the African chart on different platforms with her debut track "Wana ".

She first rose into the music scene in 2015 from the first edition of TECNO OWN THE STAGE in Lagos, Nigeria.

Career
Zuchu started singing at a tender age and later collaborated with her mother Khadija Kopa on a song titled Mauzauza from her debut EP titled I am Zuchu EP. Among her first appearances as a musician to the public date back to 2015 in the first edition of TECNO OWN THE STAGE in Lagos, Nigeria. Zuchu made her official entrance into the music industry in April 2020 and so far has one EP Album.

Achievements
• She also became the first East African female artist to reach 1 million subscribers on YouTube
• She was awarded the Silver Plaque Button by YouTube for hitting 100,000 subscribers within a week.
• In 2020 Zuchu was named by AFRIMMA as the winner of the Emerging Artist Award.

Follow Boomplay and keep up to date with the latest Zuchu songs and information.

Zuchu Songs and Albums
• Yalah
• Nyumba ndogo
• Sukari
• Litawachoma
• Hakuna Kulala
• Nisamehe
• Kwaru
• Wana
• Raha
• Ashua
• Mauzauza
• Tanzania ya Sasa
• Shangilia
• Hasara
• Nobody
• Number One
• Side2side (Album)
• I Am Zuchu EP

Zuchu songs are included in Boomplay music playlists. Search to stream and download Zuchu songs MP3/ single/ albums on the platform.
FAQs about Zuchu
Where is Zuchu from?
She is from Tanzania.
How to download songs of Zuchu?
You can download songs of Zuchu from Boomplay App for free.
Firstly, install Boomplay app on your mobile phone.
Secondly, navigate to the song you would like to download.
Thirdly, Tap on More > Download.