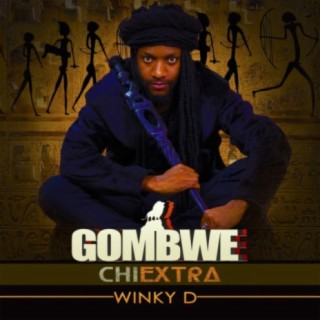 Winky D
Current #853

All Time #289

Wallace Chirumiko, better known by his stage name Winky D, is a Zimbabwean reggae-dancehall artist. Winky D was born in Kambuzuma, Harare, Zimbabwe. He liked music at an early stage and he started listening to reggae music at the age of eight. He would spend time searching for and collecting audio tapes and records so that he could listen to reggae music.

With the help of Bartholomew Vera of Blacklab Studios, Winky D went into the recording studio. His first songs, like "Rasta" and "Dead Inna War", coupled with his ingenious stage performances, set the dance floors busy. He has since released eleven albums with many chart hits which have gained him fans across the world, evidenced by successful tours in the United Kingdom, US, Asia, and South Africa. Winky D has become the new icon for Zimbabwean and African urban/reggae music with nicknames like "King of Dancehall", "Gombwe" "Gafa (Gaffer)", Extraterrestrial, "The BigMan", "Messi wereggae", and "Truthsayer", being attached to him in the ghettos....more

Country/Region : Zimbabwe
Songs

(55)

Albums

(8)

Playlists

(1)
1

2

3

4

5

6

7

8

9

10

11

12

13

14

15

16

17

18

19

20

21

22

23

24

25

26

27

28

29

30

31

32

33

34

35

36

37

38

39

40

41

42

43

44

45

46

47

48

49

50

51

52

53

54

55
Listen to Winky D's new songs including "Happy Again", "IBOTSO ft. Holy Ten", "Area 51" and many more. Enjoy Winky D's latest songs and explore the Winky D's new music albums. If you want to download Winky D songs MP3, use the Boomplay App to download the Winky D songs for free. Discover Winky D's latest songs, popular songs, trending songs all on Boomplay.
Wallace Chirumiko, better known by his stage name Winky D, is a Zimbabwean reggae-dancehall artist. Winky D was born in Kambuzuma, Harare, Zimbabwe. He liked music at an early stage and he started listening to reggae music at the age of eight. He would spend time searching for and collecting audio tapes and records so that he could listen to reggae music.

With the help of Bartholomew Vera of Blacklab Studios, Winky D went into the recording studio. His first songs, like "Rasta" and "Dead Inna War", coupled with his ingenious stage performances, set the dance floors busy. He has since released eleven albums with many chart hits which have gained him fans across the world, evidenced by successful tours in the United Kingdom, US, Asia, and South Africa. Winky D has become the new icon for Zimbabwean and African urban/reggae music with nicknames like "King of Dancehall", "Gombwe" "Gafa (Gaffer)", Extraterrestrial, "The BigMan", "Messi wereggae", and "Truthsayer", being attached to him in the ghettos.
New Comments(
25

)
FAQs about Winky D
Where is Winky D from?
He is from Zimbabwe.
How to download songs of Winky D?
You can download songs of Winky D from Boomplay App for free.
Firstly, install Boomplay app on your mobile phone.
Secondly, navigate to the song you would like to download.
Thirdly, Tap on More > Download.