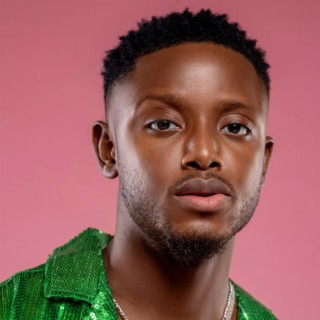 Chike
Current #604

All Time #272

Chike-Ezekpeazu Osebuka (born 28 January 1993) popularly known by his stage name CHIKE is a singer, songwriter and actor known for his participation on the Nigerian reality competition Project Fame West Africa in 2015 and also in the talent competition TV show The Voice Nigeria Season 1 finishing runner-up on the show. Chike is an ambassador for Airtel Nigeria. Chike made his acting debut as Mayowa Badmus on the Africa Magic Showcase telenovela Battleground.

Chike is a native of Onitsha, Anambra State in Nigeria. He comes from a family of four children. He is a graduate of Computer Engineering from Covenant University. He comes from a musically talented family and so had the passion to take up music as a career.

The Voice Nigeria
Chike made a comeback auditioning for The Voice Nigeria with a rendition of "Roses" from the UK The X Factor winner James Arthur with all four coaches turning their chairs and standing up for him. Patoranking called him a star and said he was going to make him a superstar. Waje acknowledged him as her missing piece by saying "I don't have anybody on my team that sounds like you". After all the pitching, he chose to be on Team Patoranking.

He finished runner up of the inaugurated season of The Voice Nigeria on 31 July 2016 with A'rese from Team Waje finishing as winner of the contest.

After The Voice Nigeria
After his stay on The Voice, Chike was signed to Universal Republic along with the other top four contestants on the show. He released his debut single Fancy U in December 2016 under the Universal Republic. He went on to release a music video some months later. Chike was also made an ambassador for Airtel Nigeria along with the other seven finalists of The Voice Nigeria....more

Country/Region : Nigeria
Listen to Chike's new songs including "Amen", "Adaobi", and many more. Enjoy Chike's latest songs and explore the Chike's new music albums. If you want to download Chike songs MP3, use the Boomplay App to download the Chike songs for free. Discover Chike's latest songs, popular songs, trending songs all on Boomplay.
Chike-Ezekpeazu Osebuka (born 28 January 1993) popularly known by his stage name CHIKE is a singer, songwriter and actor known for his participation on the Nigerian reality competition Project Fame West Africa in 2015 and also in the talent competition TV show The Voice Nigeria Season 1 finishing runner-up on the show. Chike is an ambassador for Airtel Nigeria. Chike made his acting debut as Mayowa Badmus on the Africa Magic Showcase telenovela Battleground.

Chike is a native of Onitsha, Anambra State in Nigeria. He comes from a family of four children. He is a graduate of Computer Engineering from Covenant University. He comes from a musically talented family and so had the passion to take up music as a career.

The Voice Nigeria
Chike made a comeback auditioning for The Voice Nigeria with a rendition of "Roses" from the UK The X Factor winner James Arthur with all four coaches turning their chairs and standing up for him. Patoranking called him a star and said he was going to make him a superstar. Waje acknowledged him as her missing piece by saying "I don't have anybody on my team that sounds like you". After all the pitching, he chose to be on Team Patoranking.

He finished runner up of the inaugurated season of The Voice Nigeria on 31 July 2016 with A'rese from Team Waje finishing as winner of the contest.

After The Voice Nigeria
After his stay on The Voice, Chike was signed to Universal Republic along with the other top four contestants on the show. He released his debut single Fancy U in December 2016 under the Universal Republic. He went on to release a music video some months later. Chike was also made an ambassador for Airtel Nigeria along with the other seven finalists of The Voice Nigeria.
FAQs about Chike
Where is Chike from?
He is from Nigeria.
How to download songs of Chike?
You can download songs of Chike from Boomplay App for free.
Firstly, install Boomplay app on your mobile phone.
Secondly, navigate to the song you would like to download.
Thirdly, Tap on More > Download.