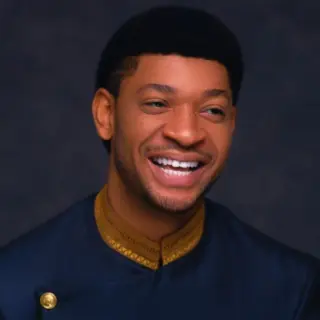 Steve Crown
Current #175

All Time #45

Steve Crown Uche Okolo (born September 27th) popularly known as Steve Crown is a Gospel Music Minister. Many of Steve songs become very popular and trendy online with a great number of streaming and downloads on Boomplay.

He hails from Benue State, North Central of Nigeria, but was born and grew up in Abuja.

Steve Crown became interested in music when he was four and at the age of eight, he joined his church choir (Saint John's Anglican Church). Later he became a part of well-known club Deacon Kids Band.

He has a diploma in law from the University of Abuja and went further to the Federal Polytechnic, Kaura Namoda in Zamfara State where he read Office Technology and Management with the hope of taking more courses in the near future.

Career
Steve's Crown has been into music professionally over two years but he has been into music since he was a kid. He grew up to see his parents in the music world. He was born into an orthodox family that goes to a church where they do all the...more

Country/Region : Nigeria
Listen to Steve Crown's new songs including "You Are Great", "All The Glory", "Mighty God ft. Nathaniel Bassey" and many more. Enjoy Steve Crown's latest songs and explore the Steve Crown's new music albums. If you want to download Steve Crown songs MP3, use the Boomplay App to download the Steve Crown songs for free. Discover Steve Crown's latest songs, popular songs, trending songs all on Boomplay.
Steve Crown Uche Okolo (born September 27th) popularly known as Steve Crown is a Gospel Music Minister. Many of Steve songs become very popular and trendy online with a great number of streaming and downloads on Boomplay.

He hails from Benue State, North Central of Nigeria, but was born and grew up in Abuja.

Steve Crown became interested in music when he was four and at the age of eight, he joined his church choir (Saint John's Anglican Church). Later he became a part of well-known club Deacon Kids Band.

He has a diploma in law from the University of Abuja and went further to the Federal Polytechnic, Kaura Namoda in Zamfara State where he read Office Technology and Management with the hope of taking more courses in the near future.

Career
Steve's Crown has been into music professionally over two years but he has been into music since he was a kid. He grew up to see his parents in the music world. He was born into an orthodox family that goes to a church where they do all the
FAQs about Steve Crown
Where is Steve Crown from?
He is from Nigeria.
How to download songs of Steve Crown?
You can download songs of Steve Crown from Boomplay App for free.
Firstly, install Boomplay app on your mobile phone.
Secondly, navigate to the song you would like to download.
Thirdly, Tap on More > Download.