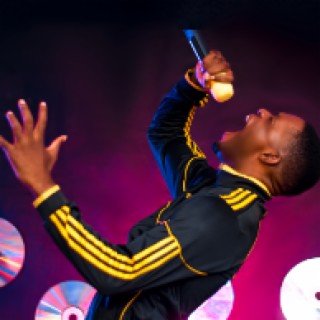 Prosper Germoh
Current #6,224

All Time #4,335

Prosper Germoh, a Cameroon Gospel Musician is an embodiment of Passion, talent, skill and professionalism known for Christian Rock and is a LoveWorld singer under EWCAZ4 CEDLA Cameroon. He hails from Bamessing, Cameroon, and is based in Douala, Cameroon with his family.
.
Many Prosper Germoh Songs become very popular and trendy online with a great number of streaming and downloads on Boomplay

Career:
Prosper Germoh is a multi- talented and multi-award winning Cameroon Gospel Musician blessing lives across the globe with Heavenly downloaded songs pointing the listeners to a lifestyle of discipleship full of love,zeal and passion for the work of God also having a loving heart for His country. He is a songwriter,Web designer,composer,and performer for decades now.

He is the brain behind a powerful Gospel Music Record Label in Cameroon called,"GOSPEL REGISTER" which is helping African gospel musicians get heard and make a living from their music. He also is the CEO of a powerful music school in Cameroon called "Rhema Music School dedicated in raising music professionals to worship God in spirit and in truth.

Follow Boomplay and keep up-to-date with the latest Prosper Germoh songs and information

Prosper Germoh Songs:
• Spotless God
• Reign Forever
• Way Maker
• Kadosh
• Shachah

Prosper Germoh songs are included in Boomplay music playlists. Search to stream and download Sound Sultan songs MP3/ single/ albums on the platform....more

Country/Region : Cameroon
Songs

(27)

Albums

(18)

Playlists

(0)
1

2

3

4

5

6

7

8

9

10

11

12

13

14

15

16

17

18

19

20

21

22

23

24

25

26

27
Listen to Prosper Germoh's new songs including "Tu Es Dieu (Acoustic)", "Oui Tu Règnes", "You Are Amazing" and many more. Enjoy Prosper Germoh's latest songs and explore the Prosper Germoh's new music albums. If you want to download Prosper Germoh songs MP3, use the Boomplay App to download the Prosper Germoh songs for free. Discover Prosper Germoh's latest songs, popular songs, trending songs all on Boomplay.
Prosper Germoh, a Cameroon Gospel Musician is an embodiment of Passion, talent, skill and professionalism known for Christian Rock and is a LoveWorld singer under EWCAZ4 CEDLA Cameroon. He hails from Bamessing, Cameroon, and is based in Douala, Cameroon with his family.
.
Many Prosper Germoh Songs become very popular and trendy online with a great number of streaming and downloads on Boomplay

Career:
Prosper Germoh is a multi- talented and multi-award winning Cameroon Gospel Musician blessing lives across the globe with Heavenly downloaded songs pointing the listeners to a lifestyle of discipleship full of love,zeal and passion for the work of God also having a loving heart for His country. He is a songwriter,Web designer,composer,and performer for decades now.

He is the brain behind a powerful Gospel Music Record Label in Cameroon called,"GOSPEL REGISTER" which is helping African gospel musicians get heard and make a living from their music. He also is the CEO of a powerful music school in Cameroon called "Rhema Music School dedicated in raising music professionals to worship God in spirit and in truth.

Follow Boomplay and keep up-to-date with the latest Prosper Germoh songs and information

Prosper Germoh Songs:
• Spotless God
• Reign Forever
• Way Maker
• Kadosh
• Shachah

Prosper Germoh songs are included in Boomplay music playlists. Search to stream and download Sound Sultan songs MP3/ single/ albums on the platform.
New Comments(
1

)