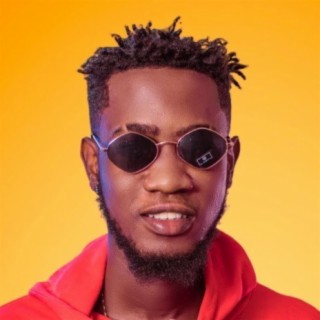 Ypee
Current #11.5k

All Time #6,387

YPee born Andy Agyemang is a Ghanaian hip hop recording artist and a performer. He was born on the 18th of June, 1996 in Kumasi. He was born to Charles Agyeman and Ama Serwaa Bonsu.

He is the third of four children. He is an old student of Opoku Ware School in the Ashanti region of Ghana where he studied Science. He is best known for his song "Meye Guy with multiple award-winning artist Sarkodie and Medikal.

Many YPee songs become very popular and trendy online with a great number of streaming and downloads on Boomplay.

Career
He began music career at a very young age doing freestyle covers to songs from Sarkodie, Yaa Pono, Okyeame Kwame. He raps normally in his native language Twi with a blend of English and Hausa.

He featured BET Best African Act Award Winner Sarkodie and Medikal on his Song "Meye Guy Remix". The Video for his song "Mey3 Guy Remix" Was shoot and directed by Salifu Abdul Hafiz and was on almost all the top charts in the country.

He launched his maiden Album Survival on 24th December 2017 in Kumasi . His Album launch was attended by Samini, AMG Medikal and Joey B. He made a history with his Mefri Oseikrom Concert in Kumasi with over 15,000 people attending the event.

No Doubt They call him King Of The Youth, FlowKing Stone, Criss Waddle, Kofi Mole, and other artists came to support the Event.

Follow Boomplay and keep up-to-date with the latest YPee songs and information.

Achievement
In the year 2013, he won Ashanti Regional best Rapper (High School Awards). He also won the 2016 and 2017 Artiste of the Year at Kumasi Awards Night.

Ypee Songs
• Some of Ypee songs are:
• His Majesty
• Kumerica
• Botom
• Jumping
• Wonkonono
• Meye Guy
• You the one
• Winner
• On My Level

YPee songs are included in Boomplay music playlists. Search to stream and download YPee songs MP3/ single/ albums on the platform....more

Country/Region : Ghana
Songs

(14)

Albums

(3)

Playlists

(17)
1

2

3

4

5

6

7

8

9

10

11

12

13

14
Listen to Ypee's new songs including "Ewuraba ft. Lasmid", "Sikasem ft. Kweku Flick, Tulenkey & Amerado", "Letter To My Ex ft. Ras Kuuku" and many more. Enjoy Ypee's latest songs and explore the Ypee's new music albums. If you want to download Ypee songs MP3, use the Boomplay App to download the Ypee songs for free. Discover Ypee's latest songs, popular songs, trending songs all on Boomplay.
YPee born Andy Agyemang is a Ghanaian hip hop recording artist and a performer. He was born on the 18th of June, 1996 in Kumasi. He was born to Charles Agyeman and Ama Serwaa Bonsu.

He is the third of four children. He is an old student of Opoku Ware School in the Ashanti region of Ghana where he studied Science. He is best known for his song "Meye Guy with multiple award-winning artist Sarkodie and Medikal.

Many YPee songs become very popular and trendy online with a great number of streaming and downloads on Boomplay.

Career
He began music career at a very young age doing freestyle covers to songs from Sarkodie, Yaa Pono, Okyeame Kwame. He raps normally in his native language Twi with a blend of English and Hausa.

He featured BET Best African Act Award Winner Sarkodie and Medikal on his Song "Meye Guy Remix". The Video for his song "Mey3 Guy Remix" Was shoot and directed by Salifu Abdul Hafiz and was on almost all the top charts in the country.

He launched his maiden Album Survival on 24th December 2017 in Kumasi . His Album launch was attended by Samini, AMG Medikal and Joey B. He made a history with his Mefri Oseikrom Concert in Kumasi with over 15,000 people attending the event.

No Doubt They call him King Of The Youth, FlowKing Stone, Criss Waddle, Kofi Mole, and other artists came to support the Event.

Follow Boomplay and keep up-to-date with the latest YPee songs and information.

Achievement
In the year 2013, he won Ashanti Regional best Rapper (High School Awards). He also won the 2016 and 2017 Artiste of the Year at Kumasi Awards Night.

Ypee Songs
• Some of Ypee songs are:
• His Majesty
• Kumerica
• Botom
• Jumping
• Wonkonono
• Meye Guy
• You the one
• Winner
• On My Level

YPee songs are included in Boomplay music playlists. Search to stream and download YPee songs MP3/ single/ albums on the platform.
New Comments(
18

)