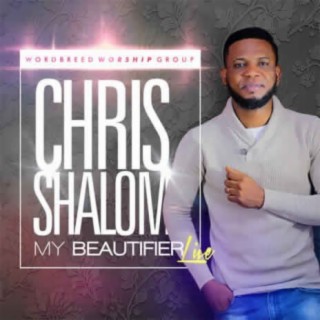 Chris Shalom
Current #1,373

All Time #586

Christopher Shalom simply known as Chris Shalom is one of Nigeria's leading gospel artistes, song writer and music producer. Many of Christopher Shalom songs become very popular and trendy online with a great number of streaming and downloads on Boomplay.

He is one of the front-line worship leader of Chris Embassy. He was dubbed 'the man with the golden voice' by his senior pastor and mentor Pastor Chris Oyakhilome.

Career
A music producer and songwriter, Chris was introduced to music at the tender age of nine by his mother who was a member of the choir. Following her footsteps, Chris joined the Christ Embassy choir and has been leading worship song and making music with the likes of Sinach, Eben, Frank Edwards, Ada, among others. He has released over six albums wit hit singles such as "You're The Reason," "Power Belongs to You", "God of Miracle and Wonders."

Follow Boomplay and keep up-to-date with the latest Christopher Shalom songs and information.

Christopher Shalom Songs
• My Beautifier
• Power Belongs to You
• Umejua Kunifurahisha
• Dry Bones Are Rising
• Asante Yesu
• In the Name of Jesus
• Jesus
• You Are Worthy
• Manifest Your Power
• Your Word Is Truth
• Bigger
• I Bow My Knees
• You Are the Reason
• Suddenly
• Infinite Love
• No One Like You
• Freedom
• Tell It All
• Walls Are Falling Down
• God of Miracles and Wonders
• Awesome God You Are
• No Other Name
• Angels Bow Before You
• Holy Ghost Party
• Your power is the greatest
• I Delight
• At work in me
• We Bless Your Name
• For My Good
• Unto the King
• More than a conqueror
• Truth And Life

Christopher Shalom songs are included in Boomplay music playlists. Search to stream and download Christopher Shalom songs MP3/ single/ albums on the platform....more

Country/Region : Nigeria
Songs

(37)

Albums

(12)

Playlists

(18)
1

2

3

4

5

6

7

8

9

10

11

12

13

14

15

16

17

18

19

20

21

22

23

24

25

26

27

28

29

30

31

32

33

34

35

36

37
Listen to Chris Shalom's new songs including "My Beautifier", "JESUS", "Bigger ft. Hezekiah Oduola" and many more. Enjoy Chris Shalom's latest songs and explore the Chris Shalom's new music albums. If you want to download Chris Shalom songs MP3, use the Boomplay App to download the Chris Shalom songs for free. Discover Chris Shalom's latest songs, popular songs, trending songs all on Boomplay.
Christopher Shalom simply known as Chris Shalom is one of Nigeria's leading gospel artistes, song writer and music producer. Many of Christopher Shalom songs become very popular and trendy online with a great number of streaming and downloads on Boomplay.

He is one of the front-line worship leader of Chris Embassy. He was dubbed 'the man with the golden voice' by his senior pastor and mentor Pastor Chris Oyakhilome.

Career
A music producer and songwriter, Chris was introduced to music at the tender age of nine by his mother who was a member of the choir. Following her footsteps, Chris joined the Christ Embassy choir and has been leading worship song and making music with the likes of Sinach, Eben, Frank Edwards, Ada, among others. He has released over six albums wit hit singles such as "You're The Reason," "Power Belongs to You", "God of Miracle and Wonders."

Follow Boomplay and keep up-to-date with the latest Christopher Shalom songs and information.

Christopher Shalom Songs
• My Beautifier
• Power Belongs to You
• Umejua Kunifurahisha
• Dry Bones Are Rising
• Asante Yesu
• In the Name of Jesus
• Jesus
• You Are Worthy
• Manifest Your Power
• Your Word Is Truth
• Bigger
• I Bow My Knees
• You Are the Reason
• Suddenly
• Infinite Love
• No One Like You
• Freedom
• Tell It All
• Walls Are Falling Down
• God of Miracles and Wonders
• Awesome God You Are
• No Other Name
• Angels Bow Before You
• Holy Ghost Party
• Your power is the greatest
• I Delight
• At work in me
• We Bless Your Name
• For My Good
• Unto the King
• More than a conqueror
• Truth And Life

Christopher Shalom songs are included in Boomplay music playlists. Search to stream and download Christopher Shalom songs MP3/ single/ albums on the platform.
New Comments(
61

)
FAQs about Chris Shalom
Where is Chris Shalom from?
He is from Nigeria.
How to download songs of Chris Shalom?
You can download songs of Chris Shalom from Boomplay App for free.
Firstly, install Boomplay app on your mobile phone.
Secondly, navigate to the song you would like to download.
Thirdly, Tap on More > Download.