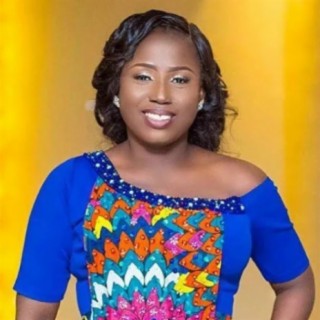 Diana Hamilton
Current #2,797

All Time #1,124

Diana Antwi Hamilton is a Ghanaian gospel musician with several awards to her name. She won the 2021 Most Streamed Female Act of the Year Award at the 3Music Women's Brunch. In March 2021, she was among the Top 30 Most Influential Women in Music by the 3Music Awards Women's Brunch. She was crowned Artist of the Year and Gospel Artist of the Year at the 2021 Ghana Music Awards on June 26 with her song "Adom".

Many of Diana Hamilton songs become very popular and trendy online with great number of streaming and downloads on Boomplay.

Diana, the third of eight children, was born to Apostle Felix Elvis Antwi and Comfort Antwi in Kumasi, Ghana. After basic education at Morning Star School, Cantonments in Accra, she completed secondary education in Ghana National College, Cape Coast and proceeded to study and practice Nursing. She is married to Dr. Joseph Hamilton and the couple have a set of twins (Michaela and Michael).

CAREER AND ACHIEVEMENTS
At an early age of 13, Diana was a backing vocalist for Francis Agyei. She released her debut album in 2007 titled, "Ɔsoro bɛkasa" and this album enjoyed some good airplay which brought her into the limelight. Her second album "Ensi wo yie", released in 2010, gained her prominence in the Ghanaian Gospel Music Industry. She was one of the headline artistes for the 2019 Harvest Praise which happened at the Fantasy Dome in Accra. 1615 media manage her music career.

In May 2021, she was unveiled together with Kofi Kinaata as the Brand Ambassadors of Enterprise Life. She opened the second day of the 2021 VGMA music awards night with her performance.

Diana delights in cooking and designing her clothes. She enjoys hanging out with her siblings; Eunice, Victoria, Samuel, Adelaide, Beatrice, Paa Kwesi and Grace. Diana Antwi Hamilton is also known for her charitable endeavors;On Saturday February 4, 2017, she launched the Diana Hamilton Foundation, a charitable organisation to help provide for the needs of the underprivileged in society.

Follow Boomplay and keep up to date with latest Diana Hamilton songs and information.

Diana Hamilton Songs
• Adom Grace
• Work in Progress
• Yehowa Behwe
• Woye Your
• Overwhelmed
• Your Power Is Great
• I'm So Proud
• I've Got This Chance
• Back to the Island
• It's All About You
• Suspicion
• I Don't Wanna
• Onyame Ye
• Name of the Lord
• Le Bonheur
• Tant d' Années
• Otumfour Nyankopon
• Everytime
• Nairobi
• Seeline
• African RainMakers
• Dans les petits cafes
• I Want to Be Ready
• Interlude to Mr Blues
• Rake 'n' Scrape Please
• Intro, Motherlesschild
• Tell Me Why
• Simple Thing
• I Wanna Be Ready
• Akokyem Nyame

Diana Hamilton songs are included in Boomplay music playlists. Search to stream and download Diana Hamilton songs MP3/ single/ albums on the Boomplay....more

Country/Region : Ghana
Listen to Diana Hamilton's new songs including and many more. Enjoy Diana Hamilton's latest songs and explore the Diana Hamilton's new music albums. If you want to download Diana Hamilton songs MP3, use the Boomplay App to download the Diana Hamilton songs for free. Discover Diana Hamilton's latest songs, popular songs, trending songs all on Boomplay.
Diana Antwi Hamilton is a Ghanaian gospel musician with several awards to her name. She won the 2021 Most Streamed Female Act of the Year Award at the 3Music Women's Brunch. In March 2021, she was among the Top 30 Most Influential Women in Music by the 3Music Awards Women's Brunch. She was crowned Artist of the Year and Gospel Artist of the Year at the 2021 Ghana Music Awards on June 26 with her song "Adom".

Many of Diana Hamilton songs become very popular and trendy online with great number of streaming and downloads on Boomplay.

Diana, the third of eight children, was born to Apostle Felix Elvis Antwi and Comfort Antwi in Kumasi, Ghana. After basic education at Morning Star School, Cantonments in Accra, she completed secondary education in Ghana National College, Cape Coast and proceeded to study and practice Nursing. She is married to Dr. Joseph Hamilton and the couple have a set of twins (Michaela and Michael).

CAREER AND ACHIEVEMENTS
At an early age of 13, Diana was a backing vocalist for Francis Agyei. She released her debut album in 2007 titled, "Ɔsoro bɛkasa" and this album enjoyed some good airplay which brought her into the limelight. Her second album "Ensi wo yie", released in 2010, gained her prominence in the Ghanaian Gospel Music Industry. She was one of the headline artistes for the 2019 Harvest Praise which happened at the Fantasy Dome in Accra. 1615 media manage her music career.

In May 2021, she was unveiled together with Kofi Kinaata as the Brand Ambassadors of Enterprise Life. She opened the second day of the 2021 VGMA music awards night with her performance.

Diana delights in cooking and designing her clothes. She enjoys hanging out with her siblings; Eunice, Victoria, Samuel, Adelaide, Beatrice, Paa Kwesi and Grace. Diana Antwi Hamilton is also known for her charitable endeavors;On Saturday February 4, 2017, she launched the Diana Hamilton Foundation, a charitable organisation to help provide for the needs of the underprivileged in society.

Follow Boomplay and keep up to date with latest Diana Hamilton songs and information.

Diana Hamilton Songs
• Adom Grace
• Work in Progress
• Yehowa Behwe
• Woye Your
• Overwhelmed
• Your Power Is Great
• I'm So Proud
• I've Got This Chance
• Back to the Island
• It's All About You
• Suspicion
• I Don't Wanna
• Onyame Ye
• Name of the Lord
• Le Bonheur
• Tant d' Années
• Otumfour Nyankopon
• Everytime
• Nairobi
• Seeline
• African RainMakers
• Dans les petits cafes
• I Want to Be Ready
• Interlude to Mr Blues
• Rake 'n' Scrape Please
• Intro, Motherlesschild
• Tell Me Why
• Simple Thing
• I Wanna Be Ready
• Akokyem Nyame

Diana Hamilton songs are included in Boomplay music playlists. Search to stream and download Diana Hamilton songs MP3/ single/ albums on the Boomplay.
New Comments(
185

)
FAQs about Diana Hamilton
Where is Diana Hamilton from?
She is from Ghana.