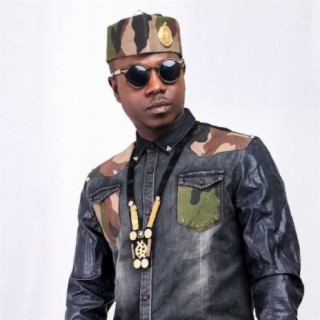 Flowking Stone
Current #19.1k

All Time #6,678

Kwaku Nsia Boama, known by his stage name as Flowking Stone, is one of the sensational Hip-Life rappers hailing from Kumasi in the Ashanti Region. Many of Flowking Stone songs become very popular and trendy online with a great number of streaming and downloads on Boomplay.

The undisputed rapper had formarly belonged to a duo team called BRADEZ BRADEZ was a Multi- talented musical duo, made up of the two blood brothers by the names of Kwaku Nsiah-Boamah (Flow King-Stone) and Kwaku Nsiah-Amankwah (Kunta Kinte)

Flowking Stone Albums
• Back Home - EP (2021)
• More Fire (2021)
• Love Drill (2021)
• 1king (Rambo) (2021)
• Twerk (2020)
• What a Year! (2020)
• Best Rapper Africa (Bra) (2020)
• Falling (2020)
• Go Low (Remix) (2020)
• Quarantine Flow (2020)
• Survive (2020)

Follow Boomplay and keep up to date with the latest Flowking Stone songs and information.

Flowking Stone Songs
• Darling
• Darling ft. Nana Yaa
• Nana
• Handcuff
• Run Dem ft. Samini
• Crab Song (Okoto)
• Out Here
• Intro - Mmrane (Skit)
• My Place

Flowking Stone songs are included in Boomplay music playlists. Search to stream and download Flowking Stone songs MP3/ single/ albums on the platform....more

Country/Region : Ghana
Listen to Flowking Stone's new songs including "Toffee", "Darling II", and many more. Enjoy Flowking Stone's latest songs and explore the Flowking Stone's new music albums. If you want to download Flowking Stone songs MP3, use the Boomplay App to download the Flowking Stone songs for free. Discover Flowking Stone's latest songs, popular songs, trending songs all on Boomplay.
Kwaku Nsia Boama, known by his stage name as Flowking Stone, is one of the sensational Hip-Life rappers hailing from Kumasi in the Ashanti Region. Many of Flowking Stone songs become very popular and trendy online with a great number of streaming and downloads on Boomplay.

The undisputed rapper had formarly belonged to a duo team called BRADEZ BRADEZ was a Multi- talented musical duo, made up of the two blood brothers by the names of Kwaku Nsiah-Boamah (Flow King-Stone) and Kwaku Nsiah-Amankwah (Kunta Kinte)

Flowking Stone Albums
• Back Home - EP (2021)
• More Fire (2021)
• Love Drill (2021)
• 1king (Rambo) (2021)
• Twerk (2020)
• What a Year! (2020)
• Best Rapper Africa (Bra) (2020)
• Falling (2020)
• Go Low (Remix) (2020)
• Quarantine Flow (2020)
• Survive (2020)

Follow Boomplay and keep up to date with the latest Flowking Stone songs and information.

Flowking Stone Songs
• Darling
• Darling ft. Nana Yaa
• Nana
• Handcuff
• Run Dem ft. Samini
• Crab Song (Okoto)
• Out Here
• Intro - Mmrane (Skit)
• My Place

Flowking Stone songs are included in Boomplay music playlists. Search to stream and download Flowking Stone songs MP3/ single/ albums on the platform.
New Comments(
9

)