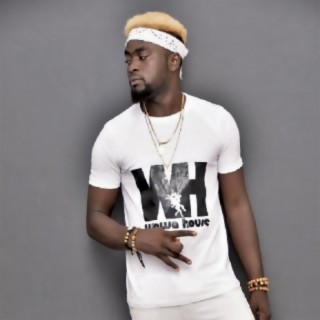 ACLEM WAWA
Current #99k+

All Time #25.7k

Camerounais d'origine et de Nationalité,
Aclem Wawa est né le 12 juin 1994 à koupamatapit dans la localité de Foumban à l'ouest Cameroun. Il passe son enfance à Douala. Chanteur, rappeur et beatmaker, il a commencé la musique très jeune, sous l'influence d'artistes tels que Sefyu, Sarkody ou encore le chanteur
Claude Ndam.
ACLEM est orienté sur les musiques urbaines, notamment le RAP, Hip hop et Afrotrap. Il a la particularité de rapper en son dialecte. C'est ce qu'il appelle le KAEL TRAP. Il commence la musique à l'age de 12 ans en classe de 6e. En 4e il crée un groupe qui ne durera pas. C'est en 2009 qu'il livre son premier single "Mpeen" qui signifie "Couscous" en langue Bamoun.
Depuis son premier single, ACLEM a évolué entre les studio et la scène en participant à des événements tels que Ngouon Festival , le Marché de Noel, YAFE , En 2017, il signe sous le label BMA.

Contact Management:
[email protected]
+237 690 446 539...more

Country/Region : Cameroon
Songs

(11)

Albums

(11)

Playlists

(0)
1

2

3

4

5

6

7

8

9

10

11
Listen to ACLEM WAWA's new songs including "Bienvenue chez moi (pro by aclem beat)", "Lettre à l'Homme", "Mbéee (prod. Aclem Beat)" and many more. Enjoy ACLEM WAWA's latest songs and explore the ACLEM WAWA's new music albums. If you want to download ACLEM WAWA songs MP3, use the Boomplay App to download the ACLEM WAWA songs for free. Discover ACLEM WAWA's latest songs, popular songs, trending songs all on Boomplay.
Camerounais d'origine et de Nationalité,
Aclem Wawa est né le 12 juin 1994 à koupamatapit dans la localité de Foumban à l'ouest Cameroun. Il passe son enfance à Douala. Chanteur, rappeur et beatmaker, il a commencé la musique très jeune, sous l'influence d'artistes tels que Sefyu, Sarkody ou encore le chanteur
Claude Ndam.
ACLEM est orienté sur les musiques urbaines, notamment le RAP, Hip hop et Afrotrap. Il a la particularité de rapper en son dialecte. C'est ce qu'il appelle le KAEL TRAP. Il commence la musique à l'age de 12 ans en classe de 6e. En 4e il crée un groupe qui ne durera pas. C'est en 2009 qu'il livre son premier single "Mpeen" qui signifie "Couscous" en langue Bamoun.
Depuis son premier single, ACLEM a évolué entre les studio et la scène en participant à des événements tels que Ngouon Festival , le Marché de Noel, YAFE , En 2017, il signe sous le label BMA.
Contact Management:
[email protected]
+237 690 446 539
New Comments(
1

)