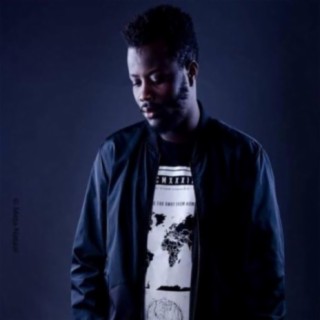 Iss 814
Current #1,680

All Time #3,773

Real name Ismaila Talla, ISS 814 is a figurehead of the Senegalese hip hop movement. Many of ISS 814 songs become very popular and trendy online with a great number of streaming and downloads on Boomplay. Iss 814 is also a best-selling Splice producer.

Growing up in Guédiawaye, he has always been immersed in this environment, largely influenced by his older brother artists who formed the group 'African Black Roots' now called Bât'Haillons Blin-D - led by Fou Malade.

Career
Ismaila grew up in a musical household, with three elder brothers who were all rappers and genuine mentors. As he saw them grow in the rap industry, he naturally wanted to follow in their footsteps.

Inevitably eager to add to their music and the local scene, the young rapper followed them around everywhere, prompting him to master his music production and quickly create a name for himself owing to the quality of his compositions and aggressive lyricism.

A Multi-award-winning rapper who won the Galsen Hip Hop Awards 2018 in the following four categories: - Artist of the Year 2020 - Best Beatmaker - Best Lyricist - Best Mixtape (13 Bala Mbédocratie) - He also received a "Disque d'Or" (SNEP, France) for his work on Lefa's album "Fame."

He released his debut album, "13 Bala Mbedocratie," in November 2017, followed by the EP, "Bicrave," on December 30th 2020.

Follow Boomplay and keep up-to-date with the latest ISS 814 songs and information.

ISS 814 Songs
• Infidèles
• Xool Ma Ci Bët
• Njabar
• Fresh
• Aminata
• Probleme
• Miim Reew
• Samay Neggerz
• Tristesse
• Walter White
• Noce
• Mbeuguélou Idoles
• Yémé
• Kontaan
• Souffrance ak Mettit
• Clochard
• Bingo
• Flex
• Négocier
• Cartier
• Loutakh
• Xalam
• Guediawaye
• Ymgknows
• Radio
• O.G
• Faux
• Faux the Buzz
• Arrêtons l'hémorragie
• Mou Riir
• Tracklist
• Marie

ISS 814 songs are included in Boomplay music playlists. Search to stream and download ISS 814 songs MP3/ single/ albums on the platform....more

Country : Senegal
Songs

(36)

Albums

(24)

Playlists

(0)
1

2

3

4

5

6

7

8

9

10

11

12

13

14

15

16

17

18

19

20

21

22

23

24

25

26

27

28

29

30

31

32

33

34

35

36
Listen to Iss 814's new songs including "Aminata", "Mbeuguélou Idoles", "Virus (Inédit)" and many more. Enjoy Iss 814's latest songs and explore the Iss 814's new music albums. If you want to download Iss 814 songs MP3, use the Boomplay App to download the Iss 814 songs for free. Discover Iss 814's latest songs, popular songs, trending songs all on Boomplay.
Real name Ismaila Talla, ISS 814 is a figurehead of the Senegalese hip hop movement. Many of ISS 814 songs become very popular and trendy online with a great number of streaming and downloads on Boomplay. Iss 814 is also a best-selling Splice producer.

Growing up in Guédiawaye, he has always been immersed in this environment, largely influenced by his older brother artists who formed the group 'African Black Roots' now called Bât'Haillons Blin-D - led by Fou Malade.

Career
Ismaila grew up in a musical household, with three elder brothers who were all rappers and genuine mentors. As he saw them grow in the rap industry, he naturally wanted to follow in their footsteps.

Inevitably eager to add to their music and the local scene, the young rapper followed them around everywhere, prompting him to master his music production and quickly create a name for himself owing to the quality of his compositions and aggressive lyricism.

A Multi-award-winning rapper who won the Galsen Hip Hop Awards 2018 in the following four categories: - Artist of the Year 2020 - Best Beatmaker - Best Lyricist - Best Mixtape (13 Bala Mbédocratie) - He also received a "Disque d'Or" (SNEP, France) for his work on Lefa's album "Fame."

He released his debut album, "13 Bala Mbedocratie," in November 2017, followed by the EP, "Bicrave," on December 30th 2020.

Follow Boomplay and keep up-to-date with the latest ISS 814 songs and information.

ISS 814 Songs
• Infidèles
• Xool Ma Ci Bët
• Njabar
• Fresh
• Aminata
• Probleme
• Miim Reew
• Samay Neggerz
• Tristesse
• Walter White
• Noce
• Mbeuguélou Idoles
• Yémé
• Kontaan
• Souffrance ak Mettit
• Clochard
• Bingo
• Flex
• Négocier
• Cartier
• Loutakh
• Xalam
• Guediawaye
• Ymgknows
• Radio
• O.G
• Faux
• Faux the Buzz
• Arrêtons l'hémorragie
• Mou Riir
• Tracklist
• Marie

ISS 814 songs are included in Boomplay music playlists. Search to stream and download ISS 814 songs MP3/ single/ albums on the platform.
New Comments(
11

)