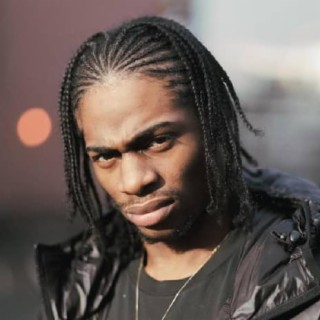 Russ Millions
Current #1,315

All Time #1,923

Shylo Batchelor Ashby Milwood known professionally as Russ Millions formerly Russ, Russ Splash or RussMB is a British rapper born on 20 March 1996. Many of Russ Millions Songs became very popular and trendy on social media in line with a great number of streaming and downloads on Boomplay.

In December 2018 he released his single "Gun Lean" on Virgin Records. The track peaked at number 9 on the UK Singles Chart becoming the first UK drill track to reach the top 10.

Russ Millions has collaborated with Buni, Taze, Tion Wayne, Digga D, Pressa, LD and Dappy.

Career
After the beginning of his professional career, the rapper got viral success in 2018 with the release of Gun Lean. It was his first song to break into the United Kingdom Top Ten singles charts. His songs, Keisha & Becky and Body, also topped the UK chart.

Later, the singer got a prominent placement on Loski's Olympic Chinging, a swinging anthem that racked up millions of views and interest from local labels. A recording deal with PressPlay followed this. This marked the beginning of his international recognition. Here are the highlights of his music career over the years.

The dance that Russ performs in the music video became a "dance craze" and was mimicked by footballers including Jesse Lingard. It was ranked by The Guardian at number 10 on their list of "greatest pop music dance crazes".

In April 2019 his follow-up single "Keisha & Becky" with Tion Wayne entered the UK Singles Chart at number 19, and later peaked at number seven. The song was later certified Platinum by the British Phonographic Industry (BPI). As a lead, he had his first number 1 with "Body" alongside Tion Wayne.

Follow Boomplay and keep up-to-date with the latest songs of Russ Millions and information.

Russ Millions Songs
• Keisha and Becky
• Plugged In
• Gun Lean
• Body
• Me Sheen
• Unruly
• Splash Out 3.0
• Cramp Twins
• Cookie
• My Son
• Splash Out 2
• Roll Over
• Get The Strap
• Light Work Freestyle
• Behind Barz
• Boom Flick

Russ Millions Songs are included in Boomplay music playlists. Search, stream, and download Russ Millions Songs, her latest singles and albums in MP3 only on the Boomplay platform for free....more

Country/Region : United Kingdom
Songs

(17)

Albums

(8)

Playlists

(6)
1

2

3

4

5

6

7

8

9

10

11

12

13

14

15

16

17
Listen to Russ Millions's new songs including "Cookie", "Playground Finale", "Killy Killy ft. Jon Z & Quada" and many more. Enjoy Russ Millions's latest songs and explore the Russ Millions's new music albums. If you want to download Russ Millions songs MP3, use the Boomplay App to download the Russ Millions songs for free. Discover Russ Millions's latest songs, popular songs, trending songs all on Boomplay.
Shylo Batchelor Ashby Milwood known professionally as Russ Millions formerly Russ, Russ Splash or RussMB is a British rapper born on 20 March 1996. Many of Russ Millions Songs became very popular and trendy on social media in line with a great number of streaming and downloads on Boomplay.

In December 2018 he released his single "Gun Lean" on Virgin Records. The track peaked at number 9 on the UK Singles Chart becoming the first UK drill track to reach the top 10.

Russ Millions has collaborated with Buni, Taze, Tion Wayne, Digga D, Pressa, LD and Dappy.

Career
After the beginning of his professional career, the rapper got viral success in 2018 with the release of Gun Lean. It was his first song to break into the United Kingdom Top Ten singles charts. His songs, Keisha & Becky and Body, also topped the UK chart.

Later, the singer got a prominent placement on Loski's Olympic Chinging, a swinging anthem that racked up millions of views and interest from local labels. A recording deal with PressPlay followed this. This marked the beginning of his international recognition. Here are the highlights of his music career over the years.

The dance that Russ performs in the music video became a "dance craze" and was mimicked by footballers including Jesse Lingard. It was ranked by The Guardian at number 10 on their list of "greatest pop music dance crazes".

In April 2019 his follow-up single "Keisha & Becky" with Tion Wayne entered the UK Singles Chart at number 19, and later peaked at number seven. The song was later certified Platinum by the British Phonographic Industry (BPI). As a lead, he had his first number 1 with "Body" alongside Tion Wayne.

Follow Boomplay and keep up-to-date with the latest songs of Russ Millions and information.

Russ Millions Songs
• Keisha and Becky
• Plugged In
• Gun Lean
• Body
• Me Sheen
• Unruly
• Splash Out 3.0
• Cramp Twins
• Cookie
• My Son
• Splash Out 2
• Roll Over
• Get The Strap
• Light Work Freestyle
• Behind Barz
• Boom Flick

Russ Millions Songs are included in Boomplay music playlists. Search, stream, and download Russ Millions Songs, her latest singles and albums in MP3 only on the Boomplay platform for free.
FAQs about Russ Millions
Where is Russ Millions from?
He is from United Kingdom.
How to download songs of Russ Millions?
You can download songs of Russ Millions from Boomplay App for free.
Firstly, install Boomplay app on your mobile phone.
Secondly, navigate to the song you would like to download.
Thirdly, Tap on More > Download.