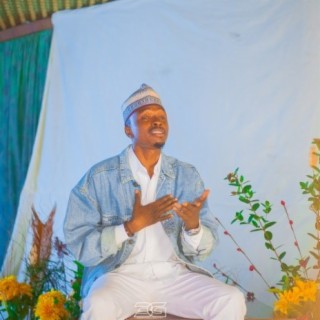 Namenj
Current #1,686

All Time #1,741

Namenj, whose real name is Ali Jubril Namanjo, is a famous Nigerian artist from the northern part of Nigeria. He was born and raised in Ibadan where he completed his primary and secondary school education. Upon his graduation from the college, Namenj started making cover hits which made him popular in Arewa.

Namenj is no doubt one of the best artists making waves in the North Side. Many of Namenj songs MP3 become very popular and trendy online with great number of streaming and downloads on Boomplay. His music is top-notch and touches the soul.

Career
Due to his wonderful musics, Namenj made his way into the EMPAWA AFRICA and was selected by Mr. Eazi to lead the generation of all the arewa singers. Since starting his music career Namenj has released an uncountable number of music to his credit
.
Achievement
Namenj has also won different awards and recognition for his amazing music And song. Some of his music are as follows.

Follow Boomplay and keep up-to-date with latest Namenj songs and information.

Namenj Songs
• Dama ft. Hamisu Breaker
• Nobody
• Rayuwat
• Fatana
• Aure
• Watarana
• Rai Na
• Magana
• Taredake
• Ki Yafe Min
• Daram Daram

Net worth
The famous Hausa singer Namenj who has been releasing hit back to back has net worth of $70,000 and that make him one of richest Hausa singer.

Namenj songs are included in Boomplay music playlists. Search to stream and download Namenj songs MP3/ single/ albums on the platform....more

Country/Region : Nigeria
Songs

(19)

Albums

(8)

Playlists

(0)

Videos and More
1

2

3

4

5

6

7

8

9

10

11

12

13

14

15

16

17

18

19
Listen to Namenj's new songs including "Dama ft. Hamisu Breaker", "Baby Nagode", "Fatana" and many more. Enjoy Namenj's latest songs and explore the Namenj's new music albums. If you want to download Namenj songs MP3, use the Boomplay App to download the Namenj songs for free. Discover Namenj's latest songs, popular songs, trending songs all on Boomplay.
Namenj, whose real name is Ali Jubril Namanjo, is a famous Nigerian artist from the northern part of Nigeria. He was born and raised in Ibadan where he completed his primary and secondary school education. Upon his graduation from the college, Namenj started making cover hits which made him popular in Arewa.

Namenj is no doubt one of the best artists making waves in the North Side. Many of Namenj songs MP3 become very popular and trendy online with great number of streaming and downloads on Boomplay. His music is top-notch and touches the soul.

Career
Due to his wonderful musics, Namenj made his way into the EMPAWA AFRICA and was selected by Mr. Eazi to lead the generation of all the arewa singers. Since starting his music career Namenj has released an uncountable number of music to his credit
.
Achievement
Namenj has also won different awards and recognition for his amazing music And song. Some of his music are as follows.

Follow Boomplay and keep up-to-date with latest Namenj songs and information.

Namenj Songs
• Dama ft. Hamisu Breaker
• Nobody
• Rayuwat
• Fatana
• Aure
• Watarana
• Rai Na
• Magana
• Taredake
• Ki Yafe Min
• Daram Daram

Net worth
The famous Hausa singer Namenj who has been releasing hit back to back has net worth of $70,000 and that make him one of richest Hausa singer.

Namenj songs are included in Boomplay music playlists. Search to stream and download Namenj songs MP3/ single/ albums on the platform.
New Comments(
39

)
FAQs about Namenj
Where is Namenj from?
He is from Nigeria.
How to download songs of Namenj?
You can download songs of Namenj from Boomplay App for free.
Firstly, install Boomplay app on your mobile phone.
Secondly, navigate to the song you would like to download.
Thirdly, Tap on More > Download.